Military Uniform After Discharge or Reserve Status - 1919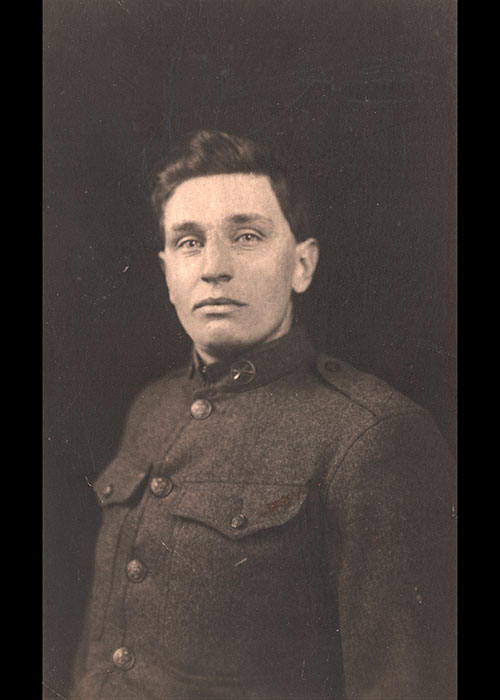 Corporal Ludvig Kristian Gjenvick, American Expeditionary Force, National Army, 351st Infantry. Gjenvick-Gjønvik Family Archives. GGA Image ID # 198042d25c
The Uniform
If it is your desire to go home in uniform, it is your privilege to do so, under full grant of an act of the Congress. You may wear your issue uniform as long as it hangs together if you wish. It is yours. But do not let a minute pass, after being discharged, until you have sewn on, or had sewn on, a red chevron, point up, midway between the elbow and the shoulder, on the left sleeve.
The wearing of any gold, silver, or metal device indicating length of service is forbidden. Only regulation service chevrons and collar insignia are authorized by law and regulations. Wound and service chevrons. for service in any of the Allied Armies, are included in that authorization. Can all camouflage.
Remember in wearing the uniform, that all of its privileges are yours, with none of the restraints. You are a civilian. There is no law or regulation or tradition requiring you to salute an officer. But so long as the 0. D., or the Navy Blue or the Marine Green covers your body, it should be your pride, as one with a military training and as a soldier who participated in The Great War, to be courteous.
The man in uniform of necessity stands out. His failures in the courtesies of life are marked, where those of a civilian would pass unchallenged. So do not fail to do those things while in uniform which you were and will be so punctilious in doing in civilian garb. Fail not to be conscious of the fact that your country, your fellow-citizens, and your own home folk, are very proud of you, and justly so. Be proud of the job you've done. There's a reason.
U. S. N. R. F.
Bureau of Navigation circular letter No. 237-18, General Order No. 437, provides that members in the Naval Reserve force honorably discharged from the service, or relieved from active duty, will be permitted to wear the uniform of their respective ranks, grades and ratings for a period not exceeding three months after such discharge or release from active duty.
They may, however, wear the unform at drills or meetings which they attend as members of a Reserve Force organization when such meetings are called by proper authority, and at ceremonies such as parades, Reserve Force conventions and memorial services which they attend as members of the Naval Reserve Force.
"They shall keep the prescribed uniform outfit in good condition and shall wear the same when proceeding from their homes to place of duty when called into active duty upon mobilization, or for training in times of peace, and when returning to their homes after release from such duty."
All released members of the Naval Reserve Force are cautioned that they still belong to that Force, and that they are required to keep the Commandant of the Naval District in which they reside informed of the address in order that he may communicate with them officially, should circumstances require it.
Following are the geographical limits of the various Naval Districts and the Commandants' addresses:
First Naval District—All of Maine, New Hampshire, Vermont, Massachusetts and the part of Rhode Island lying east of a line drawn north from Point Judith, including Narragansett Bay. Headquarters—Navy Yard, Boston, Mass.
Second Naval District—Has been abolished and its territory divided between the First and Third Districts.
Third Naval District—The par Headquarters—Navalot included in the First District, all of Connecticut, all of New York lying east of a line starting from the intersection of the 45th parallel of latitude with the St. Lawrence River and running southwesterly through Syracuse and Ithaca (including those cities), and the part of New Jersey lying north of a line connecting Trenton and Barnegat.
Headquarters-29th Street and Third Ave., Brooklyn, N. Y.
Fourth Naval District—All of Pennsylvania except a small part bordering on Lake Erie. the south part of New Jersey, all of Delaware. and a small section of Maryland lying north of Assateague Island. Headquarters—Navy Yard, Philadelphia, Pa.
Fifth Naval District—Maryland, Virginia, West Virginia, and all of North Carolina lying north of a line drawn west from New River Inlet. Headquarters—Naval Operating Base. Norfolk, Va.
Sixth Naval District—The remainder of North Carolina, South Carolina. Georgia, and the small portion of Florida lying north of Jacksonville (including that city). Headquarters—Navy Yard, Charleston, S. C.
Seventh Naval District—The peninsula of Florida, including the part of the State south of Jacksonville and east of Tampa (including Tampa, but excluding Jacksonville). Headquarters—Naval Station, Key West, Fla.
Eighth Naval District—The remainder of Florida, Tennessee, Alabama, Mississippi, Arkansas, Louisiana, Texas and Oklahoma. Headquarters—Naval Station, New Orleans, La.
Ninth, Tenth and Eleventh Districts—The part of New York not in the Third District, the northwest corner of Pennsylvania, Ohio, Michigan, Wisconsin, Indiana, Illinois, Kentucky, Minnesota, Iowa, Missouri, North Dakota, South Dakota, Nebraska and Kansas. Headquarters—Training Station, Great Lakes, Ill.
Twelfth Naval District—California, Nevada, Arizona, Utah, Colorado and New Mexico. Headquarters—Sheldon Building, San Francisco, Cal.
Thirteenth Naval District—Montana, Wyoming, Idaho, Washington, and Oregon. Headquarters—Navy Yard, Bremerton, Wash.
Fourteenth Naval District—Territory of Hawaii. Headquarters—Naval Station, Pearl Harbor, Hawaii.
Fifteenth Naval District—The Canal Zone.Headquarters—Balboa, Canal Zone.
Sixteenth Naval District—The Philippine Islands. Headquarters—Cavite, Philippine Islands.
Uniform Regulations for the US Navy
An enlisted man in the regular Navy, who has been honorably discharged from the service, may wear his uniform from place of discharge to his home within three months after the date of such discharge.
The Red Chevron
The red chevron is the sign that you have been honorably discharged; that you have passed from the military to the civil jurisdiction. It will save your being fussed by P. G.'s and M. P.'s, but it conveys no right to you to fuss them. The red chevron is prescribed to be worn by discharged officers and enlisted men as a recognition of duties performed in the service of their country. It also must be worn by discharged officers who accept commissions in the Officers' Reserve Corps, until called to active duty.
Moreover, it is unlawful, under the National Defense Act, for the uniform to be worn by either discharged officers or enlisted men, without this distinctive mark, and an offender renders himself liable to prosecution and, upon conviction, to punishment by a fine not exceeding $300, or by imprisonment not exceeding 6 months, or by both such fine and imprisonment.
A free issue of three red chevrons, one for the blouse, one for the overcoat, and one for the 0. D. shirt will be made to all enlisted personnel. Discharged officers will find a supply on sale by the Quartermaster at all demobilization camps.
As an honorably discharged soldier wearing the red chevron, you are entitled to buy a drink, but, remembering the Buds and Gobs still in the service who are not civilians, do not buy too many.
Hun Cooties
"Soldiers and sailors discharged can make $10 a day. Apply Hotel , Room 15." That is a sample of advertisements appearing in the Help Wanted columns in most any big city.
Don't let any Bud or Gob you know fall for that sort of stuff. The big idea behind it is to exploit the uniform, to get hold of some fellow who, for the moment, may be down on his luck, and send him out panhandling the public with the kit of a street fakir. The Hun Cooties who think up these things wouldn't give a man in Cits a drink of water.
It's an empty sleeve or trouser leg or decoration or service chevron they wish to commercialize—the pals sleeping in Flanders fields and in the Argonne—the uniform they want to sell in the form of patent lead pencils or badges or war histories or catch-a sucker gimcracks.
Remember that the O. D., the Blues and the Greens are as sacred as the flag itself. You and the Buds and Gobs who can't come back have made it so. Dealing with the Hun Cooties is up to you. You know the way—many ways.
Clothing and Equipment : date and place of his discharge or furlough to the Reserve, and certifying that none of the articles applied for were retained by him at the time of his discharge or furlough, or if retained that they have been restored to the Government.
Circular No. 166, War Department, Washington, April 2, 1919, provides that the following articles may be retained by enlisted men upon discharge, as their own:
1 oversea cap (for all enlisted men who have had service overseas) or 1 hat and 1 hat cord (for all other enlisted men).
I olive drab shirt.
1 woolen service coat and ornaments. Officers and enlisted men who have returned the gas masks and helmets may make similar application to the same source, and a reissue will be made, if helmets and masks are available.
1 pair woolen breeches.
1 pair of shoes and laces.
1 pair canvas or spiral leggings (canvas if available).
1 waist belt.
1 slicker.
1 overcoat.
2 suits underwear.
4 pairs stockings.
1 pair gloves.
1 gas mask and helmet (for all officers and enlisted men to whom they were issued overseas).
1 set toilet articles, consisting of hair brush, comb, tooth brush, shaving brush, razor, small steel mirror, and two towels (if in possession of soldier at time of discharge).
1 barrack bag.
3 scarlet chevrons (one each for blouse, coat and 0. D. shirt), to be sewn on uniform prior to discharge, when practicable.
Purchases from Government
If discharged in summer, read cotton 0. D. for woolen in the foregoing list. Supply officers are authorized to sell to enlisted men now in the service or about to leave the service, at prices designated by the Director of Purchases and Storage, any articles of clothing or equipment except the following: Coats, breeches, overcoats, caps, ornaments, hat cords.
All knit or worsted articles, such as sweaters, mits, helmets and mufflers, issued to you through the Red Cross, belong to you. The Government will not sell small arms of any kind to anybody outside of the Services.
Any enlisted man who served in the United States Army, during the present war, honorably discharged or furloughed to the Reserve since April 6, 1917, who has restored to the Government any of the above articles, or to whom for any reason they were never issued, may make application for such articles to The Domestic Distribution Branch, Office of the Director of Storage, Washington, D. C., whereupon similar clothing and uniform in kind and value as near as may be will be returned to him.
Such an application must state sizes required, and must be accompanied by an affidavit made before any civil or military officer authorized to administer oaths, setting forth the soldier's record of service since April 6, 1917, the No preference will be given to discharged soldiers, sailors or marines at sales of Government property. This is only fair. Think about it.
William Brown Meloney, "Where Do We Go From Here? - This Is the Real Dope: Getting a Job After Serving in the Great War," Baltimore: Thomsen-Ellis Press, 1919.