Living Off the Land - Options for Dicharged Soldiers and Sailors - 1919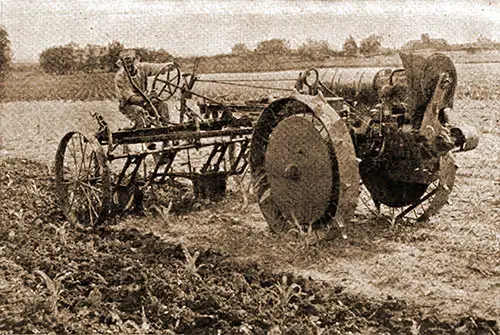 Farmer Is Using an All-around Tractor with a Cultivator. The Scientific American, 3 August 1918. GGA Image ID # 1970224971
Homestead and Land Laws
Since the United States declared war, April 6, 1917, The Congress has enacted numerous laws for the protection of soldiers, sailors and marines in homestead and mining rights. Here follows a summary of these laws:
Section 501, of the Soldiers' and Sailors' Civil Relief Act, March 8, 1917, provides that no claims initiated prior to that date by any soldier or sailor "shall be forfeited or prejudiced by reason of his absence from such land, or of his failure to perform any work, or make any improvements thereon, or do any other act required by any such law during the period of such service."
A joint resolution of July 17, 1917 provides that "any soldier having entered mining claims and being absent in the military service shall be excused from performing the annual assessment work of one hundred days on his mining claim while so absent, subject, however, to his having filed notice in the local recording office of his desire to be excused from the performance of the annual labor requirement on the ground of military service.
A joint resolution of October 5, 1917, relieves all mining claimants, excepting all placer claimants and without regard to military or naval service, from performing assessment work on mining claims during the calendar years of 1917 and 1918. (Mark, that the July resolution is applicable to soldiers, sailors and marines owning mines for whatever period they may be engaged in the military service, while the October resolution is general, and limits exemption to 1917 and 1918.)
The law of October 6, 1917 provides that a settler or entry man who entered a claim prior to enlistment may make oath to all necessary papers before his commanding officer, with the same effect as if he had sworn to them before the Referee or Register of the United States Land Office.
Section 8 of an Act of August 31, 1918 (as supplemented by joint resolution of September 13, 1918), extends the same rights under the public land laws to soldiers, sailors and marines under 21 years of age as are possessed by persons other than soldiers, sailors and marines 21 years of age or over. Requirements under previous laws as to establishment of residence within a limited time are suspended until six months after an entry man's discharge from the military service.
The joint resolution of September 13, 1918 provides that no claimant shall be permitted to relinquish an entry until he shall have actually resided upon and cultivated the land, for either a period of six months in the case of a homestead entry, or for one year in the case of any other form of entry.
The General Land Office construes the law of August 31, 1918, to mean that soldiers under 21 years of age may enter homesteads after enlistment and also receive credit on residence and cultivation for the time spent in the military establishment.
Landward Ho!
Provided funds are made available by Congress at the special session, the Department of the Interior plans to construct soldier-settlements in practically every State.
Under this plan honorably discharged soldiers, sailors, and marines will be given work helping to construct these settlements, where later those who are qualified by reason of thrift, energy, and the determination to make an agricultural success, will be given an opportunity to select a farm home.
The kind of employment which will be offered will range from that of the technically qualified man to that of laborer. There will be work of practically every character, as there will be need for such men as engineers, draftsmen, surveyors, accountants, bookkeepers, stenographers, storekeepers, general clerks, foreman, truck drivers, teamsters, blacksmiths, cooks, and almost every conceivable sort of employment.
The work will consist in helping in the construction of dams and canals, blowing stumps and clearing off brush, digging drainage ditches, leveling and cultivating land, building houses and barns, constructing roads, laying out town sites, and, in short, all kinds of work associated with the creation of model community settlements.
When these settlements have been built, those men who are qualified will be allowed to take up farm houses, to be paid for in easy payment over a period of forty years. The payment will include the cost of the farm and of its reclamation and the cost of farm improvements, such as house, barn, etc., which have been placed upon it.
During the time that these men work on this construction they will be paid good wages by the Government, equal to the wages paid for similar work in other localities.
From these wages a man possessing the necessary qualities for success will be able without difficulty to save enough money to make the first payment on his farm home that he has helped to create.
The balance he can pay in equally small installments from the income he receives from the sale of his farm products.
It is planned to build soldier settlements that will accommodate at least 100 families. The farms will range in size from 5 to 160 acres, depending on the type of farming suited to the particular locality, and will radiate from a central town, which will be supplied with a schoolhouse, a town hall, a church, and other buildings to accommodate enterprises of a co-operative nature, such as a creamery, a cannery, etc.
Each farm will be practically a going concern before being turned over for occupancy, with house and barn built, roads constructed, fields leveled and plowed, and with perhaps even the first crop put in, and furnished with necessary farm stock and farm implements.
At the recent session of The Congress bills for carrying out this plan were favorably reported in both the House and the Senate, and it is expected that the matter will receive favorable action at the special session.
If such action is taken, the men who wish work in the open and an opportunity to own a farm home of their own should learn all they can about this plan of the Department of the Interior.
With this end in view, the Department is distributing at each camp throughout the United States small booklets entitled "Hey There! Do You Want a Home on a Farm?" Don't fail to get this if you've the slightest bit of yearning for the land.
Each booklet has attached to it a postcard containing certain questions which you are asked to answer. You should fill out this postcard and mail it to The Interior Department, Washington, D. C.
Your name will then be on file to receive further information regarding the plan if Congress takes favorable action. It is your interest which will put this tremendous project over the top.
As you think about a thing, you, an elector, so The Congress must think. That's why you vote to elect men whenever possible who think as you do. 
The Farming Game
In the whole world there is no man, institution or establishment that can tell you more about farms, or give you better dope on how to get a living out of the land than the United States Department of Agriculture.
Get in touch with the representative of this Department in your camp. You will find him in the Employment Service offices. He is prepared to give you every kind of agricultural information and to assist you in locating employment as a farm worker, or in finding for you a suitable farm to rent, to crop on shares or purchase.
The Department of Agriculture has an organization of field instructors or agricultural advisors numbering more than 2,000 located in nearly every important agricultural county in the country so coordinated that you can avail yourself of the assistance of any one of these through their representative located at your camp or by writing to the Secretary of Agriculture, Washington, D. C.
There are several capacities in which a man may make a beginning in the business of farming. He may secure employment on a good modern farm as skilled hired man, or foreman, or manager; in fact, there is an opportunity on many farms to make a satisfactory start as a worker, even without much preliminary training.
If a small capital—say, $1,500 or $2,000—has been accumulated, it is easily possible to buy a team, the necessary farm machinery and other equipment, and rent a farm, either on a cash basis or on shares.
Farm wages are often thought of as being far below those paid for work requiring similar skill in cities. We often forget, however, the other considerations which go with the cash wage to the farm worker.
The married men who may find employment on farms are furnished a house and a garden, and are given the privilege of keeping chickens. Moreover, they are furnished pork and milk from the farm supplies free of charge.
The single hired man has board and room in addition to his wages. These perquisites or considerations outside of the actual cash salary are easily worth from $360 to $560 a year in different parts of the country.
In fact, careful estimates indicate that a wage of $50 a month and board on a farm is the financial equivalent of $1,500 a year in the average modern city.
The opportunities for advancement in farming are fully equal to those which are offered in city trades. The history of a large percentage of our present farmers includes the hired man and tenant stage through which they passed in becoming farm owners.
On an average the whole process from hired man through the stage of tenant to the owner of a farm, without encumbrance, requires about 25 years.
At the end of that time, however, the estate which you have acquired is of far greater value than the average estate of the man who works at a city trade or other profession.
William Brown Meloney, "Where Do We Go From Here? - This Is the Real Dope: Living Off the Land - Options for Dicharged Soldiers and Sailors," Baltimore: Thomsen-Ellis Press, 1920.