Options for Discharged Service Members - 1919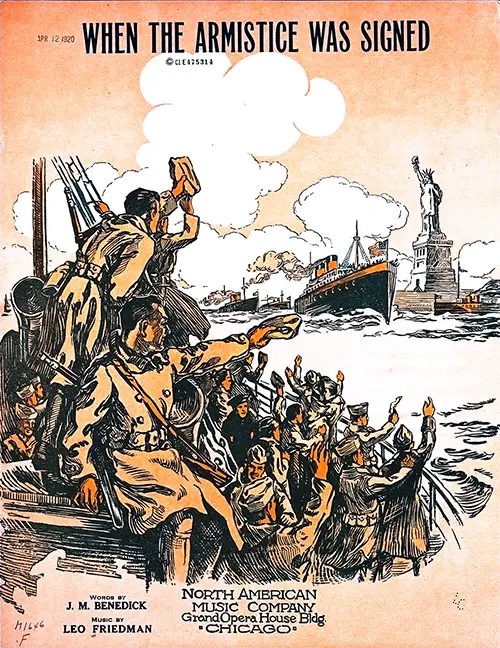 Sheet Music Cover, When the Armistice Was Signed, Words by J. M. Benedick, Music by Leo Friedman, Published by the North American Music Company, Chicago, 1919. Library of Congress, LC # 2013566030. GGA Image ID # 197face037
Must I Be Discharged Immediately?
Any man who has no assurance of immediate civilian employment may remain in the service until he obtains employment, or the Government gets him a job. In such cases he will be attached to a unit where his services may be utilized, but without reduction in grade or pay.
Some Guard House or Sea Lawyer is responsible for the prevalence of a belief that a man cannot be discharged unless he has a job. This is not so.
Be frank with the Employment Service of the Labor Department. If you have no job in sight, say so. It will not cause your detention in service one extra hour, providing you are eligible for discharge, and, knowing the truth, the Employment Service can help you.
How May a Discharge Be Hastened?
In individual and exceptional cases, a man may be discharged by application through regular military channels, on two grounds:
Sickness or other distress requiring his presence at home.
Urgent need of his services in an industry or occupation, including farming. (See Circular 213, War Department, April 28, 1919.)
The test of an urgent industrial need will be invariably whether a man's services are indispensable.
But whether a man seeks discharge because of sickness or distress in his family, or because of industrial reasons, the certificate of his commanding officer that he may be spared by his organization is indispensable.
Remember that it is no more possible for 2,000,000 men to lay down their arms overnight than it is to shoulder them.
Demobilization is just as much a part of the war game as mobilization. I t requires the same soldierly qualities. So play the game out to the end.
Discharge of Officers
Circular No. 75, War Department, Washington. November 20, 1918, provides:
"All separations from the service will be by discharge as authorized by law (tenders of resignations will not be received or considered). Such discharges will be a complete separation of the individual from the service, and will terminate all commissions held by him in the Officers' Reserve Cores, or otherwise.
"All officers should be so informed, and should also be informed that, while they will be given opportunity to express their desires relative to commission in the Reserve Corps or the Regular Army, the granting of such commissions will be entirely dependent upon their fitness, eligibility. and such vacancies as may be provided by existing or future laws and regulations.
"Orders directing the reduction of the enlisted strength of a command will be construed as requiring a corresponding reduction of commissioned personnel in the manner provided by these instructions. For the purpose of determining the order of discharge officers will be arranged in the following classes, and discharged in the order named :
Class 1—Officers desiring full and immediate separation from the service. (Individual officers in this class, when sent to a demobilization camp, may accomplish separation from the service inside of 24 hours.)
Class 2—Officers desiring prompt separation from the service and subsequent appointment or reappointment in the Reserve Corps, and who commanding officers recommend for such appointment.
Class 3—Officers desiring appointment, if opportunity permits, in the Regular Army, who commanding officers recommend for such appointment.
"It is the policy of the War Department not to discharge the following:
a. Officers holding commissions in the Regular Army, on either the active or retired lists.
b. Officers in arrest, under charges, or serving sentence of a general court-martial.
c. Officers having had money or property accountability, and who have no clearance therefor.
d. Officers on sick report or in hospital.
e. Officers who for exceptional reasons cannot be spared, or who, in the opinion of their commanding officers, should not be discharged at this time.
"This is the form of order which each officer will receive upon honorable discharge:
"'By direction of the President, and under the provisions of Section 9, Act of Congress, May 18, 1917, and Circular No. 75, War Department, 1918, Captain John Doe, Infantry, is honorably discharged from the service of the United States, for the convenience of the Government, to take effect this date, his services being no longer required.' "
For further information concerning the law and regulations covering an officer's discharge, consult the following:
a. Section 9, Act of May 18, 1917. (See page 11, Bulletin No. 32, War Department, 1917.)
b. Sixth paragraph, Section 37, Act of June 3, 1916. (See page 59, Special Regulations No. 43.)
c. Act of March 2, 1901, relative to travel allowances. (See paragraph 684, Military Laws of the U. S., 1915.)
d. Act of March 30, 1918, relative to restoration of enlisted men to former grades. (See Section V, Bulletin No. 22, War Department, 1918.)
e. Memorandum of Judge Advocate General, August 30, 1917. (See paragraphs 3, 4 and 5, page 22, Bulletin No. 72, War Department, 1917.)
f. Opinion of the Judge Advocate General, 241-5, March 30, 1918. (See page 23, Digest of Opinions, March, 1918.)
Retention of Officers
It is the present policy of the War Department to utilize the services of those officers who have applied for and been recommended to Regular Army appointment, in all lines of work, so as to release all officers who request discharge (whether they desire to be commissioned in the Reserve Corps or not). The former are "Class III" officers.
The others are "Class II" or "Class I." If you are in Class II or 1, and your services can be spared, you may apply for immediate discharge. If you have been placed in Class III, and wish to be discharged, you may ask for discharge, and such discharge will not prejudice your chances for later appointment in the Regular Army at any time you may apply for reclassification.
For further particulars regarding discharge, consult "Compilation of Circulars Relating to Demobilization, W. D. 1918," and also Circular No. 86, W. D. 1919. If you are in Class III, you will find what information there is in Circulars 138 and 148, W. D. 1919.
If Class III officers are reported surplus, and there is no further need of their services, they will be discharged; the fact that they have been discharged does not prejudice in any way their application for appointment in the permanent establishment.
Leave of Absence
An officer arriving for discharge may have separation from the service postponed for a period of 30 days on an application, in writing, to the commanding officer of the camp or station to which he has been ordered for discharge, certifying therein that he desires to use this 30 days in procuring civil employment.
Commanding officers of demobilization centers and other stations having authority to discharge officers, may grant leaves of absence for a period not exceeding 15 days upon the certification of an officer that he desires to use that time in seeking a position.
Commanding officers also are authorized to order an officer going on leave under these circumstances to report at the expiration of leave to the camp or station nearest to his home to be discharged upon the completion of his leave. The journey must be performed at the officer's expense on a leave status.
Reduction of Non-Commissioned Officers
Circular No. 51, War Department, Washington, January 28, 1919, provides that any former noncommissioned officer who was discharged to accept a commission in the United States Army, and who re-enlists within three months from the date of his discharge as a commissioned officer, will be restored to the grade held by him at the time of discharge to accept such commission, with his order of precedence fixed by the date of his warrant in force at the time of such discharge.
William Brown Meloney, "Where Do We Go From Here? - This Is the Real Dope: Options for Discharged Service Members," Baltimore: Thomsen-Ellis Press, 1920.