Re-Enlistment Options for Servicemen in the Great War - 1919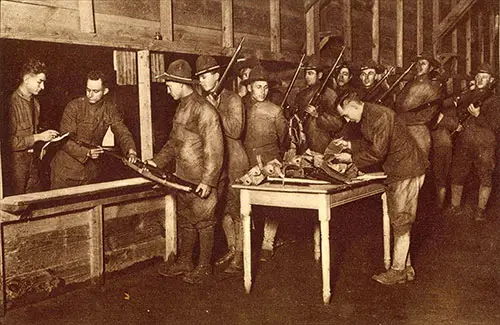 Soldiers Being Mustered Out at Camp Dix NJ After the Signing of the Armistice. War of Nations: The New York Times, 1919. GGA Image ID # 196f463f7f
Enlistment in Army
If you should desire to continue in the military service, it is your privilege to select the branch you like best.
The bonus of $60 is payable to all men who may continue in the service by reenlistment, but the three months' extra pay for which provision is made under the Act of Congress approved May 11, 1908, is not payable on re-enlistment to men who were previously enlisted or drafted for the period of the emergency.
A furlough of one month is given to each man who re-enlists, which means, of course, a 30-day vacation with pay and allowances and the privilege of going home and returning to your station for a 1-cent a mile railroad fare.
Ninety men from the Army are to be sent to West Point annually, and, as always, promotion from the ranks is open to those qualified to hold commissions.
The General Staff has adopted an enlistment policy as follows:
For men of previous military service, one year or three years.
For all others, three years.
A man desiring overseas service must enlist for three years.
Following a tour of Army establishments and camps throughout the United States, the Chief of Staff, on March 29, 1919, said:
"I also found in inspecting the recruiting establishments which were organized under our orders that in these camps the number of men obtained was very small. A point came up as to whether it would be possible to promise men service in France.
"Generally men who had not been able to get across said that they would be glad to enlist with a chance of getting overseas; and on the spot I promised definitely to each man that he would get foreign service, and on my return (to Washington) I approved an order which has already appeared in the press, promising definitely that we will give that character of service to, say; 50,000 men of the 175,000 authorized by the last Congress to be enlisted."
Recruiting for voluntary enlistments was resumed on February 28, 1919. Up to April 21st there had been 17,542 enlistments.
The Army strength within the United States, as of March 25th, was 605,178. From November 12, 1918, to March 26, 1919, 1,535,471 of the 3,670,888 officers and men under arms on the day of the first armistice had been discharged, and 573,474 officers and men had returned from overseas. 
What The Army Offers
The Motor Transport Corps has schools at Camp Holabird, Baltimore, Md.; Camp Jessup, Atlanta, Ga.; Camp Normoyle, San Antonio, Tex.; Camp Boyd, El Paso, Tex.
Any man with an eighth-grade education and of average intelligence may be enrolled. Men for one-year enlistments are c qualified in the various sub-branches of motor repair. The three-year period qualifies the soldiers to be general motor workers, able to manage a garage repair shop on motor work in a small town; and men can earn from $25 a week up, even after the one-year course.
The Air Service has schools at 17 flying Fields, and trains men in 41 different trades.
The Coast Artillery has a specialists' school at Fortress Monroe, Va., where men are trained in steam, electrical engineering, and radio work, and other subjects.
The Tanks Corps, Ordnance Department, Construction Division, and Engineers, train men in various pursuits.
It's up to a man to choose his own branch, whether those named, or Infantry, Cavalry, Field Artillery, the Medical Department, the Signal Corps or the Quartermaster Corps.
Briefly, the inducements in all are a good education in special lines, pay while learning, good meals, and free clothing.
Enlistment in Navy
The Navy desires to enlist all men possible. Enlistments are for a four-year period only. Aptitude will be rewarded by an opportunity to enter a training school where a man may be trained for practically any trade. As yet no cruises have been planned, but the Department is working on the subject.
Enlistment in Marine Corps
Enlistments in the Marine Corps are for four years only. The Corps offers general training with a possibility of overseas service. Chances are good for promotion in the non-commissioned grades. At present the Corps is carrying on an extensive recruiting service with much publicity.
William Brown Meloney, "Where Do We Go From Here? - This Is the Real Dope: Getting a Job After Serving in the Great War," Baltimore: Thomsen-Ellis Press, 1919.