Letter from General Pétain to Floyd Gibbons, 1918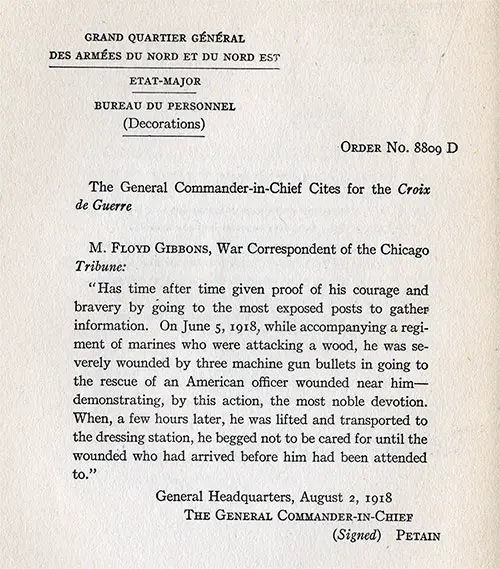 English Translation of Letter dated 2 August 1918 From General-in-Chief of the French Army Philippe Pétain to Mr. Floyd Gibbons, War Correspondent for the Chicago Tribune. And They Thought We Wouldn't Fight, 1918. GGA Image ID # 184b61d90c
GRAND QUARTIER GÉNÉRAL DES ARMÉES DU NORD ET DU NORD EST
ETAT-MAJOR
BUREAU DU PERSONNEL
(Décorations)
Order No. 8809 D
The General Commander-in-Chief Cites for the Croix de Guerre
M. Floyd Gibbons, War Correspondent of the Chicago Tribune:
"Has time after time given proof of his courage and bravery by going to the most exposed posts to gather information. On June 5, 1918, while accompanying a regiment of marines who were attacking a wood, he was severely wounded by three machine gun bullets in going to the rescue of an American officer wounded near him— demonstrating, by this action, the most noble devotion.
When, a few hours later, he was lifted and transported to the dressing station, he begged not to be cared for until the wounded who had arrived before him had been attended to."
General Headquarters, August 2, 1918
The General Commander-in-Chief
(Signed) Petain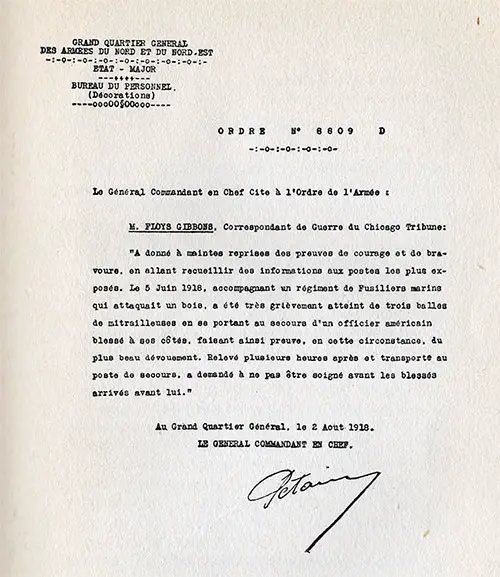 Original Letter, Written in French, Dated 2 August 1918 From General-in-Chief Philippe Pétain to Mr. Floyd Gibbons, War Correspondent for the Chicago Tribune. And They Thought We Wouldn't Fight, 1918. GGA Image ID #
Pétain earned acclaim for stopping the Germans at the Battle of Verdun and assumed command of the French forces in 1917.