Leaves of Absence, Passes, and Furloughs: General Orders No. 6 HQ AEF, France - 1918
GENERAL ORDERS No. 6
HEADQUARTERS. A. E. F.
France, 8 January 1918.
General: The following Instructions will govern the system of leaves and furloughs In the A. E. F. The term "leave" will be used herein to designate both leaves of absence and furloughs.
Administration: Organization commanders will be responsible for the application of this order within their commands to the best Interests of the service. The organization and administration of the system of handling men on leave is a duty of the C. G.. L. of C.. to be carried out through his Provost Marshal General Department in co-operation with the YMCA (accommodations and entertainment) and the D. G. T. (transportation).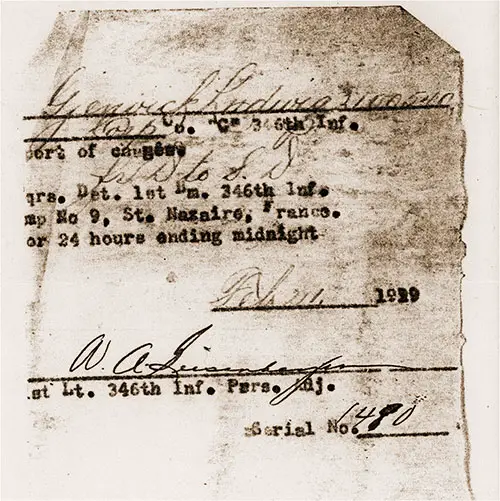 24-Hour Pass Granted by Lt. A. A. Suisendorf, 346th Infantry Personnel Adjutant to Gjenvick, Ludwig 2100540, Corporal in Company C, 346th Infantry, dated 21 February 1919. Report of Changes: Fr. D to S. D. Hqrs. Det. 1st Bm. 346th Inf. Camp no. 9, St. Nazaire, France, For 24 hours ending midnight. Gjenvick-Gjønvik Family Archives. GGA Image ID # 186c340fba
Amount of Leave Allowed: Officers and men of the A. E. F. in flood standing may be granted one leave of seven days every four months. time of travel to and from destination in France not included.
Other Absences: Any absences authorized under Army Regulations, except on duty or on leave as prescribed herein, shall not involve the use of rail transportation in the French Zone of the Armies. In the French Zone of Interior the availability of any necessary railroad transportation will be inquired into 24 hours in advance.
Leave Rosters: Leaves will, in principle, be granted by roster, based on (a) length of time since last leave or furlough: (b) length of service in France; (c| length of service: (d) lot. Officers authorized to grant leaves shall make the necessary adjustment of leave rosters, in the interest of the service to avoid absence of too many N. C. O.'s or specially qualified soldiers at one time. The first leave period shall begin to run four months after arrival In France. No accumulation of leave will be permitted. Regular leave will not be granted within one month after return from sick or convalescent leave.
Granting and Suspension of Leaves: In accordance with such allotments of leave areas or destination as may be made leaves may be granted by regimental commanders or by the corresponding administrative commander of units not belonging to regiments. Suspension of the leave privilege for military reasons will, when necessary, be ordered by division or higher commanders. These commanders may also authorize special leaves of not to exceed three days in exceptional cases. Not more than 10 percent of the soldiers of any command shall be absent on leave at once, nor shall any organization be crippled for lack of officers.
Method of Calculating Leave: Leaves will specify the day of departure and the number of days' absence authorized. The leave will begin to run at 12:01 a. m. (night) following arrival at destination authorized in the leave, and will terminate at midnight after the lapse of the number of days' leave authorized. Thereafter, the next leave train must be taken back to the unit. or. if not on a railroad line over which leave trains pass, the quickest available transportation must be taken back to connect with such leave trains (or. in absence of leave train, direct to the unit). Any leaves which, in exceptional cases, may be granted by the H. A. E. F. to go to Allied or neutral countries will be counted as beginning on leaving France and terminating on arrival back in France.
Leave Destinations: Areas to which a specified number of soldiers may be authorized to go on leave will be allotted to divisions, corps or other units or territorial commands. Allotment of areas will be rotated as far as practicable by four months' period, so as to give equal opportunity to all men. Allotment covering Paris will be made separately from all other areas, so as to limit the number of American soldiers visiting Paris on leave. The P. M. G. Department will furnish to commanders concerned all necessary information regarding the number of soldiers that can be accommodated in the authorized areas. For the present, officers will not be restricted as to points to be visited on leave, other than Paris, but for points in the French Zone of the Armies the concurrence of the Chief. French Military Mission will be required.
Exceptional Destinations: Leaves for soldiers to visit immediate relatives (father, mother, wife, child, grandparents, brothers, sisters, uncles, or aunts), or for other very exceptional reasons, may be granted for other areas than those allotted to their units, but the number of men authorized to visit Paris shall not thus be increased. In case of doubt, officers granting such leaves will require the soldier claiming to have relatives whom he desires to visit produce a certificate to that effect from the A. P. M. in the locality, or if no A. P. M. is stationed there, then from the Mayor or Commissionaire of Police of the town concerned. If the locality to be visited, whether by an officer, a soldier or a civilian attached to the American Army, is in one of the following excepted zones, the leave will be granted only with the concurrence of the Chief, French Military Mission:
a. Tire French Zone of the Armies.
b. Departments of Doubs. Jura. Ain. Haute-Savoie. Seine-Inferieure and Pyrenees Orientales, and the Arrondissement of Basses-Pyrenees. touching the Spanish frontier.
Leave Papers and Identification Cards and Tags: Each soldier s leave will show the point or area to which he is authorized to go: will give the address of the A. P. M. there located, and will contain a statement in French as to whether or not the soldier speaks French. A pink leave will be given for Paris; all others will be white. Each individual authorized to be absent will carry a copy of this leave, as well as the Identity card prescribed in G. O. No. 63. A. E. F.. and will wear his identification tags.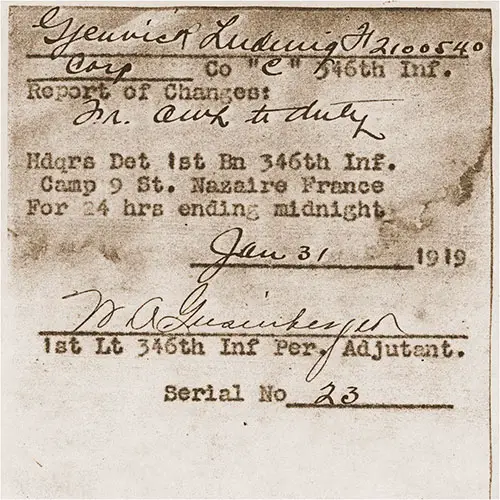 24-Hour Pass Granted by 1st Lt. N. A. Gusierkesgen, 346th Infantry Personnel Adjutant for Ludvig Gjenvick 2100540, Corporal, Company C, 346th Infantry, Dated 31 January 1919. Report of Changes: Fr. Awl to Duty, Hdqrs Det 1st Bn 346th Inf. Camp 9, St. Nazaire, France, For 24 hrs ending midnight. Gjenvick-Gjønvik Family Archives. GGA Image ID # 186c235fa3
Inspection Before Going on Leave. Before men of their units are allowed to depart on leave, the company or detachment commander will see:
a. That each man registers his address while on leave, in his own handwriting.
b. That he is neat and tidy in appearance.
c. That he has the required paper and sufficient funds for the trip.
d. That (in case of soldiers of divisions, corps, or army troops in the Zone of the Advance) he carries with him the complete individual equipment, including his rifle and bayonet or pistol, but that he has no ammunition whatever. (Soldiers other than those indicated will not take rifle, pistol or bayonet. Their leave orders will be stamped accordingly on departure.
e. That he is instructed in the necessity for strict observance of any prescribed rises in prices.
f. That he is instructed in the censorship regulations.
g. That his freedom from venerai disease is established by examination before departure, and that he has full knowledge of the prophylactic regulations.
Disposition of Arms: The rifle, pistol and bayonet of all soldiers departing on leave of absence from division, corps or army corps in the Zone of Advance will be left at the regulating station or other designated point, and the leave order will be stamped to that effect. On return from leave through the regulating station, similar articles will be reissued and a corresponding notation will be stamped on the leave order.
Rail Transportation: All travel on leave by men belonging to units within the French Zone of the Armies will, as far as possible, be on special leave trains, except in the following cases, when. in the discretion of the responsible commanders, travel may be by regular trains: Officers, first sergeants and higher grades of noncommissioned officers, authorized candidates for commissions, military police, soldiers holding medal of honor or certificate of merit and soldiers going on a special three days' leave, authorized to be granted in exceptional circumstances (on the going journey only).
Special Leave Trains: The commanders of divisions, of corps and army troops, and of detached organizations, will advise the regulating officer three days in advance of the number of each class of transportation required for each destination, the day of departure and the most convenient collecting station. The regulating officer will arrange for the necessary going and returning transportation. The regulating officer will advise the commanders and A. P. M's interested of the movement and the date and schedule of the retuning train.
Transportation of officers arid soldiers on special leave trains will be furnished by the Government, and subsistence for all soldiers will be provided for both going and returning Journeys. Above will be In lieu of commutation and rations while on leave, which will not be paid on any case.
Leave trains from the front shall carry suitable military police, who will be responsible for the conduct of the men.
Travel on Regular Trains: Travel otherwise than on special leave trains will be at the expense of the officer or soldier at military tariff. All leaves will bear the following notation:
"Armee Américaine. Permissionnaire-Quart de tarif." (Sec. 1. G. O. No. 33. A. E. F.. 1917.)
The latter notation qualifies the holder for rail transportation at one-fourth the regular rate. In purchasing transportation, leave papers or travel orders must in every case be shown to the R. R. station agent. In the case of loss of leave papers, or lack of money to purchase ticket, the soldier will immediately report in the A. P. M., or. if there is no A. P. M.. to the Bureau de la Place, or to the Gendarmerie, where the French authorities will arrange to send the soldier to the nearest A. P. M.. or will communicate with the A. P. M.. as the case may require. Transportation will be called for as follows:
For Commissioned Officers and Army Nurses -- 1st Class
For Field Clerks and N. C. O.'s -- 2nd Class
For all others -- 3rd Class
In the case of non-availability of the class indicated, the class to be furnished will be noted on the individual's leave. Except on special leave trains, soldiers may purchase second class seats, but if shortage of such seats should occur will not displace regular passengers.
Visé and Registry: The regulating officer will have stamped on each leave the date and hour of passage through the regulating station on the going trip. In the case of men who will not pass by train through a regulating station, the date of departure from station will be indorsed on the leave by the company or detachment commander.
On arrival at destination all men will have their leave papers stamped with the date of arrival, and will have noted on them leave by the A. P. M. at the R. R. station (or in absence of any A. P. M. by the French R. R. officials), and will report to the A. P. M. for information, for vise of leave papers by the A. P. M. and the French authorities. and for selection of an assignment to lodgings and registry of address.
Where no A. P. M. is located, they will register their addresses, and submit their leave papers for vise at the French "Bureau de la Place" of a town garrisoned; otherwise at the "Gendarmerie." They may secure information there and assistance in procuring lodgings. They will exhibit their leave papers to the French authorities at any time upon request. On return to the unit the leave papers will be returned in to the unit commander.
Prophylactic and Censor Stations: All A. P. M. stations will be provided with suitable prophylactic facilities. The P. M. stations will be provided with censor stamps, which will be in charge of the A. P. M. or other commissioned officer, who will censor the mail of all members of the A. E. F. in their area.
Lodgings: Men will be expected to pay for their lodgings in advance. Should these prove unsatisfactory, application should be made to the A. P. M. for change, which shall be made if practicable. All matters that call for adjustment shall be taken to the A. P. M. The following extract from Sec. I. G. O. No. 34. A. E. F.. 1917. is reprinted for Information and guidance:
"All members of A. E. F.. including attached civilians, on leave or on a duty status, upon arrival in Paris or other cities, will report once to the A. P. M. for vise of papers as required by the regulations of the Provost Marshal Service. The A. P. M. will cause each man to be given advice and warned as to the prevalence and dangers of venereal disease.
"In cities which men may visit from lime to lime on leave or on duty status where official accommodations are not available, certain hotels will be designated by the Provost Marshal General where men will be required to reside when away from their commands."
Discipline: Men unable to pay or who commit any serious breach of discipline will be promptly returned to their organizations. Misconduct will be reported by A. P. M.'s direct to the proper regimental or other commander for disciplinary action and for consideration at the next turn for leave.
In case of groups of men on leave traveling in authorized areas, the senior N. C. O. or soldier shall be responsible for the conduct of the men. No liquor and no firearms or explosives of any sort shall be in possession in any soldier going or returning from leave.
Clerks. Nurses. Etc.: Army Field Clerks. Field Clerks Quartermaster Corps, members of the Army Nurse Corps and others in or attached to the military service may be granted leave in amounts and under the conditions herein prescribed.
Personnel of Higher Headquarters: Personnel of H. A. E. F.. army corps, or headquarters, or headquarters L. of C.. may. if in the interests of the service, be granted authorized leave each for four months in the form of several short leaves.
Troops in England and Italy or Serving with Allied Forces: Commanders of troops in England and Italy or attached to the Allied armies may grant leaves in accordance with the terms and principles herein enunciated. Such leaves will, however, be subject to such provision of regulations governing leaves in Allied armies as conditions may render it advisable to apply in each case.
Order Executive: Such to to the restrictions in Par. 6 this order will become operative in any organization on notification of allotment of leave areas.

By Command of General Pershing:
JAMES C. HARBORD.
Brigadier General.
Chief of Staff.