Correspondent Pass for Floyd Gibbons - 1918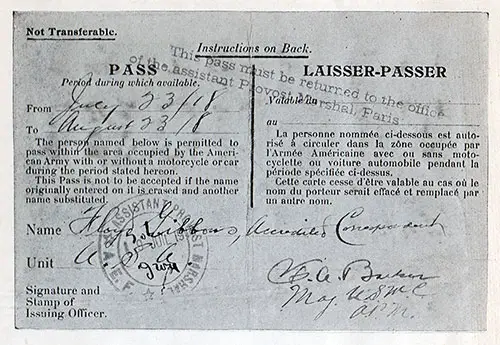 Correspondent Pass, American Army Occupied Territory in France for Floyd Gibbons, dated 23 June 1918. And They Thought We Wouldn't Fight, 1918. GGA Image ID # 1848424c84
PHOTOGRAPH AND DESCRIPTION OF THE HOLDER OF THIS LICENSE
Good only for the American Zone
Name: Gibbons, Floyd
Nationality: American
Age: 30
Height: 5 ft. 11 ½ inches
Color of hair: Brown
Color of eyes: Blue
General build and any distinctive marks: n/a
Signature of the holder
AMERICAN EXPEDITIONAY FORCES PRESS CORRESPONDENT'S LICENSE
The bearer, Gibbons, Floyd is authorized to accompany the American Expeditionary Forces in France as an accredited correspondent representing Chicago Tribune, subject to the regulations for Press Correspondents.
Date: November 1, 1917
Signed by: John J. Pershing, Commander-in-Chief
Headquarters of the American Expeditionary Forces
Instructions on Back: PASS
Not Transferable
Period during which available
From June 23, 1918
To August 23, 1918
The person named below is permitted to pass within the area occupied by the American Army with or without a motorcycle or car during the period stated hereon.
This Pass is not to be accepted if the name originally entered on it is erased and another name substituted.
INSTRUCTIONS
This Pass to be shown when demanded.
It is not transferable and must be signed by the bearer.
No Pass is valid unless stamped with a Special Pass Stamp of an A. P. M. and the Rank, and appointment of the issuing Officer is added after his signature.
If issued for a short period only, the word "temporary" must be written on the face of the Pass.
The Loss of a Pass or the finding of a Pass is to be reported at once to the A. P. M. of the nearest formation.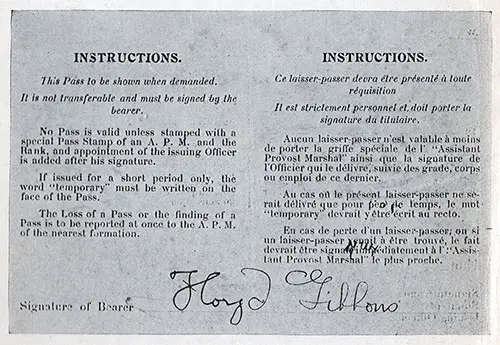 Correspondent Pass Instructions with Signature of Floyd Gibbons. And They Thought We Wouldn't Fight, 1918. GGA Image ID # 18484bbc8a