87th Divsion - 346th Infantry - Historical Notes 1917 - 1919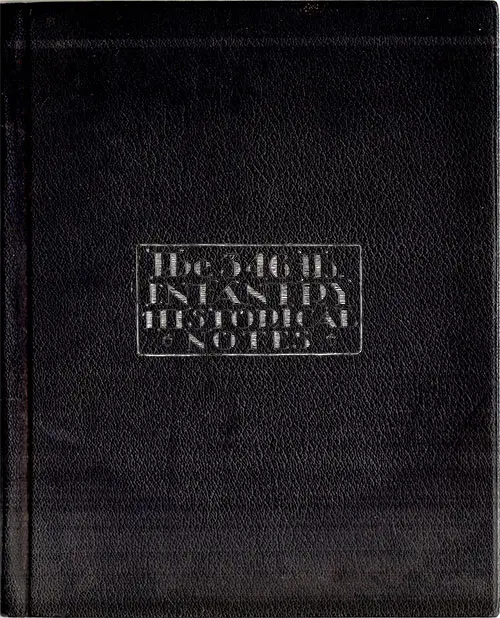 U.S. Government Printing Office, The 346th Infantry Historical Notes 1917 - 1919, © 1919, Various Officers and Enlisted Men of the 346th, Hardcover, 180 Pages.
The accounts of the 346th Regiment of Infantry of the 87th Division in World War I.
Contents Include:
Maps
Rosters of Officers and Staff
Listing of Casualties of the 346th
Brief stories from all Companies within the 346th Infantry
346th Infantry Officers' Club and Impressions of Camp Pike
Slang used by the 346th and WWI soldiers in general
Photographs, Illustrations and Cartoons of Life at Camp Pike and Travels (mostly to the UK and France).
Cover of book is black has no letters or illustrations.
The 346th Infantry was a component of 173rd Infantry Brigade of the 87th Division.
The 87th Division was made up of National Army drafts from Arkansas, Louisiana and Mississippi. It was organized at Camp Pike, Arkansas. The overseas movement began August 23, and the last units arrived in France Septamber 13, 1918.
Upon arrival in France, the division was turned over to the Service of Supply and ordered to Pons (Charente-Inferieure), where it was broken up and units placed in the intermediate section. The commanding general of this division was Major General Samuel D. Sturgis. The division is popularly known as the "Acorn Division," and the shoulder insignia is a brown acorn on a greeen circle.
The 87th Division was composed of the following organizations:
173rd Infantry Brigade
- 345th and 346th Infantry Regiments
174th Infantry Brigate
- 347th and 348th Infantry Regiments
334th, 335th and 336th Machine Gun Battalions
162nd Field Artillery Brigade
- 334th 335th and 346th Field Regiments
312th Trench Mortar Battery
312th Engineer Regiment and Train
312th Field Signal Battalion
312th Ammunition Train
312th Supply Train
312th Train Headquarters and Military Police
312th Sanitary Train
- 345th, 346th, 347th and 348th Ambulance Companies and Field Hospitals