Steerage - Immigrant Journeys to Their New Home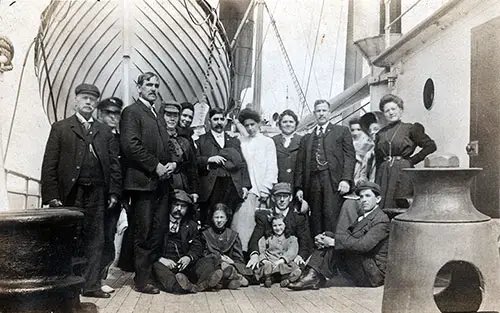 Steerage Passengers on the Deck of an Ocean Liner circa Early 1900s. Photograph from a Postcard. GGA Image ID # 154782ffc3
On steamships, Steerage (or Tween Decks) and Third Class was the default choice of many immigrants from the 1850s through the 1930s. The conditions varied by steamship line and were likely to be relatively harsh compared to modern standards.
Definition
The expression "steerage passenger" means all passengers except cabin passengers, and persons shall not be deemed cabin passengers unless the space allotted to their exclusive use is in the proportion of at least thirty-six clear superficial feet to each passenger.
Pre World War 1 Conditions
Early steerage often housed hundreds of immigrants in one large room, often converted from cargo holds to hold what might have been described as human cattle. These potential new citizens were emigrants from many countries around the world who endured a journey unlike any other.
Westbound versus Eastbound Voyages in Steerage
The steerage from Liverpool to New York is one thing, the steerage from New York to Liverpool another. It is on the first-named voyage that one sees the wretched creatures huddling in groups like animals, shivering in abject terror at the motion of the water, croaking hoarsely in the obscure patois of remote European villages, and mumbling prayers at impromptu shrines.
Special Collections Related to Steerage
Immigrants Enduring Hardships
Their Journey in Steerage
Steerage Conditions: An Intractable Problem