Immigrant Passage Contracts & Tickets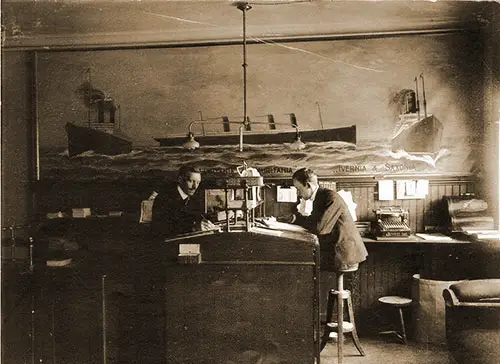 The Olaf H. Solem Cunard Line Steamship Company Agency in Trondheim, Norway circa 1910. Olaf H. Solem is pictured above on the left. Photo courtesy of Børge Solem. GGA Image ID # 14c7bcc2e7
The Gjenvick-Gjønvik Archives has a large collection of original passage contracts and tickets primarily for Transatlantic voyages, dating from the 1880s through the 1950s for immigrant passages to America.
All of the immigrant contracts have been transcribed and as appropriate, have an English translation. Even though it is highly unlikely we have your family's steamship ticket, try selecting a contract from the same steamship line or ocean liner used by your ancestors for illustrating your family history.
Passage Contracts & Tickets in Date Order
Passage Contracts & Tickets by Year
Passage Contracts & Tickets by Class
About Steamship Contracts and Tickets
Teachers and Students: Download our Digital Learning Book: US Immigration through Primary and Other Sources by the Gjenvick-Gjønvik Archives. A ready reference you can use to prepare student exercises and learn more about the role ephemera in our immigration history.