How to Use The Gjenvick-Gjønvik Archives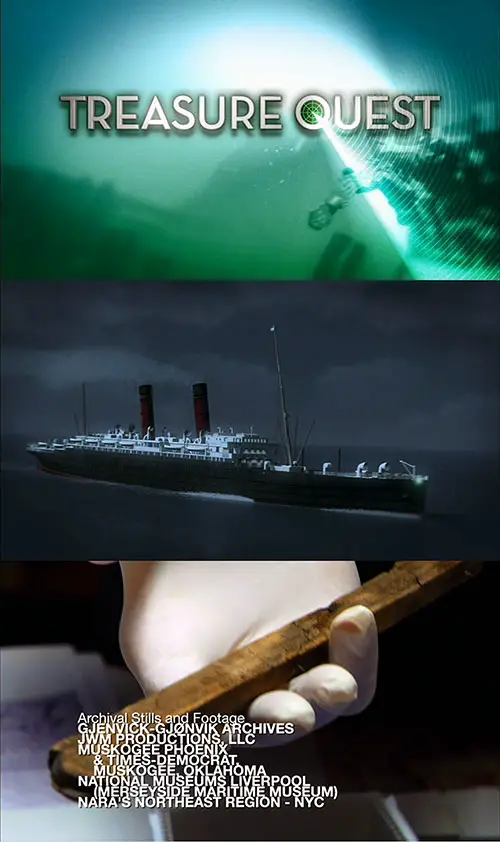 Images from the Discovery Channel's Treasure Quest, Season One, Episode 11: The Silver Queen. The GG Archives supplied several of the still images of the Cunard Line RMS Laconia, sunk by SM U-50 on 25 February 1917. Items salvaged were 852 bars of silver and 132 boxes of silver coins worth an estimated £3m. GGA Image ID # 1544258c46
The GG Archives is a vast resource for social and cultural history from documents, brochures, pamphlets, booklets, etc., created as ephemera by the many different steamship companies that did not survive into the 21st century.
We also possess a number of original documents such as steamship passage contracts, World War I and II draft cards and related materials that are one-of-a-kind that tell a story of the migration from Europe to North America.
Using the GG Archives
Organized by topics, the GG Archives specializes in providing social and cultural history in a historical context to aid in your research and enhance your Family History.  With the exception of our military collection, the Archives is focused on the period of American History beginning with the 1880s to 1954 (the year Ellis Island closed).
The Voyage Across The Sea
The strength of our Archives is having a representative sample of ephemera, journals and articles about transatlantic voyages, and many documents pertaining to the voyage including passage tickets and contracts to landing cards and immigrant certificates of vaccination.
Once you know when your ancestors crossed the ocean, you can find many brochures, photographs, postcards for most of the transatlantic steamship lines to supplement the information you have. 
Get an idea of what the voyage was like by reviewing the information for passengers section of many of the passenger lists from the early 1900s through the 1930s.  Although we may not have the specific passenger list that contains the name of your ancestor, we have thousands throughout the period we cover.
If your ancestor crossed the ocean in steerage, it is very unlikely that any list was created listing passengers in steerage (with exception of the German steamship lines). 
Steamship lines created most of their printed materials for the benefit of cabin class passengers.  Most of the interior photographs onboard ships were of the cabin class areas. 
The passage contracts pertaining to steerage passengers are very revealing of the conditions and treatment of primarily immigrant passengers.
Factors and Events Effecting Immigration
Recessions and Economic Depressions had significant effect on steamship lines.  There was the Panic of 1893 and 1907, and the Great Depression of the 1930s preceded by the Stock market crash of 29 October 1929. 
Other events affecting the steamship lines were the Steamship Trust created by J. P. Morgan and other financiers in 1902; Changes in US Immigration Policy, especially 1921 that significantly impacted many steamship lines that had carried a great number of immigrants to the US and Canada.  From that point forward, Cabin Third Class and Tourist Classes of travel replaced what was left of the immigrant steerage class.
Prohibition also influenced steamship travel from 1920 to 1933 where those who preferred access to alcohol favored the European lines and those who believed in Prohibition often favored the US Based steamship lines, which were more restricted in their carrying of alcoholic beverages.
Going in Style
Our vintage fashion section will assist you in understanding what clothing styles were worn in different time periods and our arts and entertainment section will provide a background in motion pictures, music and concert programs – especially those taking place onboard the steamships. 
The Archives also contains an excellent collection of vintage menus from numerous voyages and a variety of classes and special occasions on many steamship lines from the late 1800s through the 1950s.  Exceptional graphics can be found throughout all of our collections. 
Low-resolution images are free to use for non-commercial purposes and high-resolution images are available for a reasonable cost.
Military Archives
The GG Archives is renowned for its collection of US Naval Training Center graduation books in addition to an extensive collection of brochures, booklets, pamphlets and magazines produced by the US Military, particularly the U.S. Navy, from the late 1800s through the early 2000s.  We also have a number of Carrier Deployment Cruise Books and specific materials on World War I including the Draft and letters from King George V.
High Resolution Images and Reprints

We supply high-resolution images to production companies, authors, and genealogist like you - of historical documents including passenger lists, brochures, photographs, and other materials form the 1800s through 1954.
See ordering information for services and digital images fees.
Consider Supporting the GG Archives. Your ongoing support is very much appreciated!
The generosity of our patrons like you keeps our entire website accessible and free to use by all interested patrons. We receive no public funding and rely entirely on limited advertising and contributions/donations from supporting patrons like you.