A Saint Valentine Luncheon - 1913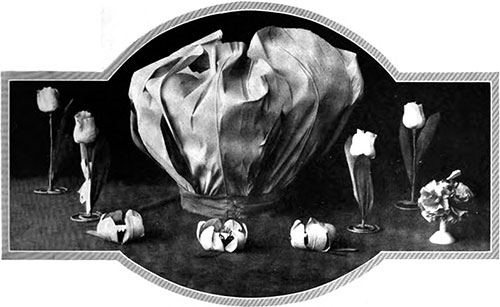 If one were to select the best possible day of the year for a luncheon, she might well decide on the fourteenth of February—Saint Valentine's Day.
The Christmas rush is over, the spring vegetables are beginning to appear, at least in city markets, the shops are full of pretty favors in honor of the little love god, and mirth is in the very air.
So the fortunate hostess will send out her invitations, and then decide just what she will have to eat.
She may settle the decorations first.
Happily dining is a pleasure that appeals to more than one of the senses. The eye has much to do with the flavor of all food, so the table must be made as pretty as possible.
There is no prettier color for table decoration than pink, and, as love is the keynote of Saint Valentine's Day, and love is always rose-tinted, what could be more appropriate than roses themselves? This is especially fortunate as it is easy to have favors, bon-bons, and ices of the same shade.
A pretty table is made by getting one of the bisque cupids, which are found in all shops where casts are kept, for a centerpiece, entwining it with smilax or asparagus fern, and scattering pink rose petals about its base.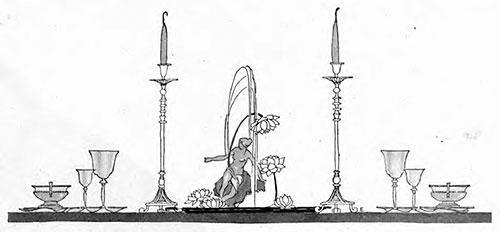 With this arrangement small vases filled with roses may be put at intervals about the table, alternating with glass or silver candlesticks, holding rose—shaded pink candles.
It is the easiest possible task to find favors for this luncheon. Heart-shaped place cards may be made at home, or bought for a few cents at any stationer's.
Rose cards may be used, if preferred, or, best of all, real valentines, with their loves and doves and endless professions of devotion. One hostess used four-leaf clovers. Heart-shaped boxes, filled with candied rose leaves or tiny heart-shaped candies serve as souvenirs, and tiny glass and silver dishes are filled with the same sweets.
Present sentiment seems to be in favor of simple, dainty menus rather than the heavy ones in vogue a few years ago. It follows that the fewer courses must be especially delicious.
As it is not possible to invent new dishes for every occasion, it is fortunate that there are certain things that almost every one likes, and it is better to include some of these general favorites in every menu, and let the novelty consist largely in the favors and the serving. Here are two menus that may prove suggestive:—
Menu One
Grape Fruit
Cream of Clam Soup
Squab, or Fried Chicken
Asparagus Salad
Biscuit Tortoni
Coffee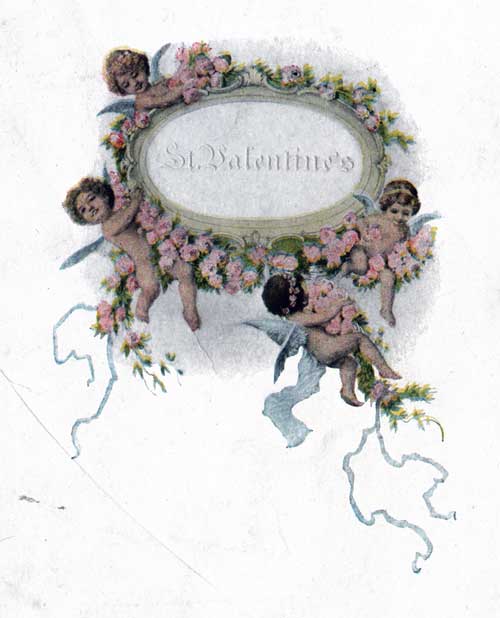 Menu Two
Oysters on the Half Shell
Cream of Asparagus Soup
Creamed Sweetbreads and Mushrooms on Toast
Fruit Salad
Macaroon Charlotte Russe
Coffee
To each of these menus will be added celery, olives, salted nuts, fancy cakes and candies. The valentine idea may recur with every course. The grapefruit may have a cherry heart in the centre, or a border of cherry hearts all around; heart-shaped biscuit or croutons may be served with the soup; heart-shaped sandwiches may go with the main course; and a tiny cupid, cut from a valentine, may stand stanchly in the center of each serving of fruit salad.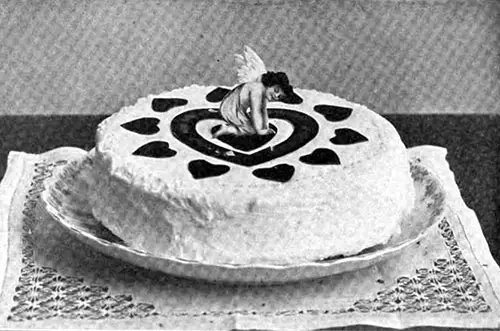 The ices may take the form of hearts, or cupids, or pink roses; and, of course, the cakes will be heart—shaped and iced with pink icing.
There are only a few of these dishes that need any explanation. The cream of clam soup can be made from the canned broth, if fresh clams are not in the market. The asparagus salad, too, is made from the canned asparagus, and may be served with mayonnaise, or with a French dreSsing to which chopped olives and sour pickles have been added.
The stalks of asparagus, held in place by a ring of red pepper or tomato, make an especially pretty dish.
The bisque tortoni is delicious and easily made. It is really a vanilla mousse to which is added maraschino cherries and macaroons. To serve six persons, add the smallest size bottle of cherries and six macaroons, reduced to a powder, to three pints of sweetened whipped cream.
Put the mixture in a melon mold, pack in ice and salt, and allow to stand six hours. Instead of this, strawberry mousse may be substituted, if desired.
In the second menu, almost any fruit may be used for the fruit salad. Grapefruit and white grapes make an especially dainty combination, but some persons prefer a greater variety.
Apples, oranges, bananas, and canned peaches and cherries may be used. In any case instead of using a mayonnaise dressing, try the following: -
One tablespoon of butter, five tablespoons vinegar, one teaspoon mustard, one teaspoon sugar, one teaspoon salt, one teaspoon flour, a dash of cayenne.
Mix mustard, sugar, salt and flour with enough water to make a paste, add two well-beaten eggs, and to the mixture add the butter and vinegar, boiling hot. Cook until very thick. Whip cream stiff and add a tablespoonful of the boiled dressing to each half-pint bottle of cream.
The boiled dressing may be bottled and kept for some time.
The macaroon Charlotte russe is prepared by soaking macaroons in sherry and lining a long-stemmed glass with them. The glass is then filled with whipped cream that has been sweetened and flavored by a small quantity of powdered macaroons. It may be garnished by maraschino cherries and strips of candied fruits in different colors. This dish is as delicious as it is easy to prepare.
If, in addition to all the nice things to eat and pretty things to see, the hostess wishes to provide some amusements suited to the day, she might have her guests guess the authors of quotations on love; or, a more novel idea, she may briefly outline some of the world's famous love stories, and let the guests tell the names of the characters. Romeo and Juliet, and Abelard and Heloise, are examples of such stories. Prizes of heart-shaped boxes of bon-bons, or little books on love, make suitable prizes, if prizes are desired.
May Ellis Nichols, "A Saint Valentine Luncheon," in American Cookery (Boston-Cooking School Magazine) February 1913.