Holiday Dinners- 1922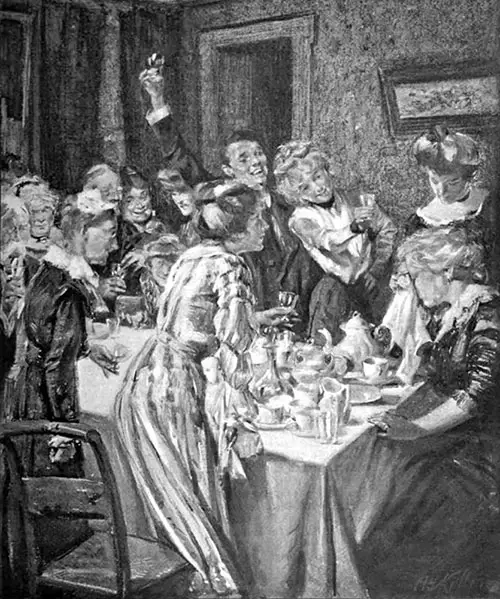 When arranging the holiday menu, plan so that it will be possible to prepare many of the dishes a day or two in advance. Christmas and Thanksgiving are family gathering days. Try to manage so that the family and guests will not feel that the dinner has been too great an effort for the person who prepared the menu.
There are so many things which may be prepared sometime in advance. The mince meat and plum pudding are improved with age. Pumpkin may be steamed and sealed, while hot, in jars as any canned fruit, or the canned pumpkin may be purchased ready for use.
The mayonnaise can be prepared and set aside in a covered jar. Salted nuts and those needed for salad can also be prepared.
The Day before Christmas
The day before Christmas clean and prepare the turkey or chicken, but do not wash until just before cooking or the flavor will be impaired. The dressing can be made and set aside in a covered bowl. It is a very easy task to wash the bird and add stuffing just before putting in the oven.
Simmer the liver, heart and gizzard in enough water to cover, until tender. Drain, chop very fine, add the liquid they were cooked in and set aside for
the gravy.
Pastry may be made for pies, and if the pies are to be reheated they may be completed a day in advance.
If vegetables are to be freshly cooked, wash them, but do not remove peel or let them stand very long in cold water before cooking as much of the valuable mineral salts would be lost. If the vegetables are to be reheated in a sauce or in fritters, they may be cooked and set aside until needed.
Other Non-Traditional Meats
Other meats may easily be substituted for those called for in the following menus. Chicken may be roasted instead of turkey; a chicken pie or fricassee will be found appetizing.
A crown roast of pork or lamb is very delicious as well as attractive; roast leg of lamb boned and stuffed; roast goose or duck. Turkey is sometimes almost prohibitive in price, which makes it necessary for many families to forego the traditional Christmas and Thanksgiving dinner.
When planning the holiday dinner, do not forget that the turkey is the piece de resistance and do not have too many courses to precede the main one or the appetite will be satisfied before the turkey appears.