Christmas Dinner - 1920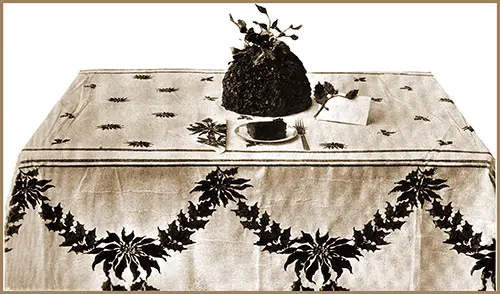 Our Christmas Dinner, Forecast Magazine, December 1920, p. 377. GGA Image ID # 1d16ac300c
Menu of Our Christmas Dinner
Shrimp Cocktail
Celery Salted Nuts
Roast Goose with Potato Stuffing
Baked Apples and Currant Jelly
Creamed Onions
Dixie Sweet Potatoes
Jellied Tomato Salad
Cheese Straws
Plum Pudding
Grape Sauce
For of all the days in the year that call for feasting and good cheer, surely Christmas day is the best.
Roast goose is the symbol of the Christmas dinner, as turkey is of Thanksgiving, so we have chosen it as the piece de resistance of our meal and planned the rest of the menu around it.
Shrimp cocktail is a change from oysters or clams and may be made of either fresh or canned shrimp, thoroughly chilled and arranged on plates around a small glass of any good cocktail sauce. Garnish the shrimp with a small white lettuce leaf. If desired the sauce may be put in small cups made of the lettuce leaves, and the shrimp arranged around it.
Serve the celery in a dish partly filled with cracked ice. The goose was stuffed with a mixture of mashed potato and chopped peanuts, seasoned with minced onion, salt, and pepper and moistened with beaten egg and milk. 
It will be garnished with thick slices of apple that have been sprinkled with brown sugar and baked until tender, then cooled and garnished with a cube of firm, tart currant jelly.
The red and green of the jellied tomato salad make it especially suitable for a Christmas dinner. It is molded in small deep cups and turned out on crisp green lettuce leaves.
Each mold is garnished with circles of green pepper and served with mayonnaise. The cheese straws are piled log cabin fashion on plates and passed with the salad.
The pudding has been made for at least three weeks and set aside to ripen and gain in flavor. It will be reheated by standing in boiling water for an hour, then put on a pretty platter and garnish with a sprig of holly.
The grape sauce is especially delicious with a plum pudding and is made of grape juice diluted and thickened slightly and seasoned with a little lemon juice.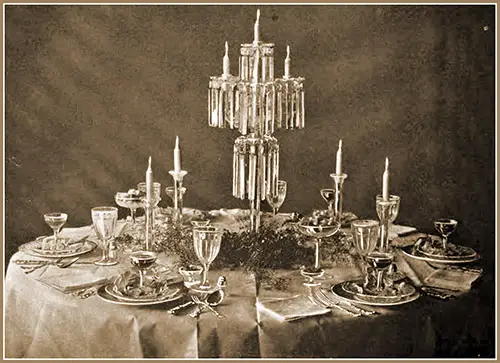 Christmas Dinner Table, Showing Lobster Cocktail Service, With Graham and White Bread Sandwiches. The Boston Cooking School Magazine, December 1913. GGA Image ID # 1d16aca5e0
The table decorations must necessarily be simple, as this is a home dinner. Holly was chosen because it is so decidedly a Christmas green. A low woven basket is filled with selected pieces of holly for the centerpiece.
Strings of narrow red ribbon extend from under the basket to the top of each place, ending in a place card or a small green basket filled with salted nuts.
These baskets may be made from crepe paper or woven reed but must be small, not more than two or two and a half inches in diameter. There is a sprig of holly tied to the handle of each basket with a small piece of narrow red ribbon.
Place cards cut in the shape of a holly leaf from dark green cardboard are attractive and carry out the scheme of decoration. The person's name and the following verse are written in red ink:
May you partake at dinner here
A portion of good Christmas cheer
To keep you happy till next year.
Another scheme for table decoration is that shown in the illustration. Either a decorated crepe paper cloth or a linen one may be used. The centerpiece is a plum pudding made from brown crepe paper crumpled up and pasted on a cardboard foundation.
Raisins made from black crepe paper are realistically stuck on the pudding and the whole thing painted with very thin shellac to give it a shine. A sprig of holly is fastened in the top as a garnish.
Small favors tied in Christmas style are placed under the plum pudding. Each favor may be labeled with the person's name for whom it is intended or may be tied with a narrow red ribbon extending under the pudding to the place card.
The place cards may be small plum puddings cut from brown crepe paper and pasted on cardboard or may be small white cards decorated in the left-hand corner with a small sprig of holly. Use the same verse that was suggested above.
A large snowball made of cardboard and covered with white crepe paper may also be used if this idea is better liked than the plum pudding. The top is made so that it can be lifted off and give access to the favors inside.
Holly and a bow of red ribbon decorate the snowball. The jolly snowman with his gay red hat is especially suited to the children's table. It also is made from crepe paper pasted on a cardboard foundation.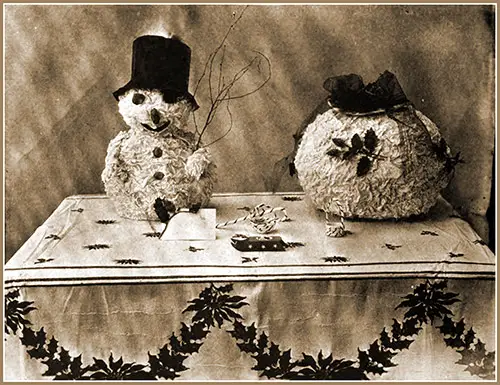 A Paper Table Cloth Makes a Gay Background and Grotesque Paper Ornaments to Never Fail To Amuse Big and Little Folks Alike. Forecast Magazine, December 1920, p. 378. GGA Image ID # 1d16d5b18d
A Christmas tree made with a trunk of twisted brown crepe paper and branches of wired green crepe paper fringed to represent the needles may be very realistic in appearance and can be used for several years.
It can be planted in a small pot or stuck in a miniature stand such as is used for the regular tree, or made to stand erect by means of a bit of rolled cardboard in the shape of a cornucopia and covered with green or brown crumpled crepe paper fastened to the cardboard with library paste.
Select small ornaments for the tree's decoration or let the kiddies take charge of this tree, decorating it to suit themselves. There are many things that they can make without the homemaker's aid if they are given some tools like paper, cardboard, popcorn, cranberries, beans and peas, nuts, cotton, tinsel, etc.  
Small balls of soft paper or cotton covered with white crepe paper make excellent snowballs, or gold and silver paper covered balls add glitter to the tree.
Necklaces and strands of cranberries and popcorn are the most effective tree decorations. When using popcorn, it is better to use both the pink and white to add to the color scheme.
Tiny Santa Claus figures cut from stamped crepe paper and mounted on cardboard, and small birds, flowers or butterflies in gay colors cut from paper and mounted help to make pretty and interesting tree ornaments.
A spool of gilt and one of silver tinsel helps the young ornament makers in producing pretty ornaments, as a bit of the tinsel tied to each ornament and used to suspend it from the tree helps to give the Yuletide emblem a brilliant appearance.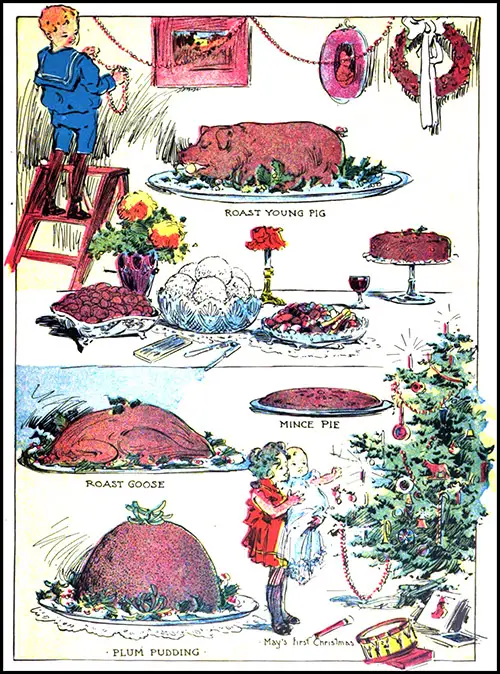 Delights of Christmas Time. Woman's Favorite Cook Book, 1902, p. 132. GGA Image ID # 1d16a10408
Children are naturally very restless at Christmas time and are prone to get into mischief unless they are kept busy. Making these ornaments not only helps the mother in her duties as cheer bringer on Christmas but expends a lot of surplus energy and gives the mother time for other duties than "making the kiddies behave themselves."
Cunning little baskets made of twisted red and green or red and white crepe paper can be easily made by the kiddies for favors not only to use on the home table but to help make poor kiddies in the hospitals happy on Christmas morning. It is wonderful what well-directed little hands can do.
Chubby little hands may not be able to produce any works of art, but they can be taught to try to produce, to be little helpers with their ten wonderful fingers, so as to make a Real Christmas dinner of great rejoicing.
Other favors may be made out of lollipops dressed in paper dresses of all kinds. Some to represent Mrs. Santa Claus, others with faces of the good old Saint cut out of the stamped crepe paper and pasted on the paper that covers the lollipop.
Little paper bags hung about the necks of these lollipop saints can be filled with small candies or nuts and placed at each place for favors and helpers in serving dessert.
The skewers of meat may be used upon which to fasten cardboard Santa Claus figures and these figures can be stuck into the ice cream not only to make it more attractive in appearance but to amuse the children.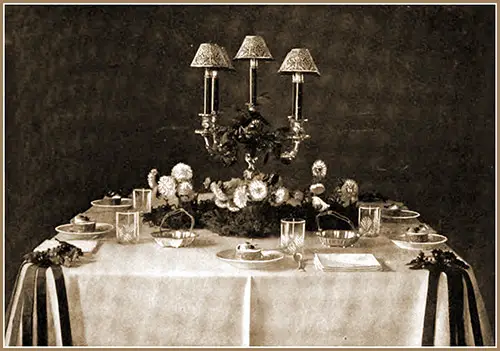 Christmas Dinner Table, Dessert Service. The Boston Cooking School Magazine, December 1901, p. 219. GGA Image ID # 1d174aeee9
The ice cream on Christmas should be white in color so as to represent snow. The Santa figures, however, will look just as attractive stuck into the plum pudding if it is served in preference to ice cream, which, however, is the children's favorite dessert.
Another way of suggesting Christmas with a unique favor is to cut out small sleds from green cardboard and fasten them over a small pill box in which are placed little peppermints or cinnamon drops of a bright red hue.
The sleds can be ornamented with small pictures of Santa, such as can be bought in any stationery store along the line of Christmas seals. These little sleds are very handsome and attractive and delight little folks when they discover that they can pull out the pillbox.
All kiddies love the paste pot and scissors, and I have seen remarkable place-cards made by very little folks who were told the real use of paste to fasten figures, on cards and not to smear all over the cards and themselves.
Some of the simplest place cards for Christmas are made by using a ticket punch (another tool that every child adores) to punch holes into small cards, placing a bit of real holly in between two holes and running a red ribbon or bit of tinsel through these holes, tying the ribbon in a clever little bow knot.  With the assistance of the paintbrush or a box of colored crayons the name of each of the diners can be printed or painted on the cards.
When using red cardboard, the holly is even more effective, and green ribbon should be used instead of red. Black Good Luck symbols like those used by the Chinese may be painted with India ink on the cards and made most effective.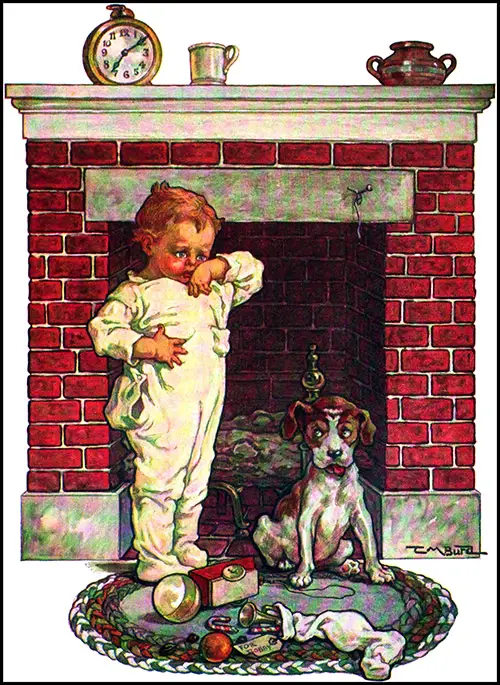 Christmas 1920 Scene by the Fireplace with Child and Dog. Forecast Magazine, December 1920, p. 369. GGA Image ID # 1d1766111a
Tiny silver and gilt stars such as those used in kindergarten supplies are another great help in making place cards. Names may be formed out of these stars, and so can stars and other designs that suggest Christmas and give a holiday air to the festal board.
Imaginary icicles can be made by the smallest of children if the little ones have some crepe paper and a pair of scissors and are shown how to cut the paper into narrow strips so that it can be hung with tinsel or Christmas bells from the chandelier. These icicle decorations hanging from the side lights are most effective.
With brown crepe paper instead of white the wee kiddies can make plum puddings by pasting the crinkled brown paper over small cups or a wire as if it were a drawer and find candy hidden within.
Very cunning reindeer can likewise be made by cutting out the head of a reindeer, giving it to the children to duplicate and placing these heads on a banana for the body, using bent toothpicks for the legs.
Jolly looking Santa Claus faces are sometimes formed with apples decorated in paper hoods and with legs and arms made from toothpicks covered with crepe paper.
In fact, almost any fruits can be used by the kiddies to make Christmas table ornaments, though these fruit favors should not be made earlier than the day before Christmas.
One mother gave her children a basket of fruits and vegetables with nuts, prunes, cloves, etc., on the day before Christmas and asked them to surprise her on Christmas morning by making some strange favors for the Christmas table.
When this mother arose on Christmas, she had a glorious surprise in seeing the Christmas table all set and decorated with wonderful reindeer, Santa Claus figures, fairies, etc., all made from the materials she had given her little ones.
"Our Christmas dinner was just scrumptious. It was the nicest dinner that anyone in the whole wide world ever had," said one of the enthusiastic youngsters who helped to make these favors.
His joy was far keener because he had given his help in setting the Christmas table and in surprising his mother than if the mother had done all the work and tried to give nothing but surprises to her children.
Nearly any child can make a place card by cutting out figures emblematic of Christmas from crepe paper and pasting them on bits of cardboard or by pasting Christmas seals on cards.
The inventive child often likes to make things. In fact, as one begins to think what children can do to help make Christmas dinner a joy there are a thousand ways of putting the eager little hands to work and producing ornaments that will please father and mother as well as sister and brother.
Christmas is a kiddie day, and surely the kiddies should have something to do in helping to make the Christmas dinner the feast of feast days of the whole year.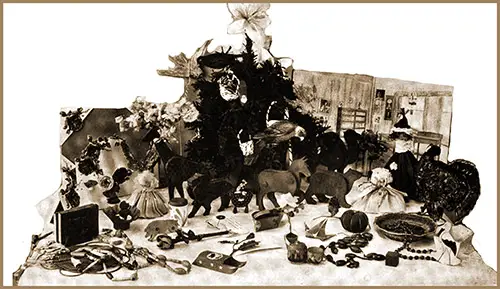 The Gifts That Little Children Can Make Are Sometimes Crude and in Artistic, but They Encourage the Christmas Spirit in Both Giver and Recipient, Making the Holiday More Real for Everybody. Forecast Magazine, December 1920, p. 372.GGA Image ID # 1d182698fe