Our Holiday Dinners for February - 1921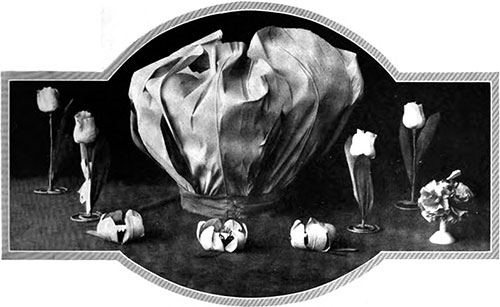 The February hostess has a wealth of material to choose from when planning her monthly dinner or luncheon. Two patriotic holidays and the fete day of good Saint Valentine offer many suggestions for novel table decorations and menus.
Suggestions for Home Celebrations
A tulip luncheon or dinner—the tulip being the February flower—would be most attractive, while a birthday dinner to celebrate all the famous people born in this month is unique and full of possibilities for unusual entertainment.
The tulip dinner is a change from the usual hearts that one associates with February entertaining. The centerpiece could most appropriately be a large vari-colored tulip made of crepe paper over a cardboard foundation made to hold favors. The color of the tulips should be chosen to blend with the color scheme of the dining-room or may be of variegated colors with red, yellow or purple ribbons leading to each place.
Name cards fastened to small crepe paper tulips on wire standards mark each guest's place and provide attractive favors. Glass candlesticks with tulip shades add to the attractiveness of the table. Keep the red and yellow color scheme as far as possible in the menu.
Grapefruit with maraschino cherries or tomato bouillon for a first course, followed by golden brown fish cutlets with a pimento sauce - if a luncheon is being served, or a planked steak garnished with radish tulips, pieces of pimento, diced carrots, etc., for a dinner will carry out this idea with very little trouble.
The salad might appropriately be jellied tomato and celery molded in small forms and garnished with golden colored mayonnaise or yolk of hard boiled egg rubbed through a strainer.
For dessert ice cream in small cases or tiny flower pots with a crepe paper tulip stuck in each pot.
St.Valentine's Day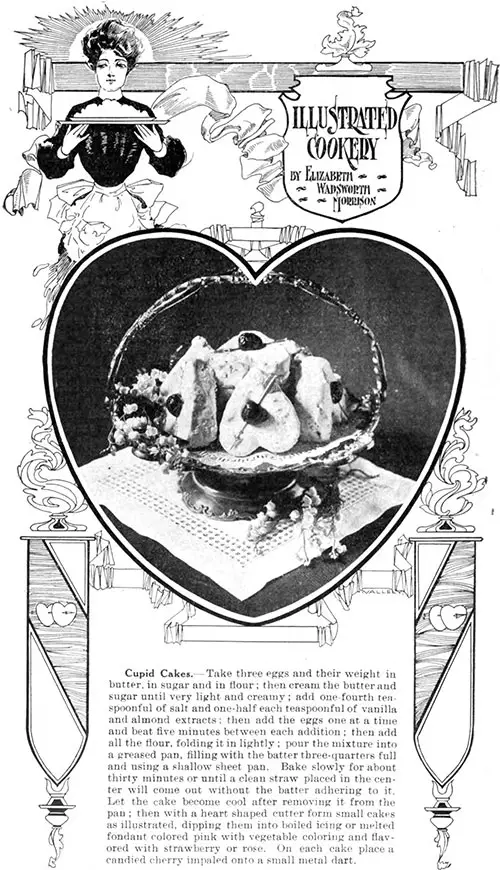 Cupid Cakes at St.Valentine's Day
A dinner in honor of good Saint Valentine will have for decorations hearts, lovers' knots, red roses, cupids, arrows, etc. . A crepe paper cloth with a border of hearts adds to the decorative effect and saves work for the hostess.
A large red heart made of crepe paper and decorated with fat cupids and one or two little red devils is used for the centerpiece.
Place cards are red hearts fastened to red ribbons leading from the centerpiece to each place and favors may be either a fat little cupid or a red rosebud. Little crepe paper baskets with cupids on the handles may hold salted nuts or candies.
Candle shades made of four hearts or made of plain paper with cupids or lovers' knots appliqued on are most attractive.
The menu starts with Valentine canapes, made by covering heart shaped pieces of fried bread with pimentos cut in the same shape. Cut the garnishing for soup, roast and salad in heart or knot shapes, serve ice cream or some dessert molded in heart-shape and small heart-shaped cakes or iced cakes decorated with candy hearts for a Valentine dessert.
A Valentine luncheon may have a Valentine tree for a centerpiece. This is made of crepe paper in the same way as the Thrift Tree used in THE FORECAST for January, and is hung with little bags of gold paper— the first Valentines being bags of gold—and small hearts or other appropriately shaped favors.
Old-fashioned lace paper Valentines make lovely place cards. Candleshades fashioned from these pasted on a thin cardboard or stiff paper foundation make beautiful candleshades of unique design.
Patriotic Dinners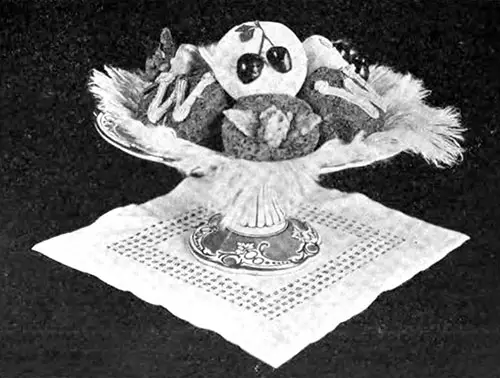 Washington's Birthday Cakes
A patriotic dinner for Washington or Lincoln may be selected instead of those already mentioned. A cherry tree or small cherry log decorated with cherries made from red crepe paper, stuffed with cotton or soft paper, makes the centerpiece for a Washington dinner.
Name cards are made in the shape of hatchets and favors of small dolls dressed in Colonial costumes of colored crepe paper or little red and green crepe paper baskets trimmed with a cluster of cherries.
A crepe paper cloth with a cherry border may be used if desired. The menu may start with canned cherry cocktail, followed by an oyster bisque, roast chicken or chicken pie with vegetables, stuffed celery salad and almond cream garnished with fruit jelly and candied cherries.
Little cherry or hatchet cakes are served with the simple dessert.