Tracing Your Ancestors in Minnesota: A Guide to the Sources, Volume 6, Central Minnesota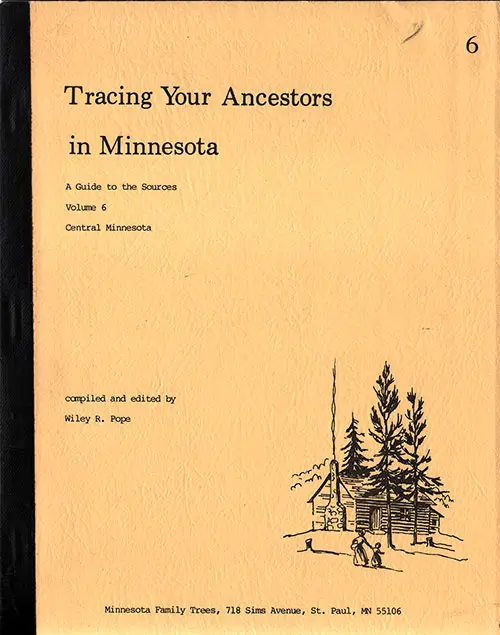 Wiley R. Pope, Tracing Your Ancestors in Minnesota: A Guide to the Sources, Volume 6, Central Minnesota, © 1987, Minnesota Family Trees, St. Paul, Minnesota, Soft cover, 180 Pages, 0-936482-19-2.
Introduction
Volume 1 of Tracing Your Ancestors in Minnesota includes a general introduction to genealogical research, as well as information about Minnesota state-wide records, and a general introduction to Minnesota county records.
This volume is a supplement to Volume 1 for the counties of central Minnesota, covered by the Central Minnesota Historical Center. Very little of the information presented in Volume 1 is repeated in this volume. We suggest that you be cane well acquainted with the contents of volume 1, in addition to the county sections you are interested in.
Although there is quite a bit of information available on Minnesota, there are many communities and seme counties whose histories need to be written or updated. We hope that more people will begin preserving their history before it disappears.
Despite all of our care, we expect that there will be sate errors in this book. We hope that readers who find errors or omissions will report them. In particular, telephone numbers and library call numbers may be changed at any time.
BE SURE TO READ THE SECTION TITLED: GENERAL INFORMATION ABOUT COUNTIES. The counties of Minnesota are similar in many respects. Information about county records that apply to all counties is not repeated in the individual county sections.
Volume 1 was compiled and written by two individuals. It took seven years to complete. Volume 1 is designed to help a person begin tracing his or her ancestry in Minnesota records, or in Minnesota libraries. It is an excellent introduction to United States genealogical research.
Additional volumes were planned to cover genealogical resources on the counties of Minnesota. Since we did not want to take seven years for each additional volume, we asked for help. We greatly appreciate the assistance of all those who have so generously given of their time and effort to help us gather information. Without their help, this volume would have taken even longer to prepare.
A special thanks go to my wife, Juanita Pope, for her continued support with these projects.
Wiley R. Pope 10 Oct 1987
Contents
Introduction   
Acknowledgements   
Minnesota Regional Research Centers Outline Of County Sections
Abbreviations  
General Information About Counties
Courthouse
Archives, Libraries, and Societies.
Regional Bibliography  
Aitkin
Benton
Chisago
Crow Wing  
Isanti
Kanabec
Mille Lacs
Morrison
Pine   
Sherburne  
Stearns
Todd   
Wadena
Wright
Index      
Paperback Vol 006 (September 1985)
Minnesota Family Trees; ISBN: 0936482192
Subjects
Minnesota--Genealogy--Bibliography.
Minnesota--Genealogy--Library resources.
Notes
Includes index.