Tracing Your Ancestors in Minnesota: A Guide to the Sources, Volume 1, Fourth Edition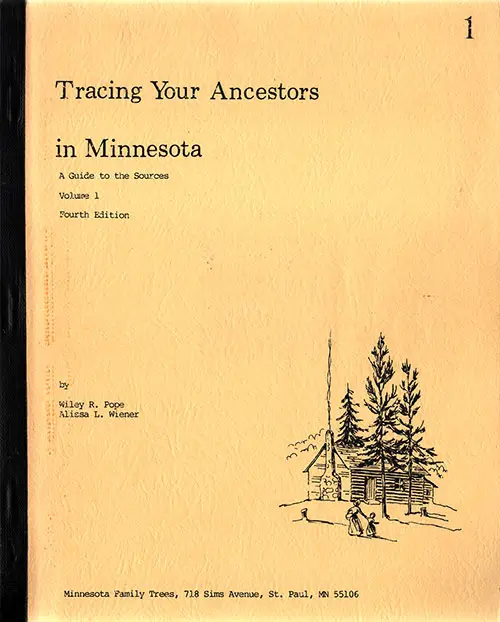 Wiley R. Pope, Alissa L. Wiener, Tracing Your Ancestors in Minnesota: A Guide to the Sources, Volume 1, Fourth Edition, © 1987, Minnesota Family Trees, St. Paul, Minnesota, Soft cover, 202 Pages, 0-936482-36-2.
Introduction
One of my favorite quotations cares from a book entitled Genealogy and Reminiscences of Our Baldwin Family, by James Baldwin, published 1916. In his introduction, Mr. Baldwin says, "The perusal of this dull subject is not a pleasant or interesting study."
I feel sorry for Mr. Baldwin as he compiled his family history from a feeling of duty and missed the excitement and adventure of genealogy. Still, I commend his efforts, for he did carpi le a useful genealogy of his family.
Genealogical research combines the best of many interests: travel, correspondence, photography, meeting people, detective-like analysis and pursuit of clues leading to information, writing and publishing.
Your ancestors are interesting people. They lived in places of historical importance, and they took part in the making of history. As you learn about them, they become real people to you, not just names, dates and places.
These volumes are intended to aid researchers in the use of Minnesota resources for tracing their own families.
In meeting this objective, volume 1 contains a guide to starting your family history, information about significant repositories of Minnesota and non-Minnesota records, and a guide to basic Minnesota research materials. Also, we include samples of practically every type of form used by United States researchers.
Other volumes contain county-by-county guides to Minnesota records, a checklist of Minnesota military records, ethnic and religious records, etc.
Many people have assisted with this book, and I fear that I may omit some who should be named.
 In particular, I appreciate the help of Alissa Wiener, Jan Sellers, Patricia Harpole, Alan Woolworth, Dallas Lindgren, Ruby Shields, Ruth Bauer, Doug Guthrie, Pru Calvin, Winona Pope, Juanita Pope, Robert Pope, Willow Pope, and Jim Millin.
The cover design is by Isabel M. Hillman.
This volume has required many years of research and writing. Although each page has been re-written many times, and facts have been checked and rechecked, an author can be confident that something has been missed. I will appreciate being notified of any errors or significant emissions.
Grateful acknowledgment is made to the following for permission to reprint their material: Everton Publishers, Inc., for the ancestor chart and family group sheet, and Mary Ellen Lewis for information from her thesis The Establishment of County Boundaries in Minnesota. Readers should be aware that in all cases the copyright remains with the originators of the materials.
Unless otherwise noted, all call numbers are for the Minnesota Historical Society Reference Library.
This fourth edition is updated to include changes in record locations and newly available information. Organization of this volume and much of the content is the same as the third edition.
Wiley R. Pope 1 November 1987
Contents
Introduction      
Abbreviations    
How to begin     
Useful addresses             
Research outside the hone          
Finding birth, marriage and death places              
Tracing missing persons or descendants               
Library research
Getting the rost out of the public library              
The genealogical library               
Books nost large libraries should have    
Genealogical lending libraries    
Library subject healings of special interest to genealogists . . .
Courthouse research      
Marriage records            
Birth records     
Death records   
Court records    
Naturalization records   
Land records     
Rectangular land survey system 
Probate records              
Courthouse summary     
Cemetery research         
Church and synagogue records research
Writing letters  
Research standards        
Genealogical survey checklist     
Preparing a genealogy for publication     
Minnesota
Minnesota chronology  
Minnesota statistics       
Overview of Minnesota State research   
Minnesota genealogical survey checklist              
Vital records      
Birth records of adopted persons             
Military records
U. S. National Archives  
U. S. National Archives Branch   
National Personnel Records Center         
U. S. Veterans Administration Department of Menorial Affairs. .
Director of National Cemetery System    
Minnesota Adjutant General's Office      
Minnesota Department of Veteran's Affairs        
U. S. Veteran's Benefits Department       
Fort Snelling National Cemetery
Minnesota Historical Society
Reference Library            
Newspaper Library         
Audio-Visual Library       
Manuscripts Collections
Minnesota State Archives            
Societies             
Military records in libraries         
Passenger lists and ships               .
Naturalization records   
land Records     
Minnesota Historical Society
Minnesota State Archives            
Manuscripts Collections
U. S. Bureau of Land Management           
U. S. National Archives  
Maps, atlases and gazetteers     
Pre-territorial, territorial and early state research . .
Census 
Census bibliography       
Federal census microfilms           
State census microfilms
Indexes and census-related publications
Soundex system overview and explanation          
Census abbreviations     
Types of federal census schedules, 1790-1900    
Non-population schedules           
Availability         
Other Minnesota-related census records              
Forms   
St. Paul
Minnesota Historical Society      
Reference Library            
Microfilm Roan (Newspaper Library)       
Map Library       
Audio-Visual Library       
Oral History Collection  
Education Division                                        
Manuscripts Collections
Minnesota State Archives            
Minnesota Regional Research Centers    
Minnesota Secretary of State     
St. Paul Public Library    
Immigration History Research Center     
Minneapolis       
University of Minnesota Libraries             
Minneapolis Public Library          
Genealogical societies in Minnesota        
Patriotic and hereditary societies             
U. S. National Archives   
U. S. National Archives Branches              
Genealogical Society of Utah      
(Mormon) Branch Genealogical Libraries              
Private researchers          »
The boundaries of Minnesota     
Maps    
Footnotes          
Index    
Paperback 3rd edition Vol 001 (November 1987)
Minnesota Family Trees; ISBN: 0936482362
Library of Congress Catalog Listing
LC Control Number: 88174570
Type of Material: Book (Print, Microform, Electronic, etc.)
Personal Name: Pope, Wiley R.
Main Title: Tracing your ancestors in Minnesota : a guide to the sources / by Wiley R. Pope, Alissa L. Wiener.
Edition Information: 4th ed. / revised by Wiley R. Pope.
Published/Created: St. Paul, MN : Minnesota Family Trees, 1987-
Related Names: Wiener, Alissa L., 1946-
Description: v. <1 > : ill.; 28 cm.
ISBN: 0936482362 (v. 1)
Notes: Includes index.
Subjects: Minnesota--Genealogy--Bibliography.
Minnesota--Genealogy--Library resources.
LC Classification: Z1299 .P67 1987 F605
Dewey Class No.: 929/.1/0720776 19
Geog. Area Code: n-us-mn