WW1 Photos: Miscellaneous Photographs -- Soldiers & Events
Photographs and Other Images Sourced the Public Domain and the Gjenvick-Gjønvik Family Archives. A part of the World War 1 Online Exhibit at the GG Archives.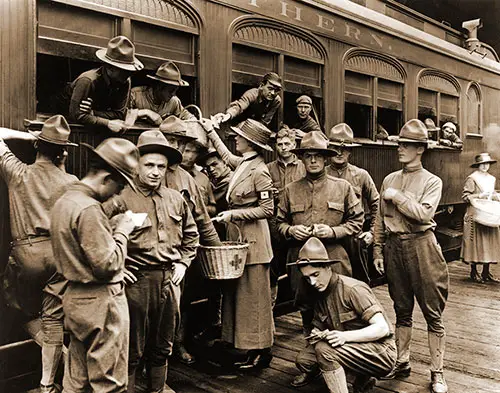 Canteen Workers from the American Red Cross Supply Soldiers with Snacks and Sundry Items at the Union Station, St. Paul, Minnesota, c1917. GGA Image ID # 19070c1ea1
Newly Drafted Men Are On Their Way to Camp Dodge, Iowa. Markings on Some of the Suitcases include: "Not Hoch Der Kaiser But C.H.O.C.K. the Kaiser," "Camp Dodge or Bust," and "Were [sic] Off to Get the Kaiser." "Hoch der Kaiser" translates to "Hail" or "Up With" the Kaiser. GGA Image ID # 190724a455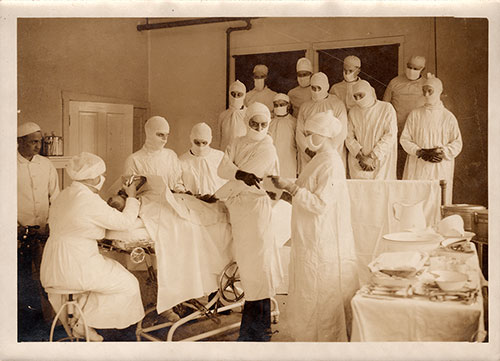 Operating Room at the Base Hospital Surgical Ward at Camp Pike Showing an Operation in Progress. In the near View, (Left to Right) Runner, Nurse Anesthetist, Two Surgical Assistants, Surgeon, and a Surgical Nurse. In the Background Are Medical or Nursing Students Observing the Operation. GGA Image ID # 1907806160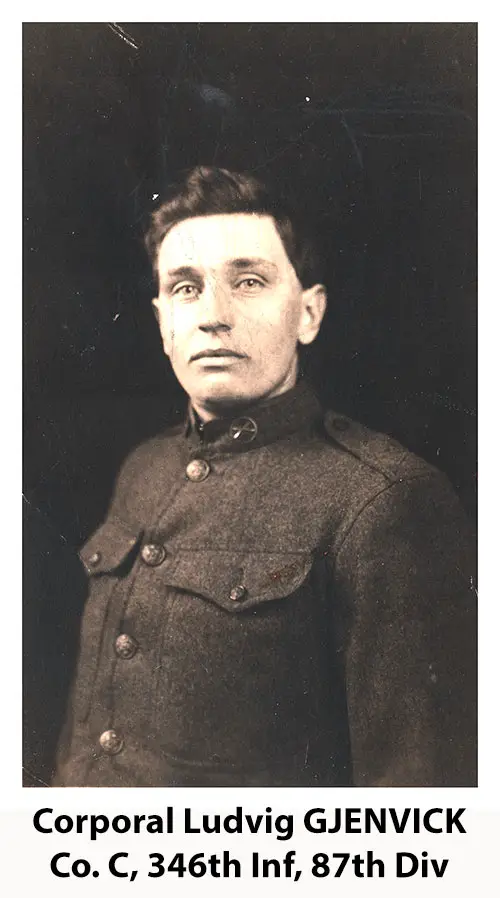 Portrait Photograph of Corporal Ludvig K. Gjenvick of Company C, 346th Infantry, 87th Division, c1918. Gjenvick-Gjønvik Family Archives. GGA Image ID # 1907e2949f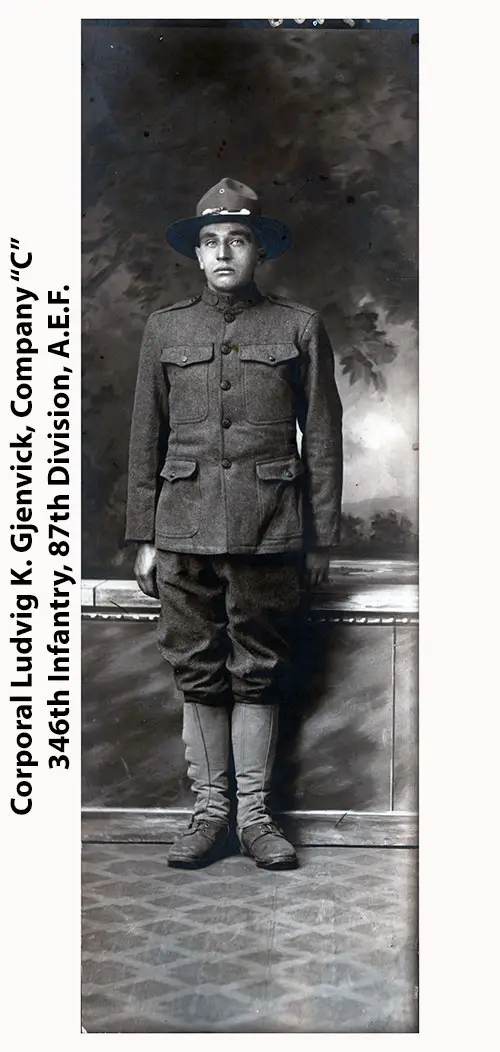 Full-Length Photograph of Corporal Ludvig Gjenvick of the 346th Infantry, 87th Division, c1918. Gjenvick-Gjønvik Family Archives. GGA Image ID # 190883e04e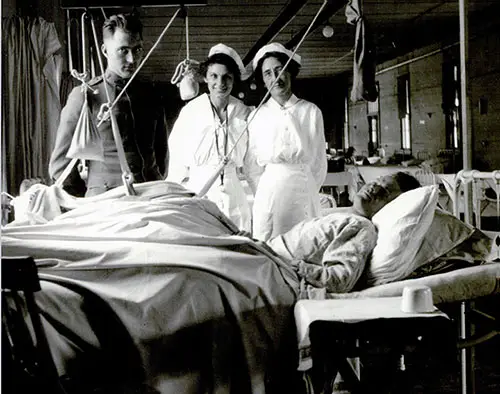 Patient at the Camp Pike Orthopedic Ward being Attended to by the Orthopedic Surgeon and Two Nurses. nd, c. 1918. GGA Image ID # 1908a1b5e5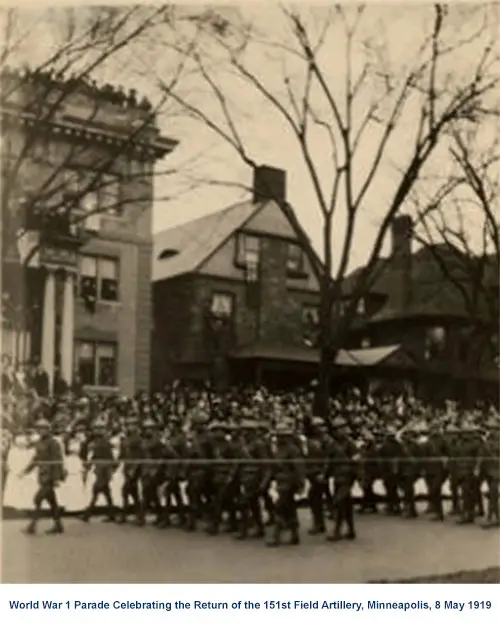 Parade Celebrating the Return of the 151st Field Artillery in Minneapolis on 8 May 1919. GGA Image ID # 1908ad2a82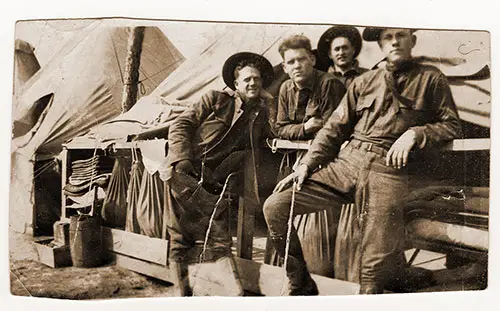 Soldiers of Company B, 105th Engineers. Sgt. Harry B Coulter and Friends in Greenville, SC in 1918. Left to Right -- Hdl. S. Wetmore, David A. Clifford, Earl Burton, H. B. Coulter. GGA Image ID # 1908c8c67a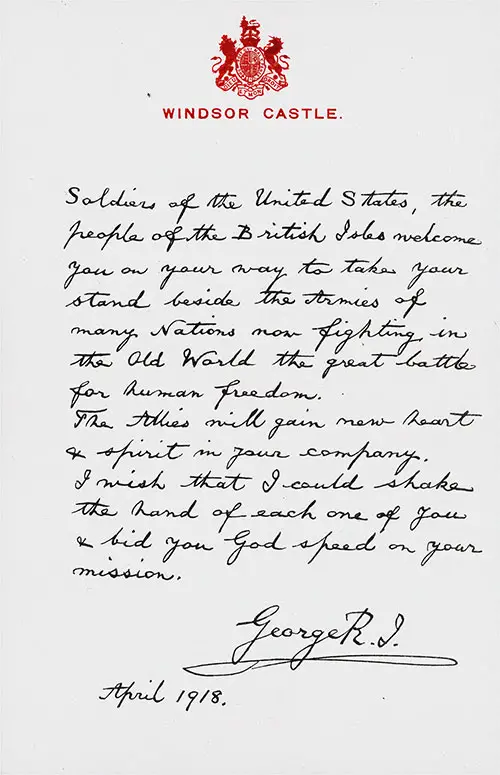 Letter to Soldiers of The United States A.E.F. from King George V - April 1918. Image ID # 19664009b5.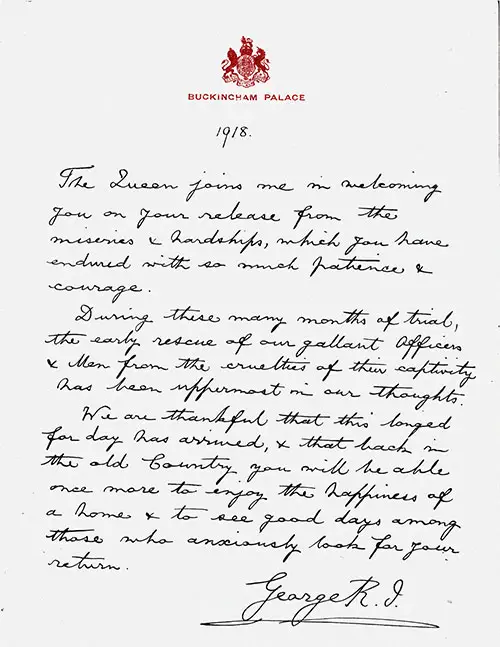 Letter from King George V to British POW's On Their Release in 1918. GGA Image ID # 20d82fd657.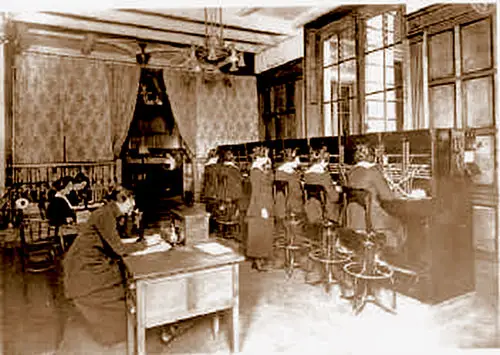 Merle Egan Anderson, Sitting at the Supervisor's Desk at the Paris Peace Conference in the Hotel Crillon. She Led the Fight from 1930 - 1978 for Recognition of the Hello Girls' Veteran-Status. GGA Image ID # 197803e2d0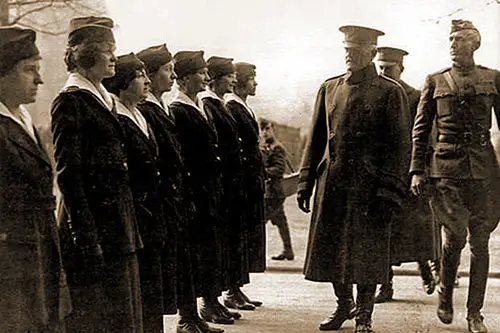 Gen. John Pershing, Commander of the American Expeditionary Forces in France during World War I, Reviews American Female Telephone Operators Who Provided a Critical Job during the War Connecting Phone Calls and Translating Conversations between American and French Troops. When the Women Who Served in the Army Signal Corps Returned Home after the War and Tried to Join Veterans' Organizations, They Were Told They Were Civilian Contractors and Were Not Veterans. Efforts to Get Them Veteran Recognition Took More than Six Decades. GGA Image ID # 1978153da4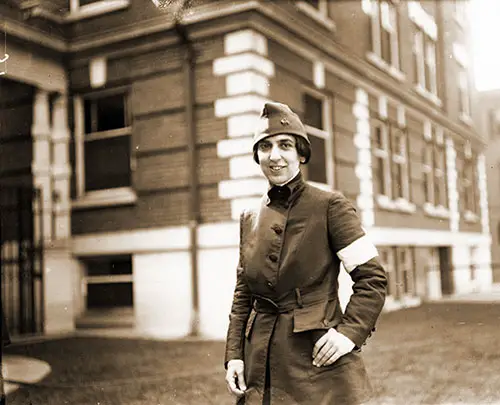 Signal Corps Telephone Operator Aurelie Austen Poses in Front of the Highland Court Hotel in Hartford. CT Digital Archives. GGA Image ID # 19925ae378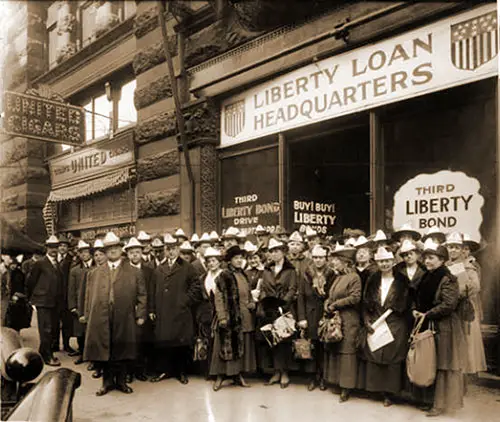 Liberty Loan Headquarters During a War Bonds Rally in Duluth, Minnesota, 1918. Minnesota Digital Library # UMN10465. GGA Image ID # 19925bacf5

Members of a Silk Stocking Division of Draft Army Lined Up to Depart for Yaphank, Local Board Division Number 129. New York Tribune, 7 October 1917. GGA Image ID # 1992af8e18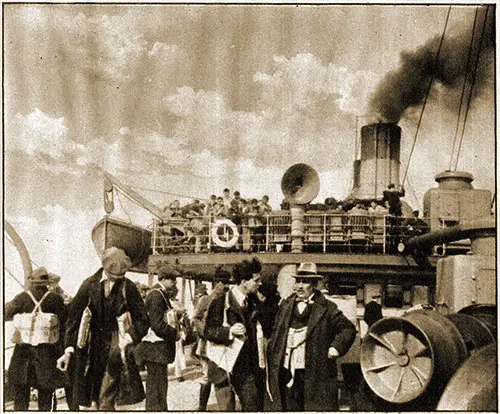 Common Scene Aboard an Atlantic Liner Passing Through Submarine Zones. Everyone is Wearing Life Jackes in Preparation for a Torpedo Strike from a German U-Boat. New York Tribune, 7 October 1917. GGA Image ID # 1992e3edf9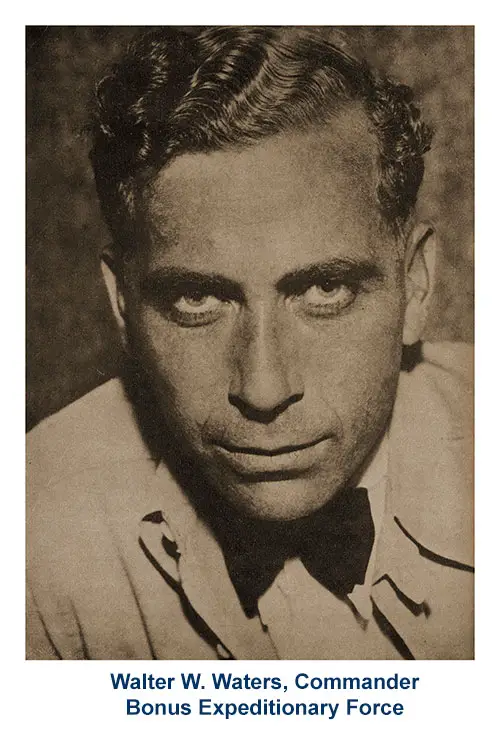 Walter W. Waters, Commander of the Bonus Expeditionary Force, circa 1930. GGA Image ID # 1992ff5ecf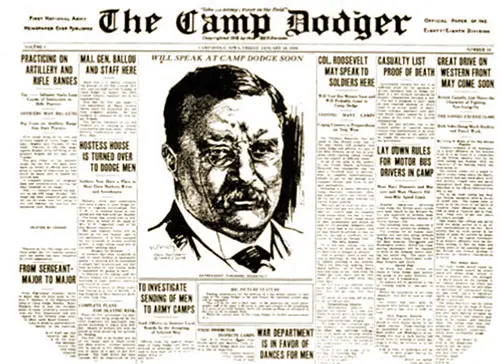 Portion of the Front Page of the Cantonment Newspaper "The Camp Dodger. GGA Image ID # 19932bded9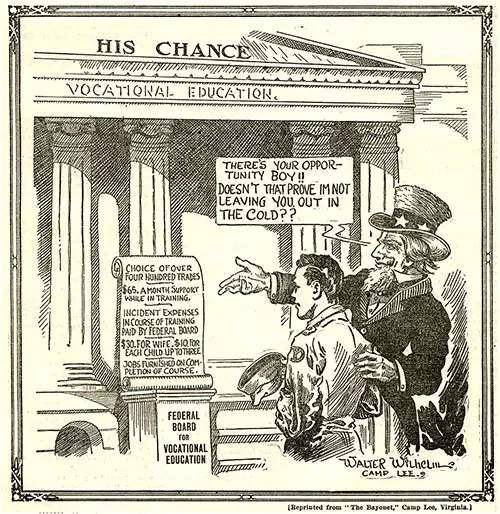 Vocational Education Options for the Returning World War I Veteran. The Federal Board for Vocational Education: Choice of Over 400 Trades, $65 Monthly Support while Training, Incidental Expenses in Course of Training Paid by Federal Board, $30 for Wife, $10 for Each Child (Maximum of 3), Jobs Furnished on Completiong of Course. "There's Your Opportunity Boy!!" Says Uncle Sam. "Doesn't That Prove I'm Not Leaving You Out in the Cold?" Drawn by Walter Wilhelm. Reprinted from "The Bayonet," Camp Lee, Virginia.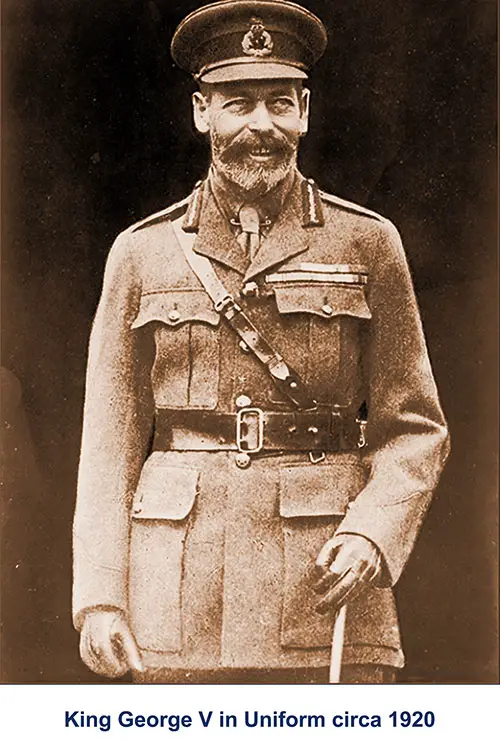 King George V in Uniform circa 1920. GGA Image ID # 199341899f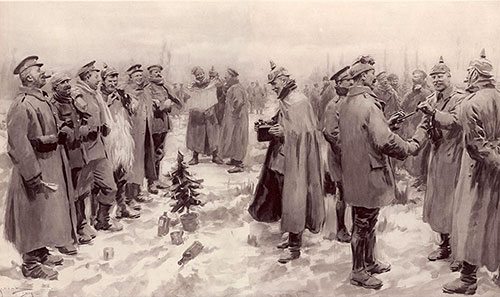 The Christmas Day Truce of 1914. British and German Soldiers Arm-in-arm Exchanging Headgear: a Christmas Truce between Opposing Trenches. Saxons and Anglo-Saxons Fraternising on the Field of Battle at the Season of Peace and Goodwill: Officers and Men from the German and British Trenches Meet and Greet One Another—a German Officer Photographing a Group of Foes and Friends. Lithograph by Arthur C. Michael. Illustrated London News, 9 January 1915. GGA Image ID # 19935d8f7e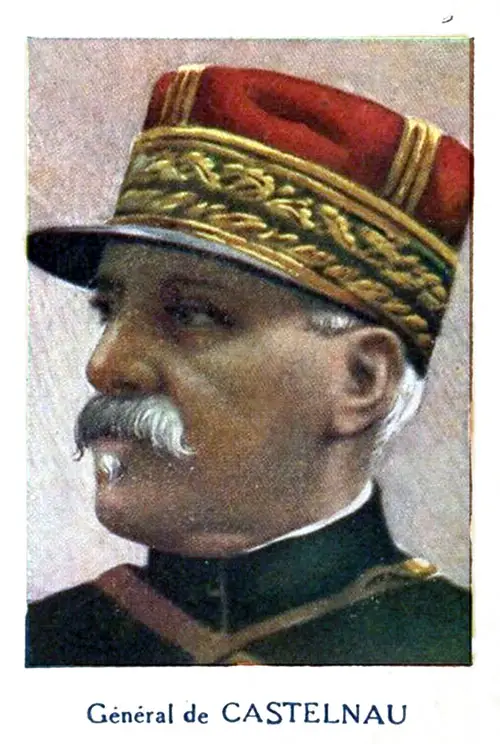 French General de Castelnau, 1918 Painting. GGA Image ID # 199386f827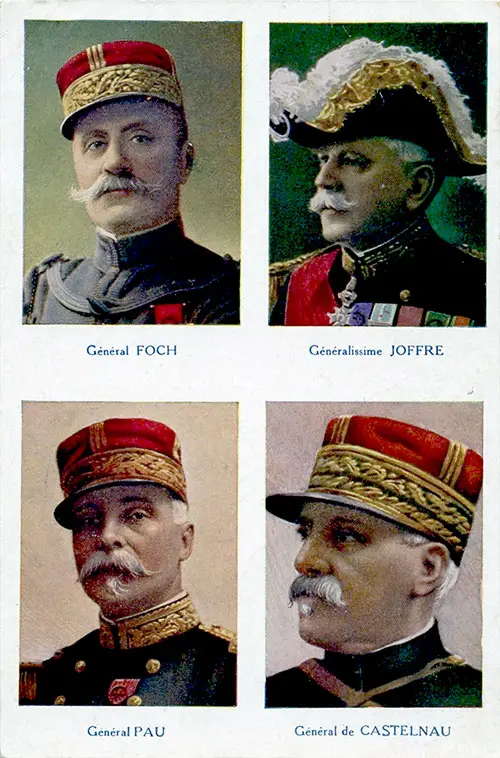 Four French Generals: General Foch, Generalissime Joffre, General Pau, and General de Castelnau, 1918. GGA Image ID # 199392ed83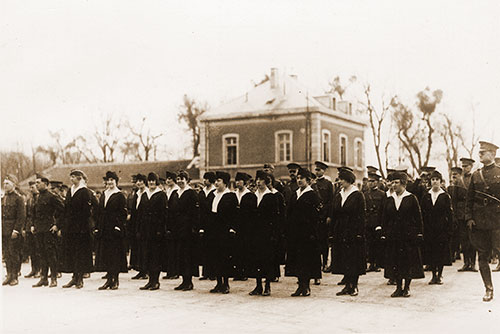 The Hello Girls in France are awaiting inspection and review by General Pershing. GGA Image ID # 1993af6011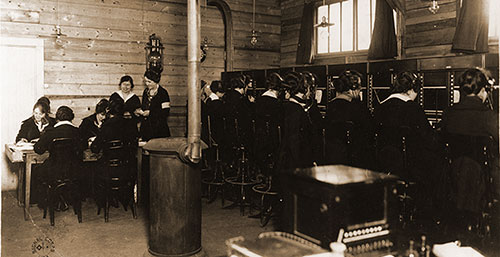 American Girls Serving in the Army Signal Corps as Telephone Operators in France, Colloquially Known as "Hello Girls." Signal Corps Colors Adorn Hats of these New Bilingual Wire Experts. Their Insignia, Too, Are Real and Terrifyingly Complicated. Armbands Indicate the Rank. an Operator, First Class, Wears a White Brassard with a Blue Outline Design of a Telephone Mouthpiece. A Supervisor, Who Rates with a Platoon Sergeant, Wears the Same Emblem with a Wreath around It. The Chief Operator or "top," Has a Wreath, a Mouthpiece, and Blue Lightning Flashes Shooting out above the Receiver—which Is Most Appropriate for a Top. But the Top Says Those Jove-like Lightning Flashes Don't Mean Anything in Particular. To Be Sure, She Will Insist on Discipline, If It's Required, but Thus Far, She Hasn't Had Any Occasion to Let Loose Thunderbolts at the Heads of Her Charges. No, the Girls Will Not Have the First Call at 6:15 and Reveille at 6:30, the Way the Doughboys Do. GGA Image ID # 1993c5e5c6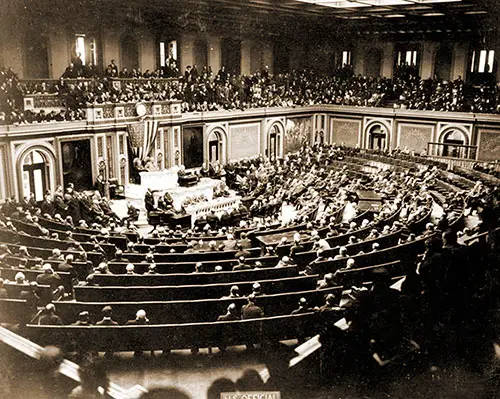 United States President Woodrow Wilson Announces the End of World War I and Reads the German Armistice's Terms to Congress in Joint Session and, in Washington, DC, on 11 November 1918. The Peace Plans Proposals Are Outlined in the 'Fourteen Points.' Official US Government Photograph. GGA Image ID # 1994c91e7a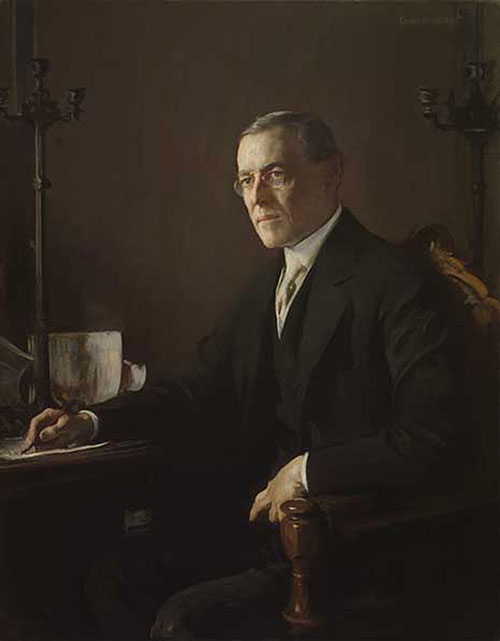 Painting of President Woodrow Wilson by Edmund Charles Tarbell, Oil on Canvas, 1920-1921. National Portrait Gallery, Smithsonian Institution; Transfer from the Smithsonian American Art Museum; Gift of the City of New York through the National Art Committee, 1923. GGA Image ID # 1994ea6224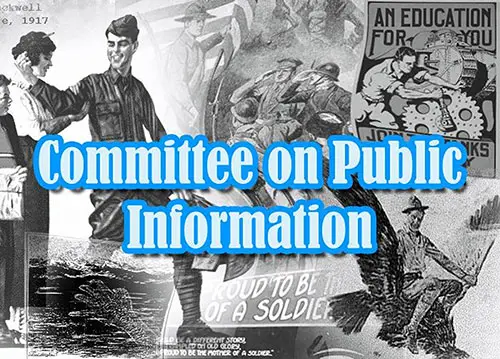 President Woodrow Wilson Created the Committee on Public Information (CPI) to Promote the War Domestically While Publicizing American War Aims Abroad. GGA Image ID # 199507b417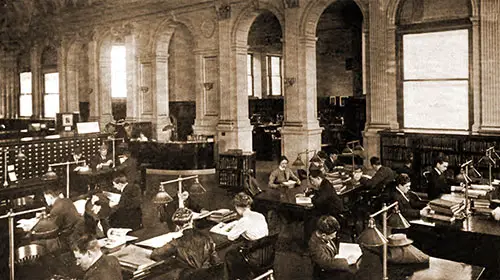 Students at the Carnegie Library of Pittsburg Reference Room, 1918. GGA Image ID # 19950d18d3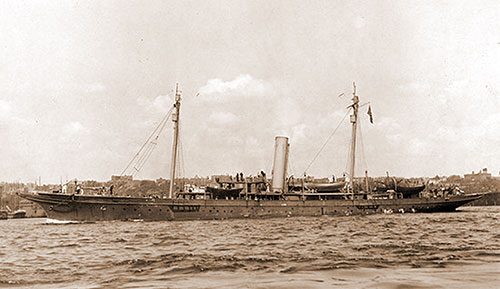 The Converted Yacht USS Alcedo SP-166, Sunk by German Submarine UC-71, 75 Miles Southwest of Brest, France. GGA Image ID # 199597c8c3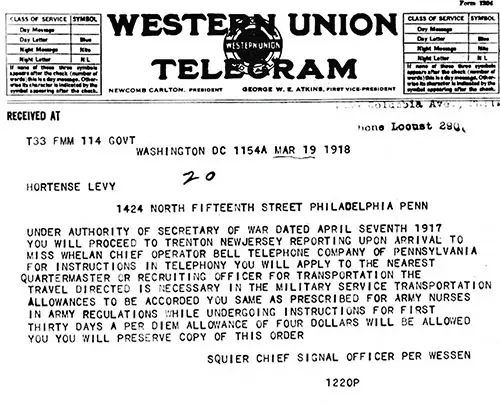 On 19 March 1918, Miss Hortense Levy of Philadelphia Received a Western Union Telegraph Instructing Her to Report for Training in Telephony, Also Known as Telephone Operation. WW1 Chief Signal Officer Major General George Owen Squier Later Cited Women's "Unquestioned Superiority" as Switchboard Operators and Their Value in Freeing Men for the Fighting Front. The Report of the Chief Signal Officer, 1919, Declared That "The Use of Women Operators throughout the Entire War Was Decidedly a Success…". GGA Image ID # 1995b38df1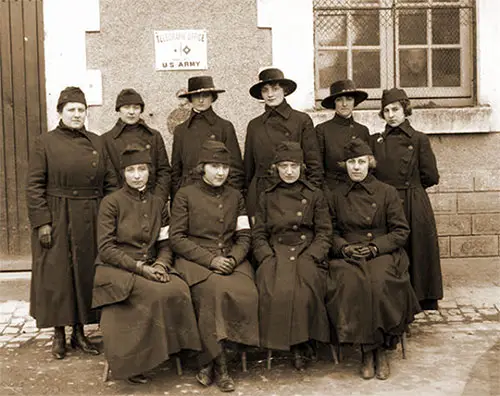 Typical Operating Unit at One of the Posts in France of the US Army Signal Corps Telephone Operators, 1918. GGA Image ID # 1996658387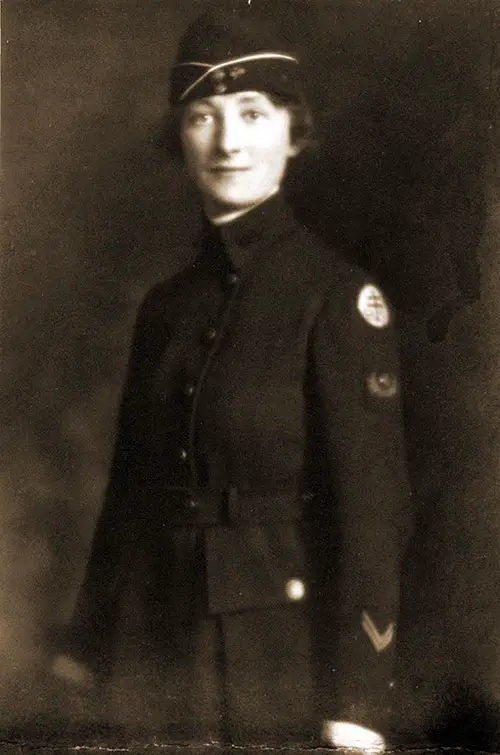 Army Signal Corps Telephone Operator Miss Hortense Levy of Philadelphia Dressed in Uniform, circa 1918. GGA Image ID # 1996a7ce89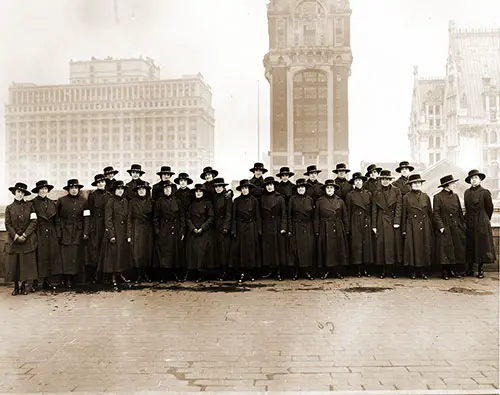 Unit of US Army Signal Corps Female Telephone Operators, circa 1918. GGA Image ID # 199717447b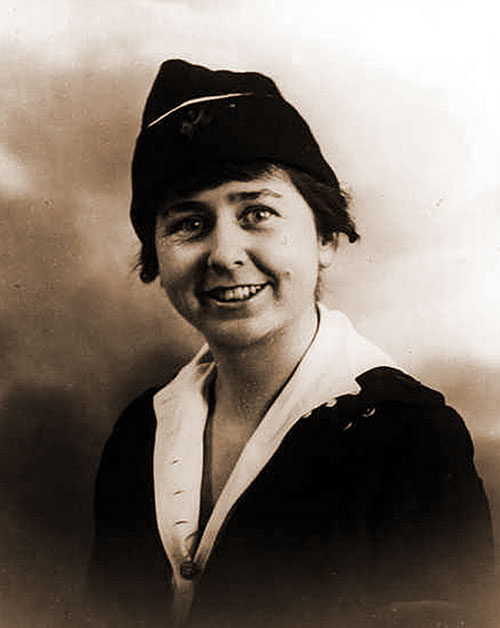 Grace D. Banker, Chief Telephone Operator, US Army Signal Corps, March 1918. GGA Image ID # 19976e83d3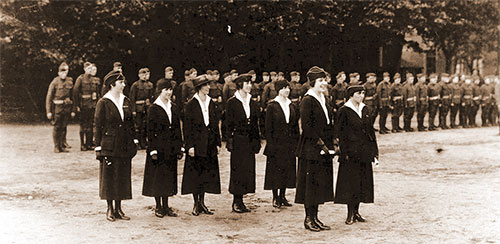 Signal Corps Girls Receiving Recognition for the Work at the US Army Base Mainstrom, circa 1919. GGA Image ID # 1997739222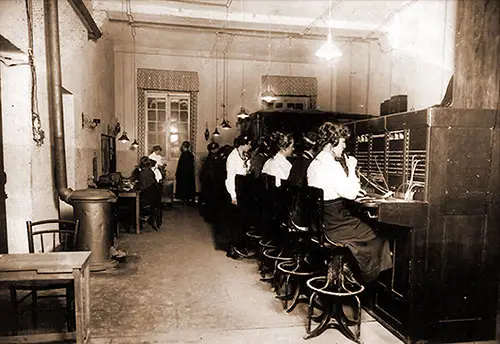 Female Operators at Switchboard, Office of he Chief Signal Officer, AEF, in Tours, France, 17 October 1918. GGA Image ID # 19978729a8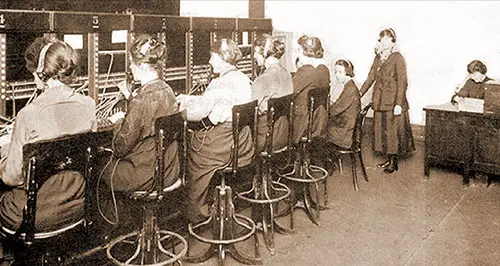 American Women Serving in France as Telephone Operators circa 1918. GGA Image ID # 1997efd1c3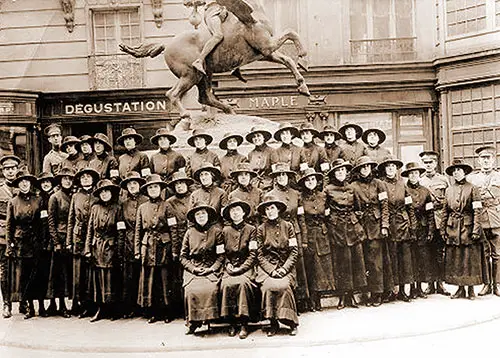 First Unit of Signal Corps Telephone Operators Arrive In France, March 1918. GGA Image ID # 1997fa5906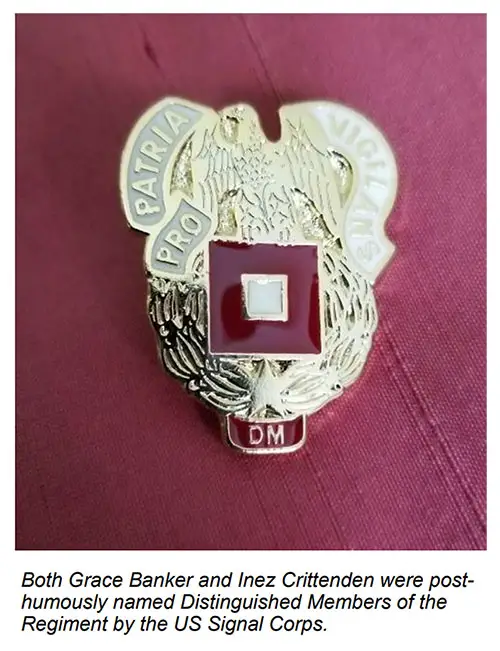 Both Grace D. Banker and Inez Crittenden were Posthumously Named Distinguished Members of the Regiment by the US Signal Corps. Army Communicator, November 2020. GGA Image ID # 19b28751bf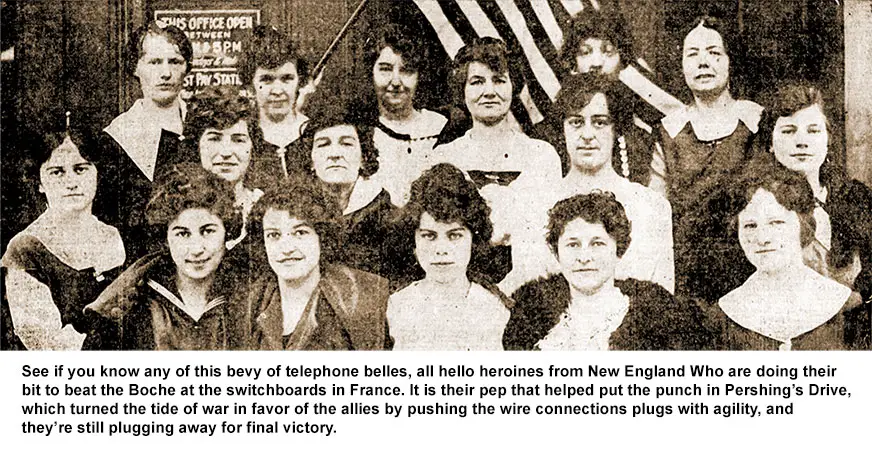 See If You Know Any of This Bevy of Telephone Belles, All Hello Heroines from New England Who Are Doing Their Bit to Beat the Boche at the Switchboards in France. It Is Their Pep That Helped Put the Punch in Pershing's Drive, Which Turned the Tide of War in Favor of the Allies by Pushing the Wire Connections Plugs with Agility, and They're Still Plugging Away for Final Victory. Boston Sunday Post, 6 October 1918. GGA Image ID # 19b2a3189a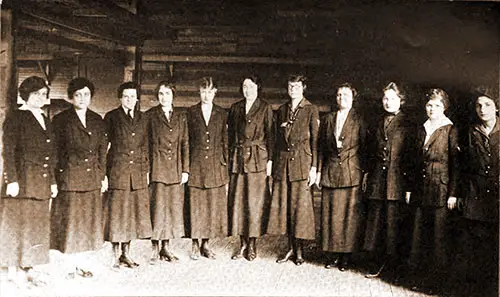 Real "fellows"— It Was with Much Reluctance and Much Blushing That These Young Ladies Stepped before the Camera; in Fact, A"gold Striper" Had to Intercede on Behalf of the Recruit Photographer. After the Chief Yeoman (f) Pointed out That It Was for The "Good of the Ship," They Finally Agreed to Arise from Their Hard Polished Chairs and Stand at Attention for a Fraction of a Minute. Great Lakes Recruit, May 1919. GGA Image ID # 19b2bb0087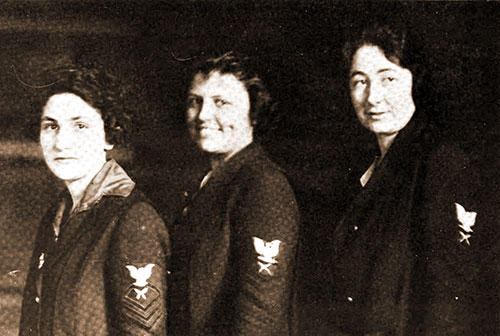 Three Chief Yeomen (F), the Misses Friedman, Reicherter, and Tully. Great Lakes Recruit, May 1919. GGA Image ID # 19b2e5a608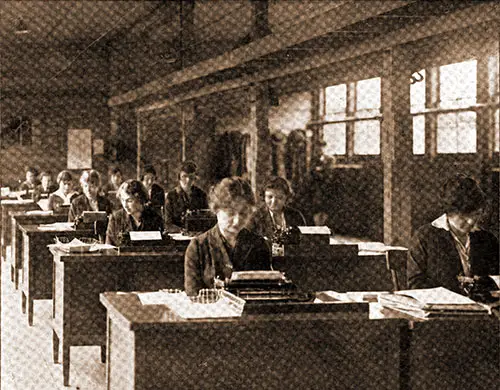 Yankee Pluck - an Even Dozen of Pretty, Vivacious Young Ladies Are Shown in This Picture. They Left Their Homes in the East Because Uncle Sam Needed Them Right Here at Great Lakes, to Finish a Real Man's Job They Had Started in the East. Officers Have Found Them Efficient and Faithful. Great Lakes Is Proud of Them. Great Lakes Recruit, May 1919. GGA Image ID # 19b3311e12

Women Telephone Operators Needed For France. Announcement in the 15 November 1918 Edition of the Journal of Electricity Appeared after the Armistice.