Joint Resolution for Second Draft Registration, 5 June and 24 August 1918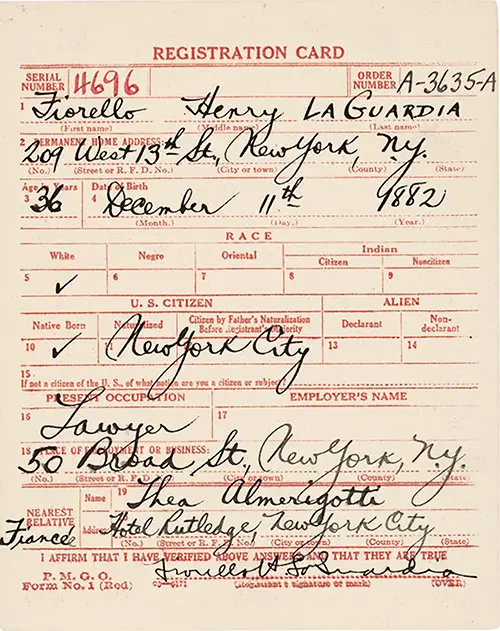 World War I Draft Registration Card for Fiorello Henry La Guardia, 1918. The Draft Registration Card of Fiorello H. La Guardia Indicates That He Worked as a Lawyer in New York City. Record Group 163: Records of the Selective Service System (World War I), 1917 - 1939. Series: Draft Registration Cards, 1917 - 1918. National Archives and Records Administration. ARC # 641784. GGA Image ID # 18dc484934
On May 20, 1918, Congress by a joint resolution authorized the registration of all persons who had become 21 years of age since June 6, 1917.
A Presidential Proclamation on that day set June 5 for the registration of the new 21-year-old's in the continental United States. A further registration of such persons was held on August 24, 1918.
A registration of the 21 year old's in Puerto Rico, Alaska, and Hawaii was called for by special proclamations and special dates were set.
Apparently the Army needed the younger men, but the country was not yet ready for the registration and military liability of persons under 21 years of age although they later were included in the third registration of September 1918.
Because the numbers involved in the second registration were not large the complete election machinery was not used but the local boards were charged, under the direction of the Governor, and the draft executive or Adjutant General, with the responsibility of conducting it.
They were authorized to appoint additional registrars as needed.
The registration of June 5,1918, resulted in the registration of 735,834 and that of August 24 in 159,161.
In the meantime tardy registrations were taking place of men due to have registered on June 5, 1918, with the result that the registration for the entire second registration group was 912,564.
Excerpts from "Chapter III: The Registrations of 1917-18," in Registration and Selective Service, Special Monograph No. 4, Selective Service System, 1945, Washington, DC: Government Printing Office, 1946, p. 15.