NTC Bainbridge 1953 Company 54 Group Photograph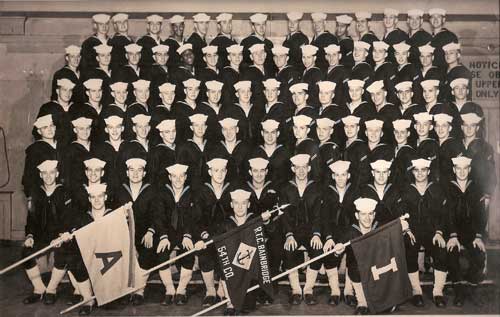 Group photograph taken in January 1953 of Company 54, USNTC Bainbridge (Maryland), contributed by Marcia B. (Betts) Hoffman, daughter of navy recruit Frank C. Betts.
Thought you could add this to your website, I noticed there were no photos or list of saliors who were in this US Naval Recruit at Bainbridge M.D. January 1953 photo 4th regiment Company 54.
My Dad, Frank C. Betts, 1st on the 3rd row. He passed 27 years ago [1985], I did not have electronic resources to research the facility back then.  However, he had many slide [pictures] of his travels on the ship. I have many memories of how much his country meant to him. Others may be searching to see their loved ones who served the country.
Marcia B Huffman
16 November 2012
Other Recruits in this company:
Robert A. Gardner
Please contact us if you have a listing of recurits for this company.