Cowpox Vaccination Certificate - 1821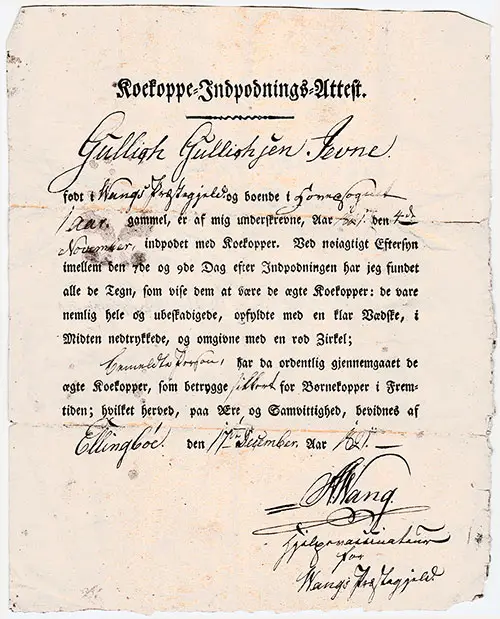 Kokoppe Indpodnings Attest - Norwegian Cowpox Vaccination Certificate - 17 December 1821. This is an Example of a Cowpox Vaccination Certificate Carried by an Individual Wherever He Traveled. It Was Later a Requirement for All Steamship Passengers to Have Been Vaccinated. GGA Image ID # 1fb3ec8cc0
The first vaccination was made in 1796. Before the century's close, the method was practiced everywhere in Christendom. No urging was needed to induce the majority to give it trial: passengers on a burning ship do not hold aloof from the lifeboats. Rich and poor, high and low, sought assistance in vaccination and blessed the name of their deliverer.
Of all the great names that were before the world in the closing days of the century, there was no other one at once so widely known and so uniformly reverenced as that of the English physician
Kokoppe Indpodnings Attest
Gullich Gullichjen Levne
Født i [Vang i Oppland] og boende i Honng og ua?? 1 aar. gammel, er af mig undersfrevne, Aar 1821 den 4 November, indpodet med Koefopper. Bed nøiagtigt Cftershn imellem den 7 de og 9 de Dag efter Indpodningen har jegfundet alle de Tegn, som vise dem at være de ægte Koefopper: de vare nemlig hele ogubesfadigede, opfyldte med en flar Bædsfe, i midten nedtryffede, og omgidne med en rød Zirfel; ?? ??, har da ordentlig giennemgaaet de agteKoefopper, som betrygge siddon?? for Børnefopper i Frem=tiden; hvilfet herded, paa Ære og Gambittighed, bevidnes af Ellingføe den 17 December, Aar 1821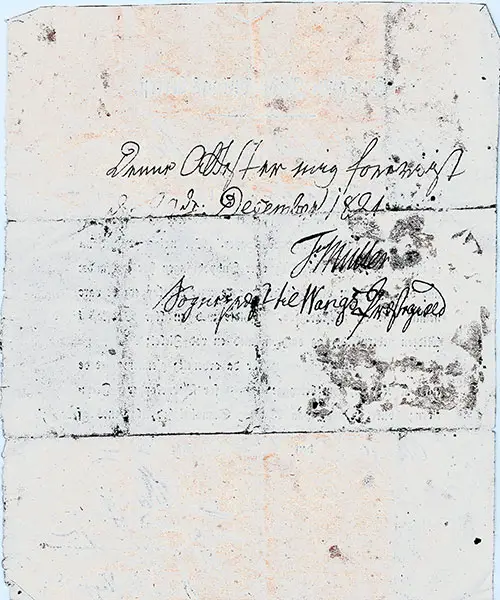 Hand-Written Note on the Back Side of Kokoppe Indpodnings Attest. Illegible. GGA Image ID # 1fb407d6b1
Cowpox Vaccination Certificate
Gullich Gullichjen Levne
Born in Vang i Oppland and living in Honng og ua?? 1 year, was vaccinated with cowpox by me, the undersigned, in the year 1821 on the 4th of November. Upon careful examination between the 7th and 9th day after the vaccination, I found all the signs that prove them to be genuine cowpox; namely, they were whole and undamaged, filled with a clear liquid, depressed in the middle, and surrounded by a red circle; [this person] has thus properly undergone a genuine case of cowpox, which protect him from smallpox, which is hereby certified upon my honor and conscience.
Ellingføe the 17th of December, In the Year 1821.