Source of Boston Party's Tea - 1922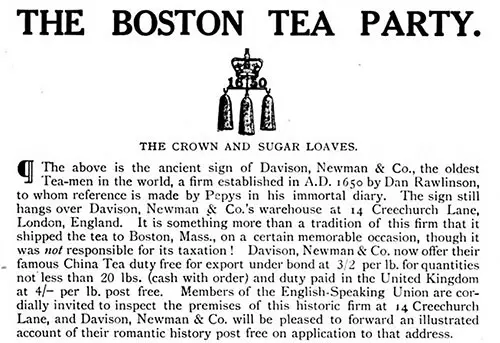 Old English Firm That Made the Famous Shipment Is Still in Business at the Sign of Three Sugar Loaves, Creechurch Lane
Staff Correspondence
Chicago, Nov. 15, 1922.
The following letter on the old firm that supplied the tea that caused the basis for the famous Boston Tea Party has been received by the Daily News from Hiram K. Moderwell, dated London, Oct. 10:
"In Creechurch Lane, in the old part of London, one may come upon a curious sign, consisting of three cones of gilded iron depending from a wrought-iron brace and surmounted by a crown. It is the ancient trade sign of the firm of Davison, Newman & Co., tea merchants, who began business in the days of Cromwell, in the boom which followed the great English revolution. Later, however, the firm had a more intimate connection with revolution, as was discovered not long ago by Algernon Aspinall, a director of the corporation that has purchased the business.
"In a trip to Boston, Mr. Aspinall, rummaging through the records in the State House, discovered a letter from Davison, Newman & Co., dated 1775 and stating that his firm preferred to ship no more tea to the colonies for the present, owing to unsettled conditions there. This confirmed what had been a tradition in the firm; for Davison, Newman & Co. had lost their last shipment of tea to Boston, when certain colonists, disguised as Indians, dumped the entire consignment into the harbor in order to deprive King George III of his tea tax.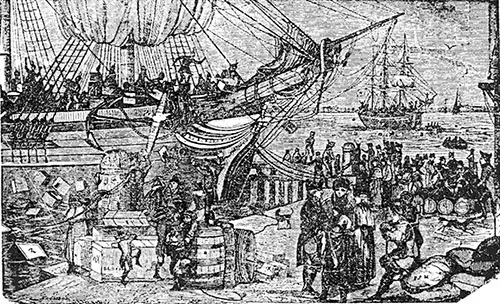 Scene at Boston Harbor - Destruction of Tea in 1773
"Thus this firm is an intimate link in English and American history. No records have been found in London of the famous shipment of 340 chests of tea, but other documents and curiosities in the Creechurch Lane shop are of great interest; for the firm in its day was one of the most important importers of colonial produce in England.
After old Dan Rawlinson, the founder, died it was under the direction of a series of influential men, including Sir Thomas Rawlinson, lord mayor of London.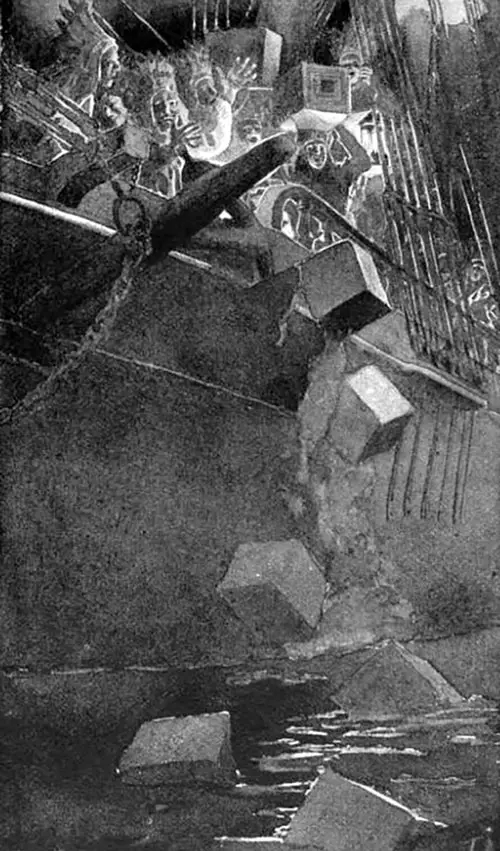 People Throw Tea Overboard at the Bost Tea Party in 1773
"In the warehouses of the shop may be seen the old oaken casks in which tea was mixed and the heavy drawers from which it was sold. The gigantic counters are still good for several centuries more of hard work. Some old-fashioned customers still demand that their sugar be cut into lumps by the huge sugar chopper, as, was the universal custom a hundred years ago. Here too are numberless business documents from the 18th century, including a slave book from the firm's Jamaica plantation, recording the physical condition and temperamental peculiarities of each human chattel.
"No American who visits the sign of the Three Sugar Loaves in Creechurch Lane will be any the less welcome because his forefathers caused some embarrassment to Messrs. Davison & Newman and to their king."
"Source of Boston Party's Tea," in The Tea and Coffee Trade Journal, December 1922, p. 901a-901b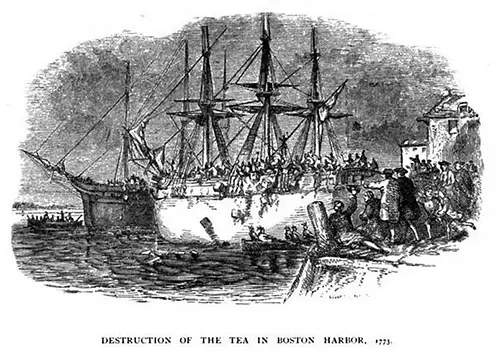 Destruction of Tea in Boston Harbor, 1773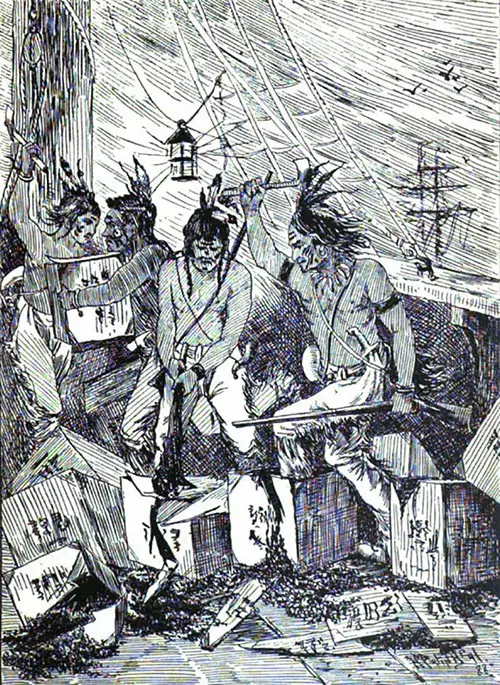 People Destroying Tea on the Ship at Boston Harbor in 1773