Men's Coffee House - 1919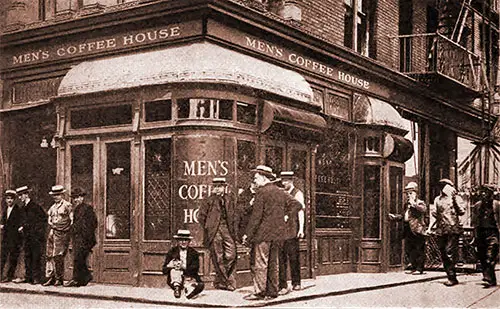 An Unusually Successful Coffee House on the Lower West Side of New York, Established and Operated in New York by the Association for Improving the Condition of the Poor. The Spice Mill, January 1921. GGA Image ID # 1635d6e9c7
This coffee house, which was opened in February of 1919 and run on a strictly business basis, is located on the lower West Side of the city, in a busy trucking district, and on a corner where trucks stop at noon and hungry and thirsty drivers naturally look for a quick, satisfying meal and a good cup of coffee.
A closed saloon was rented for the purpose, and the bar of the saloon which had been removed was hauled back to its place along with the mirror.
The place was then given a new coat of paint inside and out, the only change in the front being a prominent sign: "Men's Coffee House." A reputation was made at the very beginning for the quality of the food and coffee served, and the patronage increased until the establishment paid for itself.
The interior eating space consists of one large room, capable of seating 56 men at 14 round tables at one time, with added provisions for dining at the bar.
All food is cooked in a kitchen at the rear. The accommodations provided include Filter with sanitary ice drinking water, washroom, checkerboards, newspaper and magazine rack, and a Victrola.
The doors of the house are always open, and in the evening, the place is well lighted. Soft cold drinks are also served. Says Publicity Director Matthews of the Association, who is largely responsible for the establishment and success of the coffee house:
The place is now too small to satisfy us, and we have expectations of opening, another which is to be of the two-room type.
The additional room will be so arranged as to give the coffee house a homelike, stay-a-while atmosphere, characteristic of the old-time coffee house and essential, to a large extent, to the coffee house of today, despite the fact that the latter operates under conditions of rush not before known.
Such coffee houses are always needed in a city like New York; we can't have enough of those that serve dependable quality food and good coffee.
"Men's Coffee House, New York, Fills Important Need," in The Spice Mill: Devoted to the Interests of the Coffee Tea & Spice Trades, New York: The Spice Mill Publishing Company, Vol. XLIV, No. 1, January 1921, p. 30.