Twenty-Four Hours A Day - 1934 Sweet Surrender Musical
Song From the 1935 Musical Sweet Surrender: I'm So Happy I Could Cry. The Song Was Not a Box Office Success. Music by Dana Suesse, Lyrics by Edward Heyman.
Title: TWENTY-FOUR HOURS A DAY (THE MUSIC BOX SONG)
Music By: JAMES F. HANLEY
Words By: ARTHUR SWANSTROM
Carl Laemmle Presents SWEET SURRENDER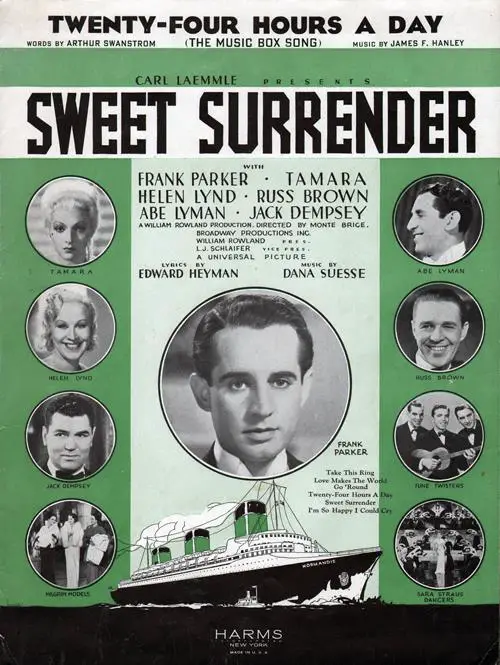 WITH
FRANK PARKER • TAMARA
HELEN LYND • RUSS BROWN
ABE LYMAN • JACK DEMPSEY
A WILLIAM ROWLAND PRODUCTION. DIRECTED BY MONTE BRICE .
BROADWAY PRODUCTIONS INC
WILLIAM ROWLAND PR E S.
L.J. SCHLAIFER VICE PRES.
A UNIVERSAL PICTURE
LYRICS BY EDWARD HEYMAN
MUSIC BY DANA SUESSE
Take This Ring
Love Makes The World Go 'Round
Twenty-Four Hours A Day
Sweet Surrender
I'm So Happy I Could Cry
HARMS INCORPORATED
NEW YORK
MADE IN U. S A


"Sweet Surrender" Twentyfour Hours A Day
Words by ARTHUR SWANSTROM
Music by JAMES F. HANLEY
Sheet Music for Piano with Symbols for Ukulele, Guitar and Banjo.


Copyright MCMXXXV by HARMS Incorporated, N.Y.C.
S-648-4 International Copyright Secured Made in U. S. A .
ALL RIGHTS RESERVED Including public performance for profit
Any arrangement or adaptation of this composition without the consent of the owner is an infringement of copyright.
WARNING: Any person who shall willfully and for profit copy the words or music of this song,or any portion' thereof, shall be liable to criminal prosecution under the United States Copyright Law.

Speak To Me Of Love (Parlez-Moi D'amour)
American Version by BRUCE SIEVER
French Words and Music by JEAN LENOIR
By arrangement with Aseherberg, Hopwood & Crew Ltd.
Copyright MCMXXX by Editions Smyth, Paris Copyright MCMXXXII by HARMS Inc., N.Y;
ALSO AVAILABLE ON RECORDS AND PIANO ROLLS