Film Production On Board Steamships - 1921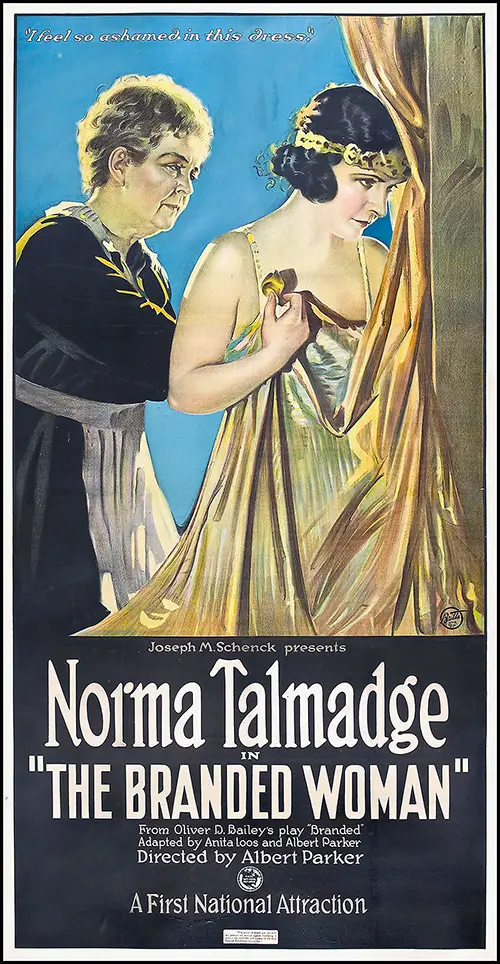 Movie Poster - "The Branded Woman" Starring Norma Talmadge, Partially filmed on the Cunard Line RMS Berengaria, 1920. GGA Image ID # 1cf570d274
"I feel so ashamed in this dress."
CAST: Norma Talmadge, Percy Marmont, Vincent Serrano, George Fawcett DIRECTED BY: Albert Parker PRODUCER: Joseph M. Schenck, Norma Talmadge
One of the late developments in transatlantic passenger traffic is the extensive use made of great liners for the production of movie films.  Of course, only large film companies can afford to send their leading men and women on board liners the day of sailing.
Still the time has gone by when, in order to film a scene on a transatlantic liner, a rickety river steamboat would be fitted up with cardboard props and much painted canvas and towed to some recondite part of Long Island Sound.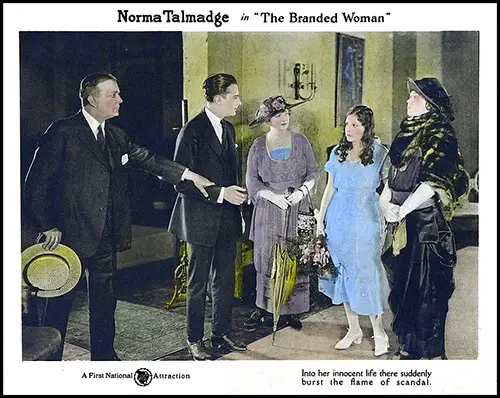 Lobby Card for "The Branded Woman," Starring Norma Talmadge, 1920. Into Her Innocent Life There Suddenly Burst the Flame of Scandal. A First National Attraction. GGA Image ID # 1cf583302f
There invariably the villain would blow up the vessel by lighting a match, while amidst a terrific cloud of smoke produced by chemicals released ad hoc, the heroine would recklessly plunge at least six inches into a waiting boat, where he ubiquitous lover was waiting to receive her, dressed as if for a parade of the Siamese Navy.
Nowadays, a whole company is sent on board the ship and picture are taken as the voyage to Europe begins.  While all the characters are supplied by the film company, the steamship companies will oblige with their personnel who naturally do not object to the few dollars that can be earned in this guise.
Leading Cunard liners have lately been largely patronized for such purpose.  Thus, Eugene O'Brien made part of "The Wonderful Chance" on the Caronia; Norma Talmadge filmed scenes for "The Branded Woman" on the Berengaria (ex Imperator); Constance Talmadge made part of "A Woman's Place" on the Mauretania; Tom More "shot" scenes for his "Made In Heaven" on the Coronia, and Marguerite Clark finished "Scrambled Wives" on the Aquitania.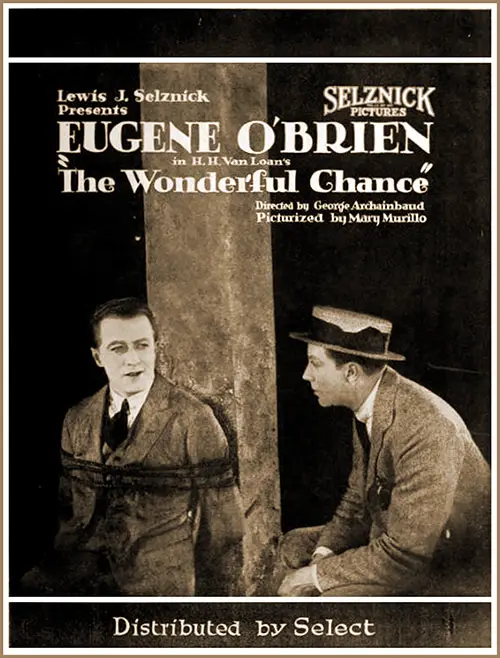 Movie Poster for "The Wonderful Chance," Starring Eugene O'Brien and Rudolph Valentino, 1920. Produced by Lewis J. Selznick of Selznick Pictures, Directed by George Archainbaud, and Picturized by Mary Murillo. American Crime Drama Partially Filmed Onboard the RMS Caronia of the Cunard Line. GGA Image ID # 1cf59f1718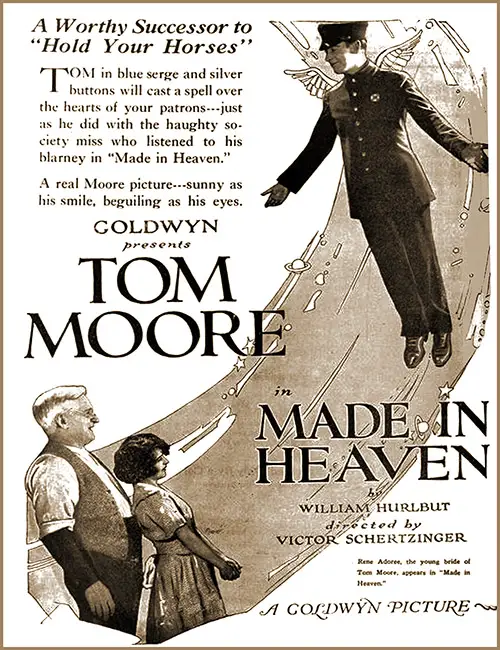 Movie Poster - "Made in Heaven," Starring Tom Moore, 1921. A Worthy Sucessor to "Hold Your Horses." Tom in Blue Serge and Silver Buttons will Cast a Spell Over the Hearts of Your Patrons---Just as He Did with the Haughty Society Miss Who Listened to His Blarney in "Made in Heaven." A Real Moore Picture --- Sunny as His Smile, Beguiling as His Eyes. A Goldwyn Picture Directed by Victor Schertzinger, Partially Filmed Onboard the RMS Caronia of the Cunard Line. GGA Image ID # 1cf5a5402c
Publicity Still - Tom Moore and Helene Chadwick in "Made in Heaven," an American Comedy Romance Film, 1921. GGA Image ID # 1cf5e57bdc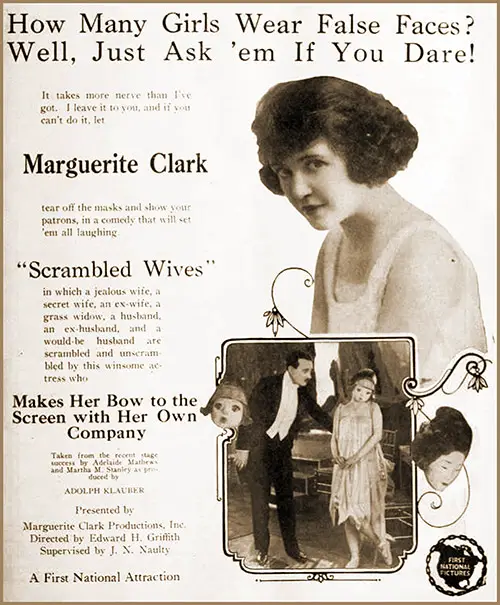 Advertisement for "Scrambled Wives Starring Marguerite Clark and Ralph Bunker, 1921. The American Comedy Motion Picture was Partially Filmed Onboard the RMS Aquitania. GGA Image ID # 1cf5ed4982
"Current Events," in the Nauticus: A Journal of Shipping, New York: The Nauticus Company, Inc., Vol. XIL, No. 157, 21 May 1921, p. 13.