April Showers by Al Jolson - 1921 Sheet Music
Front Cover, April Showers, Vocals by Al Jolson
April Showers, Sheet Music for Piano from the 1921 Musical "Bombo" performed by Al Jolson, Composed by Louis Silvers, Lyrics by B. G. DeSylva.
Title: April Showers, 1921
Composer: Louis SILVERS
Lyrics by: B. G. DeSYLVA
Performed by: Al Jolson
Published: Sunshine Music Company, Inc. | HARMS, New York
Sheet Music Item #: 6390_3
Genre: Popular Music for Piano
Hits in Messrs. Lee & J. J. Shubert's Production of the Musical Extravaganza "BOMBO"
Vocal Selections

Don't Send Your Wife to the Country
It's You
April Showers
Tallahassee
Down South
Give Me My Mammy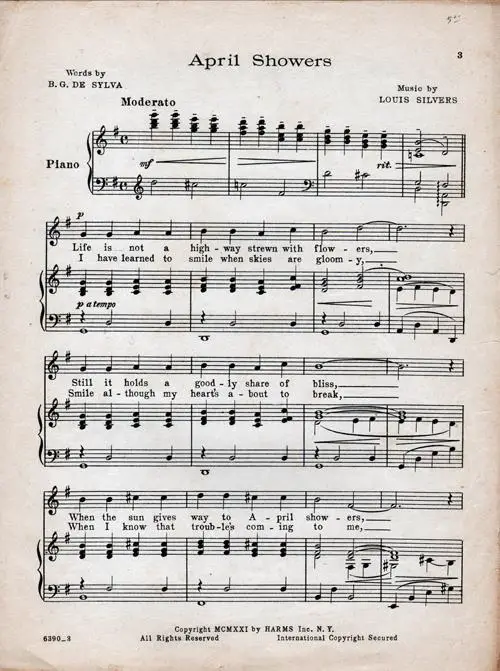 April Showers Sheet Music Page 3
Life is not a highway when strewn skies with flowers,
I have learned to smile are gloomy,
Still it holds a good - ly share of bliss,
Smile although my heart's about to break,
When the sun gives way to April showers,
When I know that trouble's coming to me,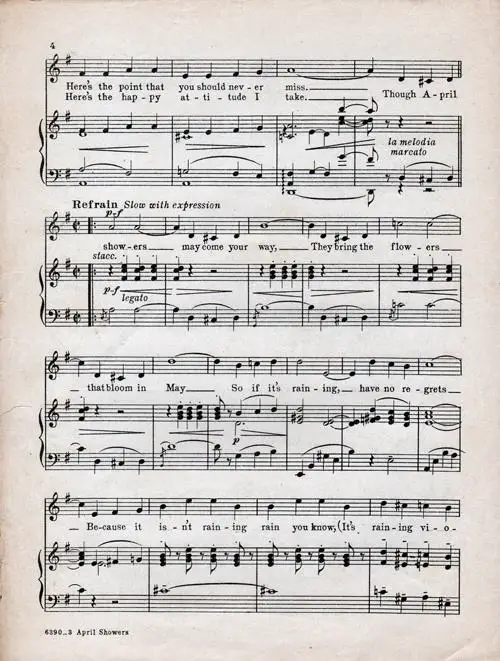 April Showers Sheet Music Page 4
Heres the point that you should never miss
Here's the happy attitude I take

Refrain Slow with expression
Though April showers may come your way, They ring the flowers
that bloom in May So if it raining, have no re - grets

Because it isn't raining rain you know-, It's raining violets, -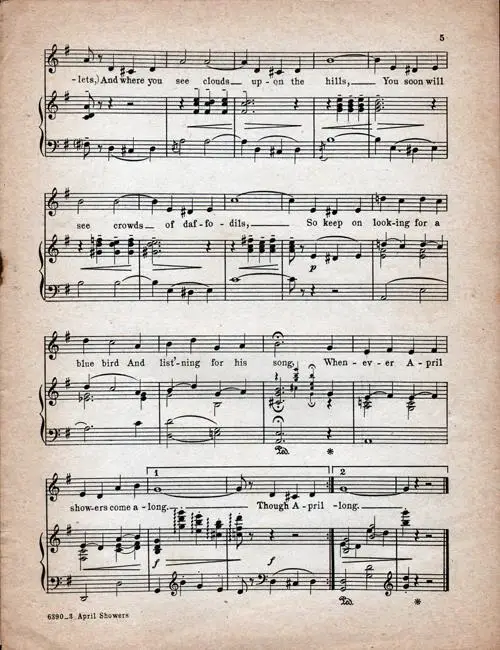 April Showers Sheet Music Page 5
And where you see clouds upon the hills) You soon will
see crowds of daffodils, So keep on look-ing for a
blue bird And listning for his song, Whenever April
showers come along. Though April -long.

Copyright MCMXXI by HARMS Inc. N. Y.
6390_3 All Rights Reserved International Copyright Secured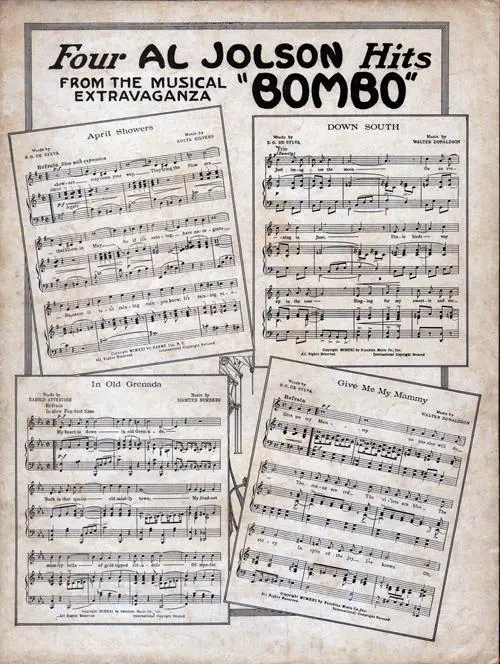 Four AL JOLSON Hits FROM THE MUSICAL EXTRAVAGANZA "BOMBO"
April Showers, Words by B. G. DE SYLVA. Music by LOUIS SILVERS
Down South, Words by B. G. DE SYLVA. Music by WALTER DONALDSON
In Old Grenada, Words by HAROLD ATTERIDGE, Music by SIGMUND ROMBERG
Give Me My Mammy, Words by B. G. DE SYLVA, Music by WALTER
Copyright MCMXXI by sunshine Music Co., Inc.'
All Rights Reserved International Copyright Secured
Bombo is a Broadway musical with a book and lyrics by Harold R. Atteridge and music by Sigmund Romberg.
Produced by Lee Shubert and J. J. Shubert, the Broadway production, staged by J. C. Huffman, opened on October 6, 1921 at the Jolson Theatre, where it ran for 219 performances. The cast included Al Jolson and Janet Adair.
The musical has a thin story designed to showcase Al Jolson, who was at the height of his popularity. Songs were added by several composers during the run of the show so that, by the end of the run, there were more songs by composers other than Romberg than by him. The success of the musical on Broadway led to a national tour.
Al Jolson sings April Showers - HD Widescreen