Cornelius Vanderbilt 1794-1877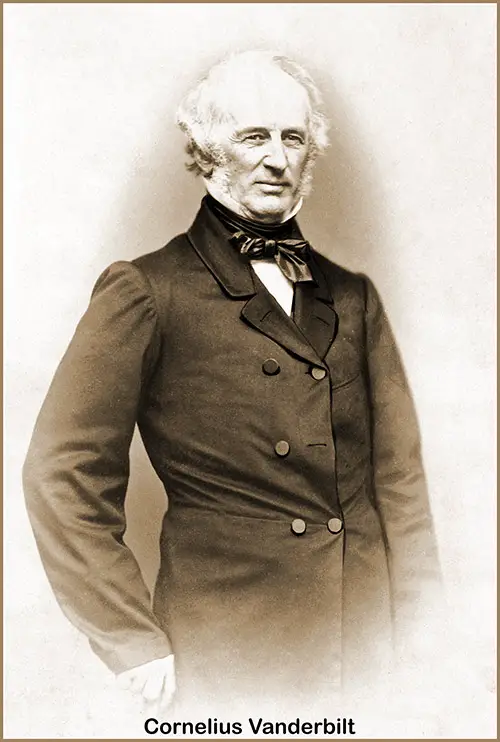 Portrait of Cornelius circa 1870. GGA Image ID # 1cf61a1173
Cornelius Vanderbilt, whose portrait is given on our first page, died in this city, after a protracted illness, on the morning of January 4, 1877 in the eighty-third year of his age. He was born on Staten Island, May 27, 1794.
His father, whose name he bore, was a small farmer, selling the products of his garden in New York. It is seldom very important to inquire who a man's father is, the mother being almost universally the shaper of character.
Mrs. Vanderbilt was a woman of extraordinary intellectual and moral force. The reverence which her great son expressed for her down to the day of his death is evidence of the fact that she was no ordinary person.
In very early life Cornelius showed those traits which have given him his great success and made him famous. He was willing to work to the extent of his physical powers.
He was ready to seize, and use ail available devices to supplement his own strength. He was unfalteringly faithful to his engagements. In other words, he was laborious, shrewd, and honest.
From his father he inherited a fondness for the water. His earliest ambition was to possess a boat of his own. In casting about for means to accomplish this, he bethought him of making a proposition to his mother to plow, harrow, and plant an eight-acre lot for $100.
As she was compelled to pay for the work, this wise and energetic woman was not long in concluding a bargain with her son, whose independence she admired and fostered, and who was then not quite sixteen years of age.
The undertaking was too much for his unaided strength, but he succeeded by gaining the help of his schoolfellows, with whom he was a favorite. The grand old mother rejoiced to pay her boy the $100 stipulated.
With this he bought his first boat, and commenced running regularly to New York, carrying garden truck, and passengers when there were any. To his mother all the proceeds of his day trips went, as well as one-half of what he earned at night.
This was the beginning of his career. He was frugal, temperate, watchful, industrious, and persevering. When he was eighteen years of age, the war with Great Britain occurred.
His prowess was shown in going from Staten Island to New York and bringing re-enforcements to Fort Richmond, which was beleaguered, on so stormy a night that he told his passengers that he should carry them partly under water, which, indeed, proved to be the case. But he saved the fort.
Mr. Vanderbilt was always an affectionate man. He lost his heart before he attained his majority. In 1813, at nineteen years of age, he was married to Miss Sophia Johnson, the excellent lady with whom he lived fifty-five years.
This was at the end of the first year of the war, in which he had acquired $500. When he was twenty years of age he told his mother that he intended to work twenty years more and then retire with $20,000, as he was sure he could support his family and lay up a thousand dollars a year, and that the interest on $20,000 was enough for any man to live on!
Early in the year 1814, before he was twenty years of age, he entered a bid to supply six military posts with provisions. The Commissary- General selected his offer from all the bids that were made.
For three months the young contractor carried his provisions once a week to each of the forts, making a trip every night, using his boat for ferrying soldiers and other passengers during the day, and sleeping on Sunday, or whenever a few moments came in between duties.
It was doing the work of two men, but he had a great physical constitution. The savings of that year enabled him to build his first vessel. When he came to his majority, he had a wife and schooner, and was a brave, hearty, happy fellow.
Very rapidly he added two other vessels, and when he was twenty-four years of age he was engaged in a coasting trade with North Carolina, South Carolina, and Georgia, being the owner of three stanch vessels and $9000 in money.
From early life Mr. Vanderbilt valued what he had attained as a stepping-stone to something higher. From coasting schooners he ascended to steamboats. He was thirteen years of age when Fulton's first boat was finished.
He was twenty-one years old when the monopoly of river navigation by steamboats was dissolved by the death of Chancellor Livingston, Fulton's partner.
Others then entered the field, prominent among them the Stevenses, of Hoboken, and Thomas Gibbons, of Madison, New Jersey, whose residence has recently become the seat of Drew Theological Seminary.
Mr. Vanderbilt entered the employ of Mr. Gibbons, to whom he faithfully adhered, although many and great offers were made to draw him to the interest of others.
While with Mr. Gibbons he took charge of a hotel in New Brunswick which Mr. Gibbons owned, and Mrs. Vanderbilt so superintended as to make it a success, while Mr. Vanderbilt managed the ferry from New York to Elizabethport, which he had leased from Mr. Gibbons. All these ventures were eminently successful.
Notwithstanding the large salary and many advantages offered by Mr. Gibbons, Mr. Vanderbilt thought it best to leave that gentleman and devote himself to the work of "steam boating" on his own account.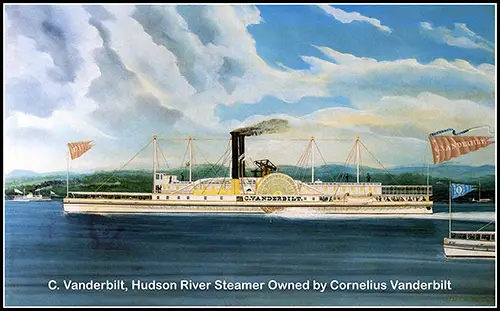 The Hudson River Steamer "C. Vanderbilt," Owned by Cornelius Vanderbilt. C. Vanderbilt Shown Racing the Oregon; The Painting Was Likely Commissioned by Cornelius Vanderbilt, Although Oregon Won the Race, the C. Vanderbilt Is Shown in the Lead, and Only the Bow of the Oregon Is Visible on the Right. Oil on Canvas by James and John Bard, 1847. GGA Image ID # 1cf6be64cd
The first steamboat he ever built for himself he called The Caroline, which afterward went over Niagara Falls and was lost, after he had ceased to own her. During his career in this department he was the owner of thirty-eight steamers, no one of which, it is said, was lost by fire, explosion, or wreck while in his employ.
The Commodore always claimed that he managed his boats in the best interests of the public, and for the greatest advantage of general business. lie held that a man's own success in any public business was best promoted by advancing the public interest, and that no man could with great skill serve the public without becoming rich, and that a man who does not know how to care for his own affairs cannot be a great public servant.
When he was forty years of age, his mother reminded him of his proposal to retire at that age worth $20,000. "My son, don't you own that much?" was the mother's inquiry.
The son told her that he was then worth $400,000, but that he did not intend to retire; that when he so proposed, he had no idea that he should develop such an ability to make money; that he was just under way, and his children were growing up ; that there was to be a large family, established in many branches; and that to them, to the public, and to God he believed he owed it to work much longer; but that he did not intend that she should ever work again.
To all this the mother assented. She was the object of his care and tenderest love until she departed this life, at the age of eighty- seven. Through his whole life he has never been able to speak of her without deep emotion.
In 1851 Mr. Vanderbilt, having obtained a charter from the government of Nicaragua, established a line in opposition to the Pacific Mail Steamship Company, which at that time, in connection with the Panama Railroad, monopolized transportation from the East to San Francisco.
The discovery of gold in California had raised such a fever in the Atlantic States that there seemed to be work enough for two lines. He put his fare at half the rate of the old line and made money out of the venture.
It was during these operations that he performed a feat which has been described as characteristic of the man. In order to achieve supremacy on this route, he determined to place a steamer on Lake Nicaragua, the approach to which is by the San Juan River, on which, about twelve miles from the lake, are the Castillo Rapids.
All freight and passengers had been carried from the coast eighty miles up the river to the rapids. The boats were then taken up the rapids by sheer force. The utmost exertions of all the men that a small boat could carry without any freight were required to pull that boat up the rapids, and it employed three hours.
These were the rapids over which Mr. Vanderbilt proposed to take the steamboat Central America, 150 feet long; and he succeeded. By taking the river at the fullest water, and arranging a series of cables, he warped the boat over the dangerous spot.
The cables were the size of a man's thigh, and yet it was stated that when the full strain was put upon them they were stretched until they were as small as the ordinary wrist. It was a great peril. Mr. Vanderbilt was placing his brain and the strength of his ropes against the force of the rapids, and he finally succeeded, and put his boat on the lake ready for work.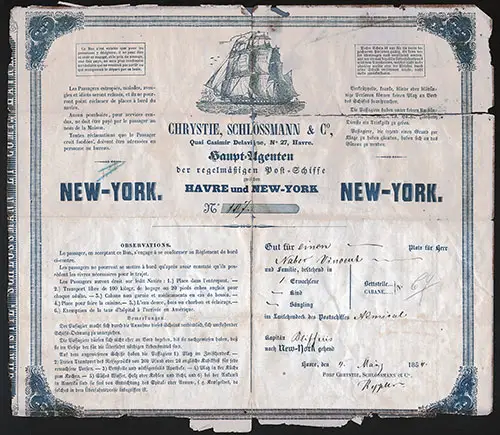 Front of Steerage Passage Contract from 1854, Le Havre to New York. A Steerage Contract Over Years Old, for One Adult Going From Le Havre to New York on the Clipper Ship "Admiral" of the Vanderbilt European Steamship Line Dated 4 May 1854. GGA Image ID # 102808387e
His North Star expedition was undertaken in 1853 on the steamer so named. He visited the prominent ports of Europe, where he was everywhere received with distinction, for his voyage showed to Europeans what manner of vessels could be built in America, and what a simple republican citizen could accomplish. It made a great impression as to his ability and resources.
Two years later he commenced an independent line of steamships to Havre, and built for that purpose the Vanderbilt and the Ariel. When the late civil war broke out, Mr. Vanderbilt was enormously rich, and finding that the government of the United States had a difficulty in transporting the large bodies of troops which gathered at the military centers, he tendered his splendid steamer Vanderbilt to the Secretary of the Navy as a free gift to the government.
His reason for doing so lie stated to be his desire to protect the government against speculative attempts, and also to make it known that there were vessels of capacity which could meet all the requirements, without resorting to vessels built by the Confederate States, or those sailing under a foreign flag. The ship thus given had cost Mr. Vanderbilt $800,000.
It was accepted, but instead of being devoted to transportation it was provided with a ram, and, its engines protected by cotton bales, it was sent out to hunt the Alabama.
It was during the civil war that Mr. Vanderbilt turned himself from steam-ship enterprises to that which has occupied him ever since, viz., the prosecution of great railway operations.
As early as 1857 he had begun to own property in the New York and Harlem Railroad. It seemed to be in an almost collapsed condition. He advanced large sums of money, and helped it otherwise, and in 1863 was chosen its president.
His first purchase of stock cost him three cents on the dollar; in five years he made it worth seventy. He then turned his attention to the Hudson River Railroad, whose double track he built, while he erected new depots and increased the number of the trains.
So greatly did the business increase that, in order to provide accommodations for the down-town freight business, he purchased St. John's Park for a million dollars, and covered the entire square with a grand freight depot, which has since been ornamented by a bronze bass-relief, designed by Captain Degroot, and illustrating the Commodore's life.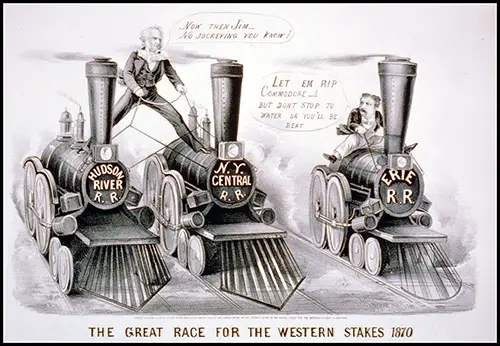 "The Great Race for the Western Stakes, 1870," Cornelius Vanderbilt Versus James Fisk. Currier & Ives Lithograph. GGA Image ID # 1cf833742b
In 1868, having gained a controlling interest in the New York Central Railroad, Mr. Vanderbilt was made its president, and the next year the two great railways were united, under the name of the New York Central and Hudson River Railroad.
The capital of the joint company was thirty-five millions, but immense sums were expended in refitting and running the road, especially in the laying of a second double track from Albany to Buffalo; so that the capital stock is represented at ninety millions, on which an annual dividend of eight per cent, is regularly paid.
With the Grand Central Dépôt on Forty-second Street, the vast structure of masonry in the Fourth Avenue improvements, and the separate tracks for passengers and for freight, the New York Central Railroad is the grandest undertaking of the kind in the world.
He has always considered the business requirements of the country. He has held that the best way for a man to promote his own interests was to be a wise, large, faithful public servant, and he maintained to his friends that he had always had that in view, and that he was not governed by selfish motives in what he did.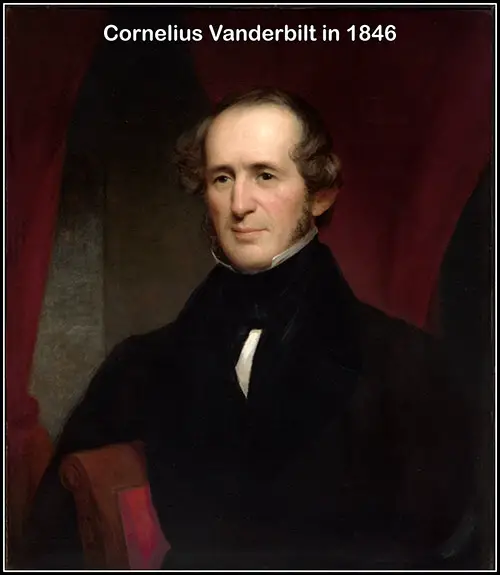 Portrait of Cornelius Vanderbilt in 1846. From the Painting by Nathaniel Jocelyn. GGA Image ID # 1cf7f93c93
He believes that the opposition to him was not personal, but simply sprung from the selfishness of his opponents. He never would permit the public interests to suffer in order to promote those of his friends or anyone else.
In his personal habits Mr. Vanderbilt was always careful and abstemious. He never indulged excessively in the pleasures of the table, and scarcely took a pint of wine in a whole year. He was notorious for his fondness for horses, and while exactingly economical in his domestic arrangements, so that his house was always plainly furnished—and he had no pleasure in equipage— when it came to horses, he determined to have the best.
Price was nothing with him, but no man on the continent should have a better horse than he. As much attention was paid to the comfort of his stables as of his house.
He was apparently a reckless driver, but he was always careful of his horses, whatever became of himself. At one period he was very fond of cards, delighting in a game of whist when the business of the day was over ; but in the latter period of his life he abandoned the club, and only occasionally amused himself in private.
Mr. Vanderbilt had four sons and nine daughters. His oldest son, William If. Vanderbilt, having been his right-hand man for several years, and vice-president of the railroad, has succeeded to the position of bearing the burden of these great undertakings.
In 1869 the Commodore married a second time. His selection was Miss Crawford, of Mobile, Alabama, a woman whose personal and intellectual endowment fitted her to be the wife of so great a man.
Mr. Vanderbilt was never much of a churchman. Indeed, until his acquaintance with the Rev. Dr. Deems, he had very seldom gone to church; but he never was skeptical. No clergyman could have a more steadfast faith in the Divine authority of the Holy Scriptures than Mr. Vanderbilt at every period of his life.
But more and more during the last seven years he has turned his thoughts to the subject of personal religion. He was led to a simple spiritual faith in Jesus Christ as his Savior—a faith which he did not hesitate to declare.
His charities were mostly private, as he had great horror of encouraging pauperism. His two most conspicuous gifts were the "Church of the Strangers" and "Vanderbilt University."
When the Mercer Street Presbyterian Church was for sale, in 1869, he purchased it, and presented it to the pastor, the Rev. Dr. Deems, to hold for the term of his natural life, and then made a second settlement, so that, upon the death of the present pastor, the property shall pass into the hands of the Board of Trustees of the " Church of the Strangers," to be held as an unsectarian church in all time to come.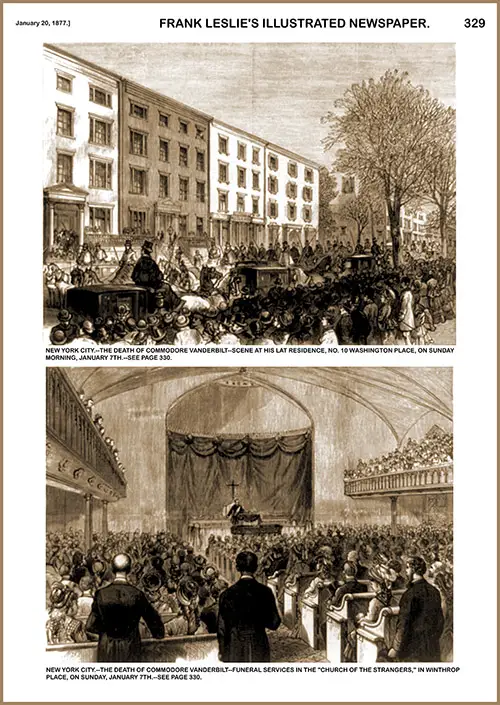 New York City -- The Death of Commodore Vanderbilt Illustrated in Frank Leslie's Illustrated Newspaper, 1877 Jan. 20, P. 329. Top Image: Scene at His Late Residence, No. 10 Washington Place, on Sunday Morning, January 7th, With Crowd Outside. Bottom Image: Funeral Services in the "Church of the Strangers," in Winthrop Place, on Sunday, January 7th. Library of Congress # 89709981. GGA Image ID #
He professed to do this because he liked the catholic spirit of Dr. Deems and believed in a church on as broad and Scriptural a foundation as that of the "Church of the Strangers."
To found the "Vanderbilt University" he gave a million dollars, and he professed to do this because he wished to testify his sense of the importance of those educational advantages from which he himself had been cut off in his youth, and, further, because he was assured that the institution should not be sectional nor sectarian, and while under the charge of one religious denomination, should be administered so as to be useful to all.
"Cornelius Vanderbilt," in Harper's Weekly: The Journal of Civilization, New York: Harper & Brothers, Vol. XXL, No. 1047, 20 January 1877, p. 46.