WW1 Timeline 1914-1918
A detailed chronology of the war, month by month, dates the minor and major events of the First World War; in chronological order, essential events are briefly described providing a succinct birdseye view of the Great War.
1914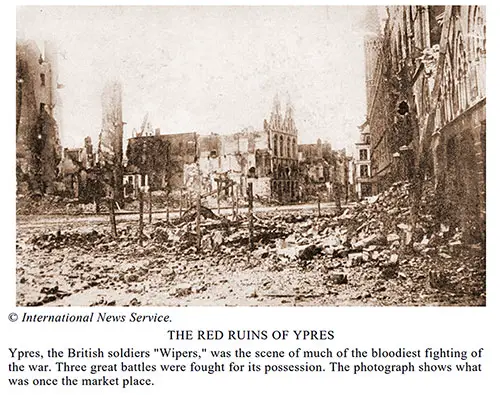 The Red Ruins of Ypres. Ypres, the British Soldiers "Wipers," Was the Scene of Much of the Bloodiest Fighting of the War. The Combatants fought three Great Battles for Its Possession. the Photograph Shows What Was Once the Market Place. © International News Service. The History of the World War, 2006. GGA Image ID # 192a9e8fa6
June 28—Francis Ferdinand shot at Sarajevo.
July 5—Kaiser's War Council at Potsdam.
July 23—Austro-Hungarian note to Serbia.
July 28—Austria declared war on Serbia.
July 31—State of war in Germany.
Aug. 1—Germany declared war on Russia.
Aug. 2—German ultimatum to Belgium.
Aug. 3—Germany declared war on France.
Aug. 4—Great Britain declared war on Germany.
Aug. 10—France declared war on Austria.
Aug. 12—Great Britain declared war on Austria.
Aug. 15—Fall of Liège.
Aug. 16—British Army landed in France; Russian advance into East Prussia.
Aug. 20—Germans occupied Brussels.
Aug. 23—Japan declared war on Germany.
Aug. 24—Fall of Namur.
Aug. 25—Sack of Louvain.
Aug. 27—German victory of Tannenberg.
Aug. 28—British victory in the Bight.
Aug. 20—New Zealanders in Samoa.
Sept. 2—Russians took Lemberg.
Sept. 8—Paris Government at Bordeaux.
Sept. 4—Pact of London signed.
Sept. 5—End of retreat from Mons.
Sept, 6—First Marne battle begun.
Sept. 15—First Aisne battle begun.
Sept. 16—Russians evacuated East Prussia.
Sept. 23—First British air raid in Germany.
Oct. 9—Fall of Antwerp.
Oct. 13—Belgian Government at Havre.
Oct. 20—First battle of Ypres begun.
Nov. 1—Naval action off Coronel.
Nov. 5—Great Britain declared war on Turkey.
Nov. 7—Fall of Tsing-Tao.
Nov. 10—Emden sunk.
Nov. 21—British occupied Basra.
Dec. 2—Austrians in Belgrade.
Dec. 8—Naval battle off the Falklands.
Dec. 14—Serbians retook Belgrade.
Dec. 16—Germans bombarded W. Hartelpool.
Dec. 18—Hussein Kamel. Sultan of Egypt.
Dec. 24—First air raid on England.
1915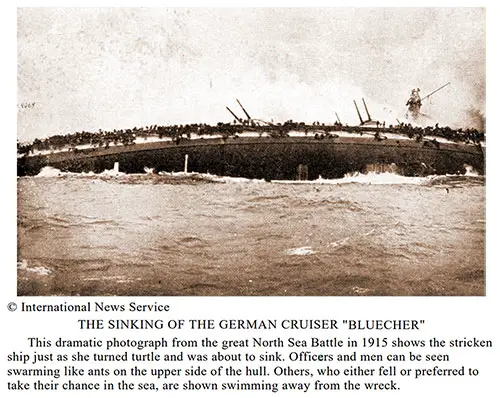 The Sinking of the German Cruiser "Blücher" - 1915. This Dramatic Photograph from the Great North Sea Battle in 1915 Shows the Stricken Ship Just as She Turned Turtle and Was about to Sink. Officers and Men Can Be Seen Swarming like Ants on the Upper Side of the Hull. Others, Who Either Fell or Preferred to Take Their Chance in the Sea, Are Shown Swimming Away from the Wreck. Photograph © International News Service. History of the World War, 2006. GGA Image ID # 192ab73e8a
Jan. 24—Naval battle off Dogger Rank.
Feb. 2—Turks defeated on Suez Canal.
Feb. 18—U-boat "blockade" of England.
Feb. 25—Allied fleet attacked Dardanelles.
March 10—British captured Neuve Chapelle.
March 23—Russians took Przemysl.
April 22—Second battle of Ypres begun. First gas attack by Germans.
April 25—Allied landing in Gallipoli.
May 3—Rattle of the Dunajec.
May 6—Battle at Krithia, Gallipoli.
May 7—Lusitania torpedoed.
May 8—Germans occupied Libau.
May 11—German repulse at Ypres.
May 12—General Botha occupied Windhuk, (Africa.)
May 10—Russian retreat to the San.
May 28—Italy declared war on Austria.
May 25—British Coalition Cabinet formed.
June 2—Italians crossed Isonzo.
June 3—Russians evacuated Przemysl.
June 22—Austro-Germans recaptured Lemberg.
July 2—Pommern sunk in Baltic.
July 9—German Southwest Africa conquered.
July 24—Nasiriyeh, on Euphrates, taken.
Aug. 4—Fall of Warsaw.
Aug. 5—Fall of Ivangorod.
Aug. 6—New landing at Suvia Bay. Germans took Warsaw.
Aug. 8—General Birdwood's advance at Anzac.
Aug. 17—Fall of Kovno.
Aug. 18—Russian victory in Riga Gulf.
Aug. 19—Fall of Novo-Georgievsk.
Aug. 21—Cotton declared contraband.
Aug. 25—Fall of Brest-Litovsk.
Sept. 1—General Alexeieff as Chief of Staff.
Sept. 2-Fall of Grodno.
Sept. 5—Czar as Generalissimo.
Sept. 7—Russian victory near Tarnopol.
Sept. 18—Fall of Vilna.
Sept. 21—Russian retreat ended.
Sept. 25—Rattle of Loos and Champagne.
Sept. 28—Victory at Kut-el-Amara.
Oct. 4—Russian ultimatum to Bulgaria.
Oct. 5—Allied landing at Saloniki.
Oct. 6— Austro-German invasion of Serbia.
Oct. 9—Belgrade occupied.
Oct. 14—Bulgaria at war with Serbia.
Oct. 17—Allied note to Greece.
Oct. 22—Bulgarians occupy Uskub.
Oct. 28—M. Briand French Premier.
Nov. 5—Fall of Nish.
Nov. 22—Battle of Ctesiphon.
Nov. 29— British withdrew from Ctesiphon.
Dec. 2—Fall of Monastir.
Dec. 3—General Townshend at Kut.
Dec. 9—Allied retreat in Macedonia.
Dec. 13—Saloniki lines fortified.
Dec. 15—Haig British Commander in Chief.
Dec. 19 Withdrawn from Gallipoli.
Dec. 23—Turkish defeat at Kut.
1916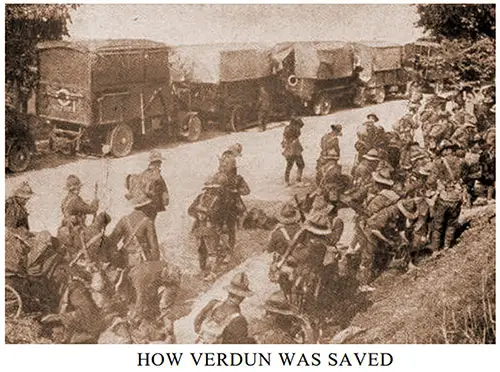 How Verdun Was Saved. The Motor Transport Never Faltered When the Railroads Were Put out of Action. History of the World War, 2006. GGA Image ID # 192ae3323d
Jan. 8—Gallipoli evacuation complete.
Jan. 13—Fall of Cettigne.
Feb. 9—General Smuts appointed to East Africa.
Feb. 19— Russians entered Erzerum.
Feb. 18—German Kamerun conquered.
Feb. 21—Battle of Verdun begun.
Feb. 24—Germans took Fort Douaumont.
March 16—Admiral von Tirpitz dismissed.
April 9—German assault at Verdun.
April 17—Russians entered Trebizond.
April 24—Rebellion in Ireland.
April 29—Fall of Kut-el-Amara.
May 24—British Conscription bill passed.
May SI—Battle of Jutland.
June 4—General Brusiloff's offensive.
June 5—Lord Kitchener lost at sea.
June 14—Allied Economic Conference In Paris.
June 21—Mecca taken by Grand Sherif.
July 1—Somme battle begun.
July 25—Russians occupied Erzinjan.
Aug. 6—Italian offensive on Isonzo.
Aug. 9—Gorizia. taken by Italians.
Aug. 10—Russians at Stanislau.
Aug. 27—Rumania entered the war.
Aug. 20— Hindenburg Chief of Staff.
Sept. 15—First use of "tanks" by British In battle of the Somme.
Sept. 26— British took Thiepval and Combles.
Oct. 10—Allied ultimatum to Greece.
Nov. 1—Italian advance on Carso.
Nov.13—British victory on the Ancre.
Nov. 18—Serbians mid French took Monastir.
Nov. 21—Charles I. succeeds Francis Joseph.
Nov. 29—Grand Fleet under Sir D. Beatty.
Dee. 1—Anti-allied riot In Athens.
Dee. 5—Resignation of Mr. Asquith.
Dee. 6—Germans entered Bucharest.
Dee. 7—Mr. Lloyd George Prime Minister.
Dec. 12—German "peace proposals."
Dec. 15—French victory at Verdun.
Dec. 20—President Wilson's peace note.
1917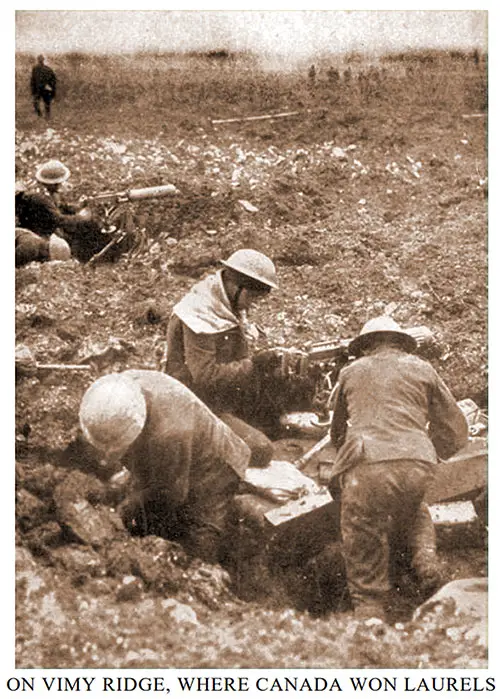 On Vimy Ridge, Canada Won Laurels. The Canadians Took the Important Position of Vimy Ridge on Easter Monday, April 9, 1917. They Advanced with Brilliance, Having Taken the Whole System of German Frontline Trenches between Dawn and 6.30 A. M. This Shows Squads of Machine Gunners Operating from Shell-craters in Support of the Infantry on the Plateau above the Ridge. History of the World War, 2006. GGA Image ID # 192ae6ef63
Jan. 1—Turkey denounced Berlin Treaty.
Feb. 1—"Unrestricted" U-boat war begun.
Feb. 3—America broke with Germany.
Feb. 24—British recaptured Kut-el-Amara.
March11—British entered Bagdad.
March 12—Revolution in Russia.
March 15— Abdication of the Czar.
March 18—British entered Peronne.
March 21—First British Imperial War Cabinet.
April 6—America declared war on Germany.
April 9—Battle of Vimy Ridge begun.
May 4—French took Craonne.
May 14—New Italian offensive.
May 15—General Petain French Commander In Chief.
May 18—Selective Draft Law passed in United States.
June 7—British victory at Messines Ridge.
June 12—Abdication of King Constantine.
June 26— First American troops In France.
June 29—General Allenby commander in Egypt.
July 1—Last Russian offensive begun.
July 14—Bethmann Hollweg dismissed.
July 17—British Royal House styled "Windsor."
July 19—Reichstag "peace" resolution.
July 21—Kerensky In power at Petrograd.
July 24—Russian defeat In Galicia.
July 31—Great allied attack around Ypres.
Aug. 29— President Wilson's note to the Pope.
Sept. 4—Germans occupied Riga.
Sept. 15—Russian Republic proclaimed.
Sept. 28—British victory at Ramadieh.
Oct. 9—Allied attack In Flanders.
Oct. 24—Italian defeat at Caporetto.
Oct. 29—Fall of Udine.
Oct. 30—Chancellor Michaelis dismissed.
Oct. 31—British captured Beersheba.
Nov. 1—German retreat on Chemin des Dames. Herding German Chancellor.
Nov. 4—British troops in Italy.
Nov. 6—British stormed Passchendaele Ridge.
Nov. 7—Lenine and Trotsky In power; Bolshevist coup d'état in Russia.
Nov. 9—Italian stand on the Piave.
Nov. 18—Clemenceau Ministry.
Nov. 17—British In Jaffa.
Nov. 18—General Maude's death In Mesopotamia.
Nov. 20—British victory at Cambrai.
Nov. 29—First plenary session of Interallied War Council.
Nov. 80—German success at Cambrai.
Dec. 6—Armistice on Russian front.
Dec. 10—British enter Jerusalem.
Dec. 22—Brest-Litovsk Conference opened.
Dec. 20—Sir R. Wemyss First Sea Lord.
1918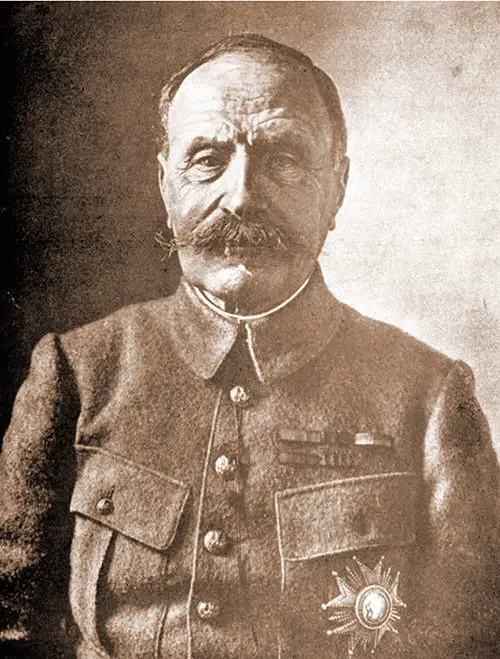 Marshal Ferdinand Foch, Generalissimo of the Allied Armies. No Leader Could Command Greater Confidence than the Brilliant Strategist to Whom Was Mainly Due to the Great Victory of the Marne in the First Autumn of the War. He Also Directed the French Offensive on the Somme in 1916. In November 1917, He Was Chosen as the French Representative and Subsequently Chairman of the Central Military Committee Appointed to Assist the Supreme Allied War Council. Marshal Foch Was Formerly for Five Years Lecturer on Strategy and Tactics at the Ecole de Guerre. At the Close of the War He Said to the Allied Armies: "you Have Won the Greatest Battle in History and Saved the Most Sacred Cause--the Liberty of the World." History of the World War, 2006. GGA Image ID # 192b3f3624
Jan. 8—President Wilson's fourteen points.
Jan. 20—Breslau sunk; Goeben damaged.
Feb. 1—Germany recognized Ukraine.
Feb. 9—Ukraine peace of Brest-Litovsk.
Feb. 18—German invasion of Russia.
Feb. 21—British capture Jericho.
Feb. 24—Turks recover Trebizond.
Feb. 25—Germans at Reval.
March 3—Russian peace of Brest-Litovsk.
March 7—German peace with Finland.
March 11—Turks recover Erzurum.
March 13—Germans at Odessa.
March 11—Brest-Litovsk Treaty ratified at Moscow.
March 21—German offensive in France.
March 28—First long-distance bombardment of Paris.
March 24—Bapaume and Peronne lost.
March 28—General Foch made allied Generalissimo.
April 5—Allied landing at Vladivostok.
April 11—Armentières lost.
April 18—Turks occupied Batum.
April 22—Naval raid on Zeebrugge and Ostend.
April 24—Battle for Amiens.
April 26—Kemmel Hill lost.
April 27—Turks occupied Kars.
April 30—Germans at Viborg.
May 1—Germans at Sebastopol.
May 7—Rumanian peace of Bucharest.
May 9—Second raid on Ostend.
May 27—Second German offensive.
May 29—Soissons lost; Rheims held.
May 31—Germans reached Marne.
Juno 1—Attacks toward Paris held.
June 9—New German assault.
June 15—Austrian offensive in Italy.
June 23—Great Austrian defeat.
July 2—One million Americans are in France.
July 15—Last German offensive. Second Marne battle begun.
July 16—Ex-Czar shot at Ekaterinburg.
July 18—General Foch's counterattack. Victorious Franco-American offensive on the Marne and Aisne.
July 20—Germans recrossed the Marne.
Aug. 2—Soissons recovered.
Aug. 8—British attack at Amiens.
Aug. 29—Bapaume and Noyon regained.
Sept. 1—Péronne recovered.
Sept. 2—Drocourt-Quéant line breached.
Sept. 12—American attack at St. Mihiel.
Sept. 15—Austrian peace note.
Sept. 17—New Macedonian offensive.
Sept. 25—Bulgaria proposed armistice.
Sept. 27—Hindenburg line broken.
Sept. 29—Bulgaria surrendered.
Sept. 30—Fall of Damascus. Chancellor Hertling resigns.
Oct. 1—St. Quentin regained.
Oct. 4—Abdication of King Ferdinand.
Oct. 9—Cambrai regained.
Oct. 13—French recovered Laon.
Oct. 11—British troops at Irkutsk.
Oct. 15—British in Homs.
Oct. 17—Ostend, Lille, Douai regained.
Oct. 19—Bruges reoccupied.
Oct. 20—Belgian coast clear.
Oct. 25—Ludendorff resigned.
Oct. 26—Aleppo fell to the Allies.
Oct. 27—Austria sued for peace.
Oct. 28—Italians crossed Piave.
Oct. 29—Serbians reached the Danube.
Oct. 30—Turkey granted armistice.
Nov. 1—Versailles Conference opened.
Nov. 2—British at Valenciennes.
Nov. 8—Austria surrenders. Kiel mutiny.
Nov. 4—Versailles armistice agreement.
Nov 5—Armistice powers for Marshal Foch. Mr. Wilson's last note to Germany.
Nov. 6—Americans reached Sedan.
Nov. 7—Bavarian Republic proclaimed.
Nov. 9—Foch received German envoys. Abdication of the Kaiser. Chancellor Prince Max resigned. Berlin revolution.
Nov. 10—Kaiser's flight to Holland. British at Mons.
Nov. 11—Armistice terms accepted by Germany.
The New York Times Co., "Diary of the Chief Events of the War 1914-1918," in The New York Times Current History: The European War, New York: The New York Times Co., Jan - Mar 1919, pp. 137-139