Marine Boot Camp Book 1976 Platoon 374 Parris Island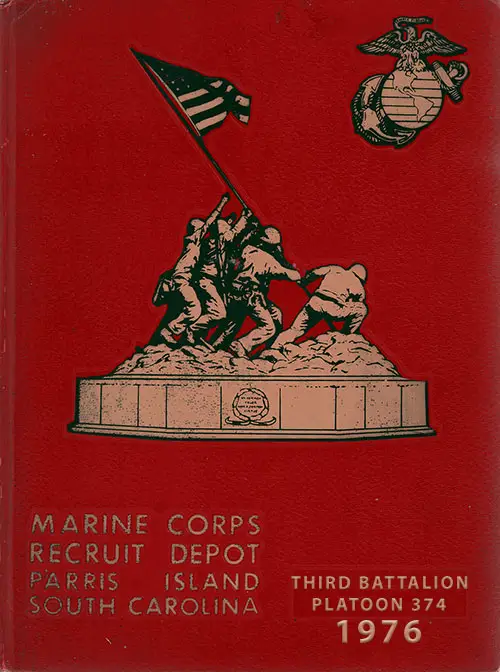 Front Cover, MCRD Marine Boot Camp Book - Parris Island - 1976 Platoon 374. GGA Image ID # 16c08a87e0
Roster and Photos for MCRD Recruit Platoon 374 for 1976, United States Marine Corps Depot at Parris Island. Platoon Drill Instructor: GySgt J. Burkamp. 62 Men Graduated. Training Completed 26 October 1976.
Platoon 1976-374 Organization and Schedule
Organization: Third Battalion
Series: Platoon 374
Commenced Training: 9 August 1976
Completed Training: 26 October 1976
Platoon 1976-374 Leadership
Battalion Commander: Lt Col A.E. Bauer
Series Officer: Lt W. J. Williamson
Assistant Series Officer: Lt E.K. Reed
Series Gunnery Sergeant: GySgt R.S. Cooper
Company Commander: Capt B.A. Peirano
Platoon Chief Drill Instructor: GySgt J. Burkamp
Platoon Senior Drill Instructor: SSgt T.E. Highfill
Platoon Assistant Drill Instructor: Sgt J.M. Moch
Platoon Assistant Drill Instructor: Cpl D.W. Carter
Platoon 1976-374 Recruit Roster
Absher, R.
Allston, D.
Arch, K.
Baxter, C.
Brady, J.
Brown, J.
Bums, R.
Butts, S.
Carr, R.
Casados, S.
Castillo, S.
Colello, E.
Collins, L.
Combs, L.
Crowley, P.
Daller, L.
Ellison, K.
Fahey, J.
Fogle, J.
Fox, R.
Gatewood, H.
Germann, D.
Giouannini, J.
Graves, T.
Gregory, S.
Harden, K.
Herr, B.
Higgenbotham, B.
Holloway, J.
Hyde, T.
Johnson, N.
Kemp, K.
Luke, E.
Lundy, G.
Maras, T.
McFarlin, R.
McIntyre W.
Nasworthy, T.
Orobono, J.
Parker, P.
Peterson, J.
Ramos, J.
Ritchie, J.
Rogers, K.
Smith, R.
Stewart, S.
Talley, A.
Turner, R.
Walden, A.
Wealdey, M.
Weeks, F.
Weigner, L.
Whitehead, L.
Willhite, K.
Williams, D.
Williams, J.
Prater, C.
Wallace, K.
Drosowski, R.
Rodriguez, A.
Stone, G.
Van Scyoc, R.
MCRD Boot Camp Recruit Photos - Platoon 1976-374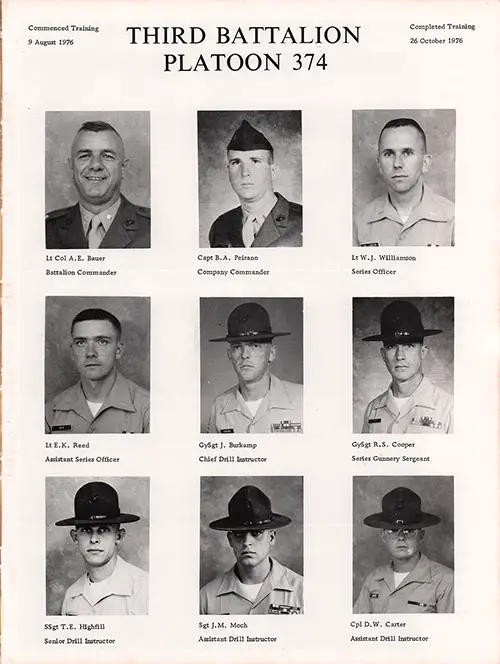 Platoon 1976-374 MCRD Parris Island Leadership, Page 1. GGA Image ID # 16c09f19db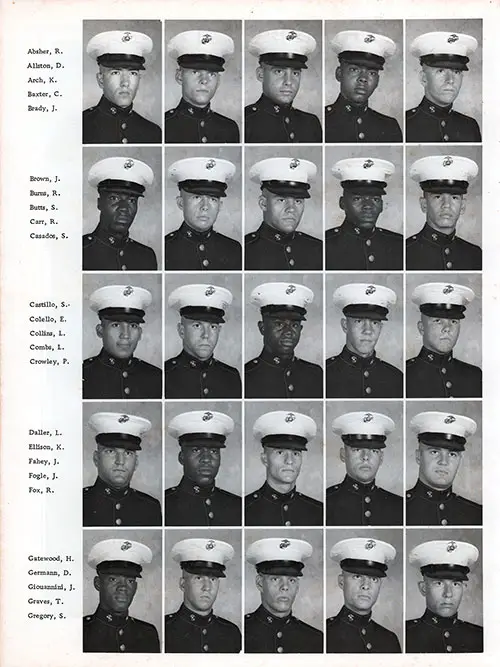 Platoon 1976-374 MCRD Parris Island Recruits, Page 2. GGA Image ID # 16c0f22c61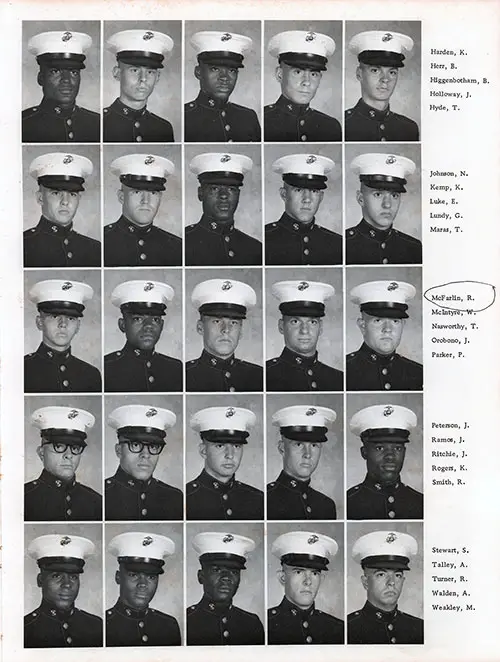 Platoon 1976-374 MCRD Parris Island Recruits, Page 3. GGA Image ID # 16c103180a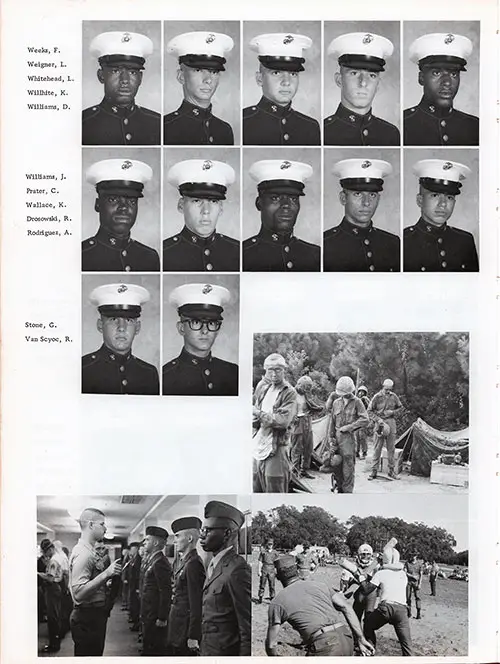 Platoon 1976-374 MCRD Parris Island Recruits, Page 4. GGA Image ID # 16c14676fe