Marine Boot Camp Book 1976 Platoon 305 Parris Island
Front Cover, MCRD Marine Boot Camp Book - Parris Island - 1976 Platoon 305. GGA Image ID # 136eb4e4ab
Roster and Photos for MCRD Recruit Platoon 305 for 1976, United States Marine Corps Depot at Parris Island. Platoon Drill Instructor: MSgt W. R. Blankenship. 63 Men Graduated 5 April 1976.
Platoon 1976-305 Honors
Platoon 1976-305 Organization and Schedule
Organization: THIRD BATTALION
Commenced Training: 19 January 1976
Completed Training: 5 April 1976
Platoon 1976-305 Leadership
Battalion Commander: Lt Col J. R. Curnutt
Series Commander: Lt S. E. Berger
Series Gunnery Sergeant: GySgt W. A. Lion
Company Commander: Capt J. P. Kiley
Platoon Chief Drill Instructor: MSgt W. R. Blankenship
Platoon Senior Drill Instructor: SSgt E. G. Hatfield
Platoon Assistant Drill Instructor: SSgt M. J. Binninger
Platoon Assistant Drill Instructor: Sgt L. T. Rymer
Platoon Assistant Drill Instructor: Cpl R. L. Moore
Platoon 1976-305 Recruit Roster
Allen, G.
Barnes, R.
Blackson, M.
Campese, M.
Carter, C.
Corroo, V.
Covel, R.
Crowe, D.
Davis, G.
Dewitt, W.
Dykeman, R.
Ellis, R.
Garcia, H.
Gearhart, M.
Gilliam, M.
Gilmet, R.
Gilmore, R.
Goss, K.
Green, B.
Henson, G.
Hill, J.
Hodges, C.
Holcomb, L.
Holmes, R.
Holt, W.
Huff, F.
Hunter, J.
Jackson, J.
Jezeski, H.
Keller, R.
Kirsch, J.
Lawson, T.
Lemons, C.
Mackall, G.
Mallory, G.
McGuff, J.
Mochrie, K.
Oiler, J.
Orman, C.
Perkins, T.
Pettengill, D.
Ritchie, D.
Robins, L.
Rodler, R.
Schmidt, R.
Smith, A.
Smith, M.
Snowden, E.
Sonnet, B.
Squire, W.
Stevenson, R.
Stewart, G.
Sweatman, J.
Thetford, R.
Tomford, D.
Tompson, J.
Tracy, D.
Wagner, M.
Walker, R.
Warren, W.
Williams, T.
Windham, R.
Wood, D. Williams, E.
MCRD Boot Camp Recruit Photos - Platoon 1976-305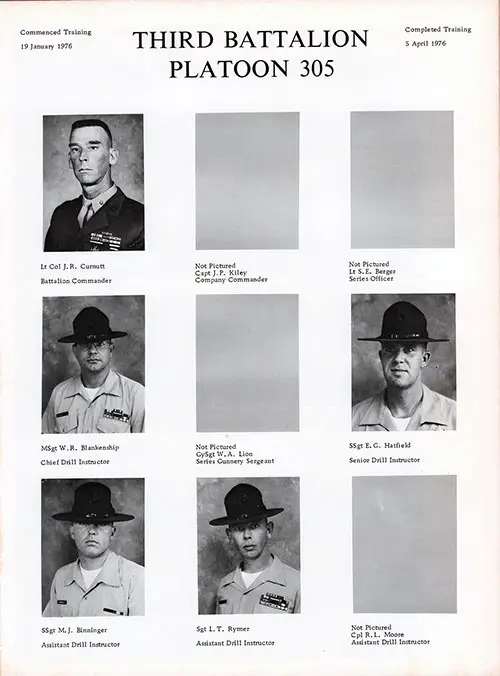 Platoon 1976-305 MCRD Parris Island Leadership, Page 1. GGA Image ID # 136f05e9bb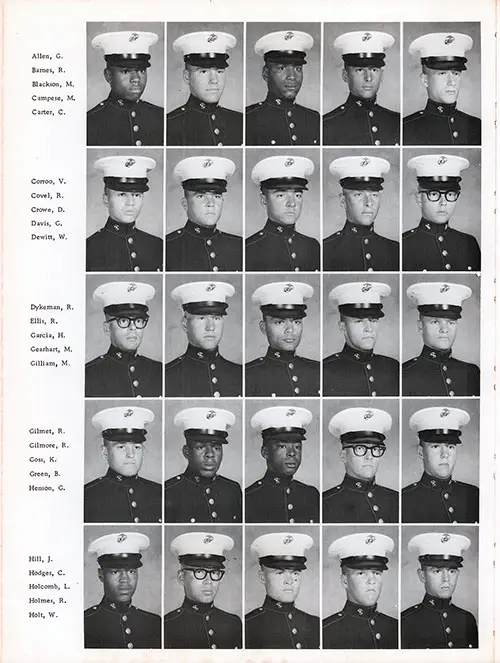 Platoon 1976-305 MCRD Parris Island Recruits, Page 2. GGA Image ID # 136f381d6e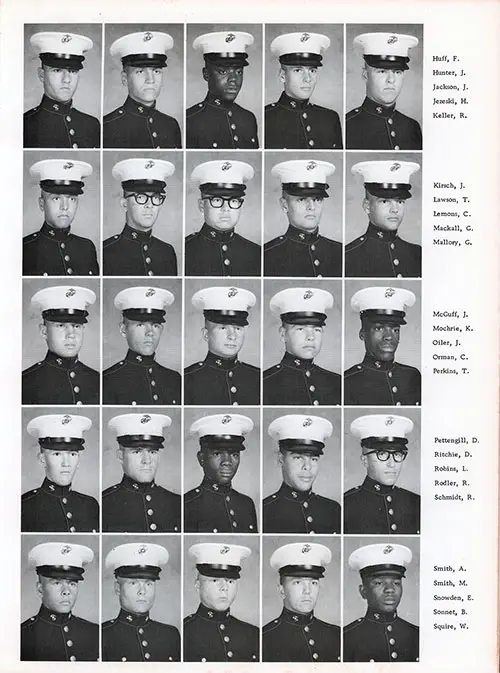 Platoon 1976-305 MCRD Parris Island Recruits, Page 3. GGA Image ID # 136f631bc5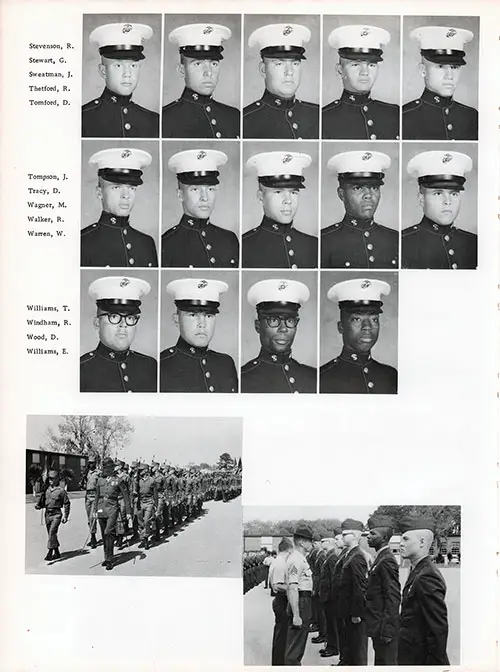 Platoon 1976-305 MCRD Parris Island Recruits, Page 4. GGA Image ID # 136fc0c80f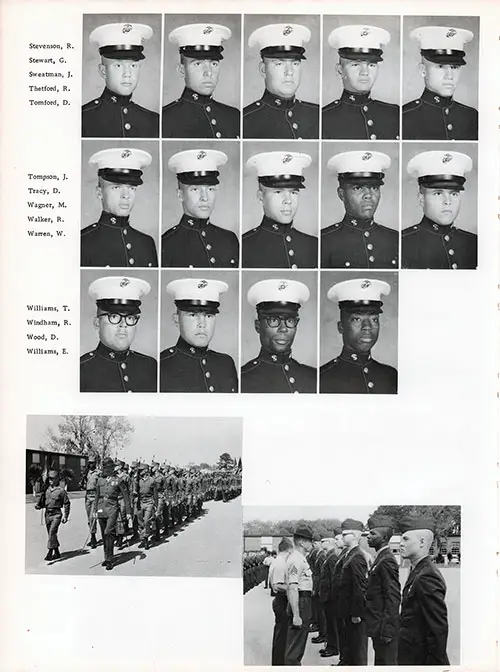 Platoon 1976-305 MCRD Parris Island Recruits, Page 5. GGA Image ID # 136fe582ff