The Story of Cracker Jack - 1915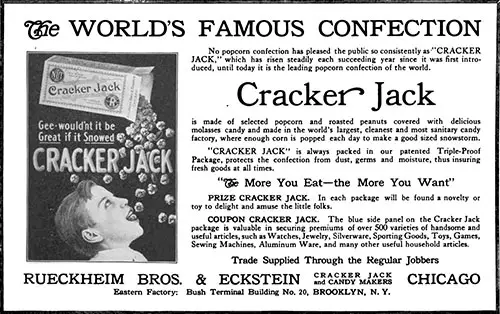 Cracker Jack - The World's Famous Confection Vintage Ad © 1915, Candy and Ice Cream (February 1915) p. 23. GGA Image ID # 10284cc245
Perhaps the best-known version of popcorn is Cracker Jack, a big hit at the 1893 Chicago World's Fair. The creator of this confection, F.W. Rueckheim, a German immigrant, hadn't given his product a name; he scooped the molasses-coated popcorn and peanut ... The story varies, but in 1896 a salesman tasted the delicacy, smacked his lips, and announced, "Now that's a cracker-jack!
How Cracker Jack Came to Follow the Circus into Town
A Story of Twenty-five Years of Continuous Advertising
To go back to the beginning of things, Cracker Jack was launched upon the market far in advance of the present era of packaged products. Advertising was in its infancy. A packaged confection at a popular price was a novelty, and Cracker Jack got thorough-going distribution at a time when the competition was not keen and when the public was hungry for just such a wholesome confection. This was in 1896.
Unfortunately, the product was of such a character that it absorbed moisture from the air easily and deteriorated quickly. The radius of possible distribution was necessarily limited.
When Henry G. Eckstein joined the organization in 1898, he brought an ingenious and inventive mind to bear on this problem.
First, an inner waxed carton was invented. After being filled with Cracker Jack, it was subsequently enclosed in an outer or printed carton. Later, a wax-sealed wrapper of flexible paper was devised, which could enfold the waxed carton, be sealed at the ends, and render the inner carton and the product impervious and commercially moisture-proof.
That was the start of the general distribution of Cracker Jack. Immediately, it became possible to ship this perishable product across the continent and market it in substantially as crisp and delicious a state as when it left the mixing machines in the factory kitchens.
It took hold everywhere, Craker Jack established distribution immediately with jobbers, and sales jumped enormously.
Right and left, Cracker Jack began to blossom forth, many of them of the packaged variety. Though temporarily oversold, the heads of the organization realized that the day would come when all of these products would go into direct competition—and we began to lay their plans for the battle royal. It was simply an application of the lessons of the war to business —the determination to keep up the morale of the fighting force.
Morale is as important in business as in battle. When factory workers, salespeople, jobbers, and dealers learn that the directing heads have uncompromising faith in the quality of the goods and the soundness of their policies, enthusiasm runs like an electric current through the whole organization.
Printers' Ink – April 7, 1921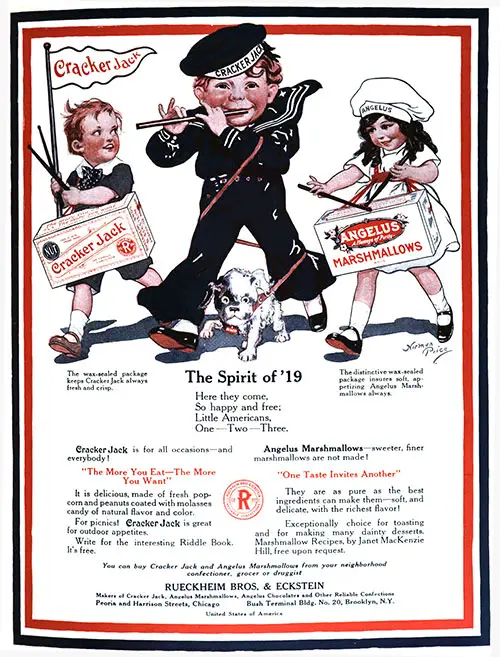 Rueckheim Bros. & Eckstein Vintage Ad © 1919, Confectioners' Journal (July 1919). GGA Image ID # 10289e6f1a
CRACKER JACK is a sailor boy who has a sweetheart in every port. His sister ANGELUS is tagging along with him selling marshmallows in every town where he distributes CRACKER JACK. 
"The more you eat, the more you want," says Jack. And he keeps appearing regularly with his cute little pup Bingo. As every sailor knows, "out of sight is out of mind !"
In advance of the wave of confectionery advertising which has swept through all mediums, Cracker Jack, personified in a sailor boy and his teammate, little Miss Angelus, took an important position.
Cracker Jack has always been the particular favorite of young folks. Therefore, it was logical that the trade character we created should be a boy, jovial and happy, his arm full of three packages of his favorite.
It is a trade character designed to appeal to children, to work its way into their memory and make friends of them. And because every boy should have his dog for a pal, we gave the Cracker Jack boy his Bingo—a hybrid pup of questionable pedigree, but just the sort that every boy loves.
A year after, the Cracker Jack Boy and his dog were introduced to the youngsters of America through magazines, cutouts, and window displays. Finally, regarding the package itself, we determined, utilizing a prize contest, how interested the children were in the trade character—incidentally, to decide whether or not they were reading our advertisements.
Over 60,000 different jingles were received. More than 18,000 boys and girls, sixteen years of age or under by the terms of the contest, matched poetic wits in an endeavor to capture the prizes.
There were jingles from every State in the Union, every province of Canada, every United States possession, and England, Italy, and even China.
And the best of it all, from our standpoint, was the familiarity which all of the contestants showed with our previous advertising. We knew the Cracker Jack boy, his dog Bingo, the selling points of Cracker Jack, and the package—some of them mentioned selling arguments in their jingles which had not appeared for three months previously in our advertising.
It was a most inspiring contest—proof that we were pursuing a good tack that needed no further vindication.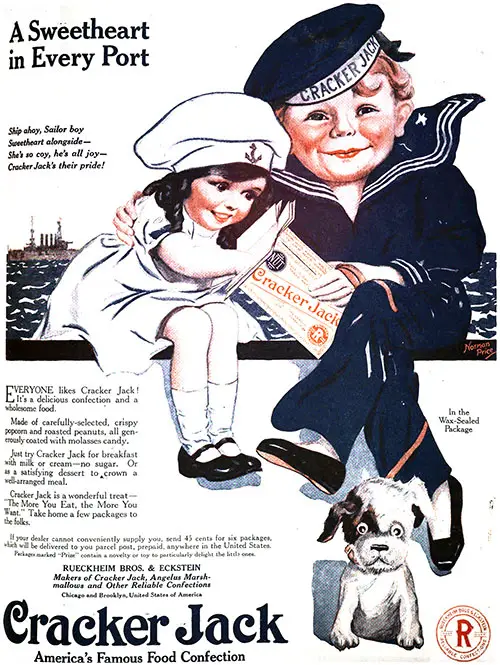 Cracker Jack "A Sweetheart in Every Port" Vintage Ad © 1919, The Saturday Evening Post (18 January 1919), GGA Image ID # 1028b0fc38
Everyone likes Cracker Jack! It's a delicious confection and wholesome food. Made of carefully-selected, crispy popcorn and roasted peanuts, all generously coated with molasses candy. 
Cracker Jack is a fantastic treat —"The More You Eat, the More You Want." Try Cracker Jack for breakfast with milk or cream–no sugar. Or as a satisfying dessert to crown a well-arranged meal. Take home a few packages to the folks.
There have been many exciting by-products of our advertising campaign, one of which is the influence it has had upon parents in permitting their children to buy Cracker Jack in preference to other sweeter confections.
From the first, they have stressed Cracker Jack's food value and satisfaction with the hunger for sweets. And again, in thousands upon thousands of cases, they have rejuvenated fathers and mothers and carried them back to their Cracker Jack hunger of other years.
Such are the publicity by-products of our campaign, which have kept Cracker Jack in a dominating position through one of the most turbulent markets and merchandising periods of all history.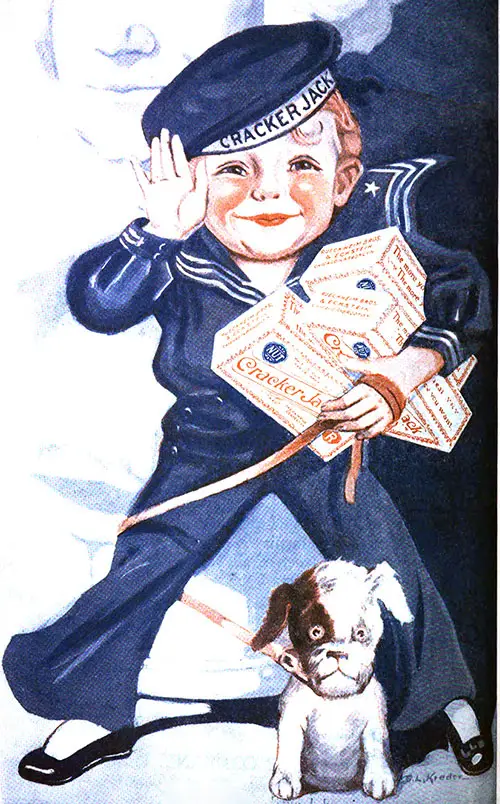 Cracker Jack Sailor Blue Vintage Ad © 1919, The Saturday Evening Post (22 February 1919), GGA Image ID # 1029149ea0
Cracker Jack, America's Famous Food Confection, is made of the choicest popcorn, roasted peanuts, and delicious molasses candy to form a satisfying confection and wholesome food. It is delicious as an after-dinner sweet or at breakfast with milk or cream-no sugar. Give freely to the children for "between meal" lunches and serve at parties.
Cracker Jack Manufacturer Changes Name
The confectionery manufacturing firm of Rueckheim Bros. & Eckstein, Inc., of Chicago and Brooklyn, has dropped all personalities from its corporate name and henceforth will be known as the Cracker Jack Company, in honor of its principal product.
The change, announced on the occasion of the company's fiftieth anniversary, was made after discovering that only an infinitesimal percentage of the people who bought and ate Cracker Jack had any idea who made it. Neither did they care.
Therefore, as something having real advertising value that could be capitalized upon in the merchandising of other confections, the name Rueckheim Bros. & Eckstein had practically no significance or value. On the other hand, there was Cracker Jack, which had been so universally popularized through long years of consistent advertising that it had come to be regarded as a generic term.
The board of directors, after considering the matter many times, finally decided the company should bear the name by which it was known best, the two principal considerations being the dropping of a cumbersome firm name that was hard to remember and the utilization of another name that would bring real advertising significance to any item to which it was attached.
Bibliography
F. E. Ruhling, "How Cracker Jack Came to Follow the Circus into Town: A Story of Twenty-five Years of Continuous Advertising," in Printers' Ink, 7 April 1921, p. 76, 81-82.
F. E. Ruhling was the General Sales Manager, Rueckheim Bros. & Eckstein, Chicago.
Cracker Jack Advertisements: Candy and Ice Cream (Feb 1915); Confectioners' Journal (Jul 1919); and The Saturday Evening Post (Jan 18, 1919 and Feb 22, 1919).