The Art of Confectionery - 1862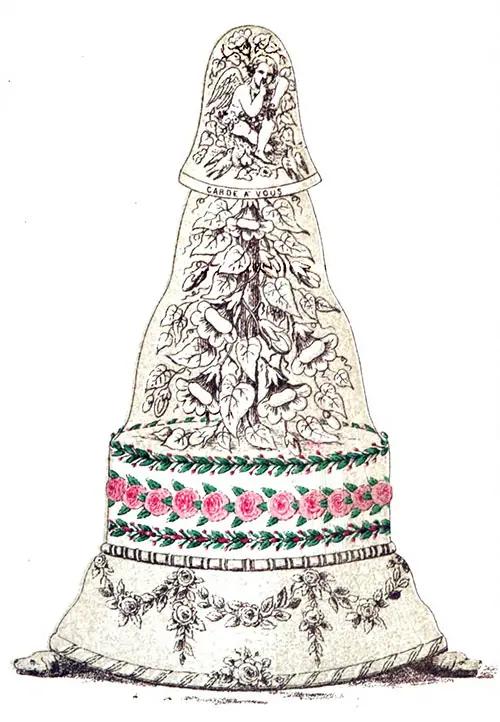 The Bride Cake (1862)
To succeed in the art of pastry, a pastrycook must possess twin qualities which by imperceptible degrees transform a workman into an artist. His taste must be good to enable him to grasp the proper proportion of ingredients intuitively to be mixed to make a delicious whole.
A pastry cook should also have a rudimentary knowledge of drawing, of sculpture, and architecture. He should have that artistic feeling which imparts to everything, great and small, that harmony of style which captivates the eye.  Nature offers an inexhaustible choice of models.
Confectionery often refers to confections and are rich in sugar.  It is therefore crucial that the pastrycook has a great knowledge of sugar, its composition and behavior in different temperatures and conditions. 
Dressing the Desserts and Fruits
When dishing up dessert cakes in general, any kinds of macaroons or other similar cakes, or finger biscuits, or drops, etc. show to best advantage when each kind is dished up separately. Long, square, diamond, round, or other shaped biscuits or cakes, being iced over with royal icing or otherwise glaces with thin icing, may likewise be dished up separately.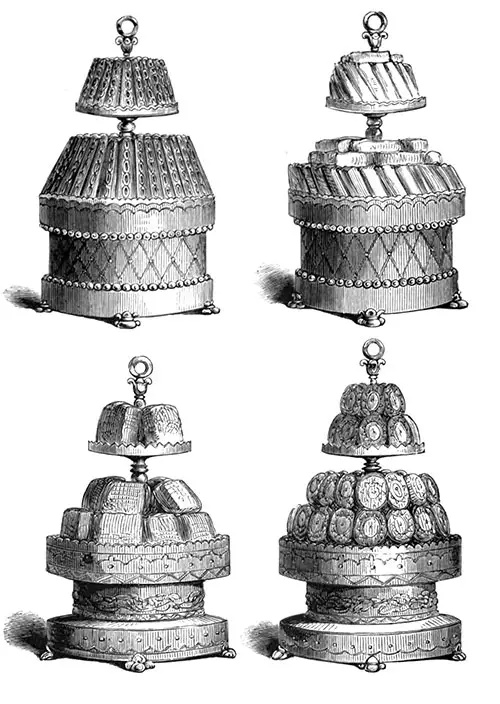 P. 261 (TREAFC) - Dessert Cakes on Stands
However, when it happens that two well-contrasted colors are used for composing the garnish of the same dessert-stand, such, for instance, as rose-pink and chocolate, chocolate and white, delicate green and blush-pink, cherry-color and white, etc., these are well calculated to form a charming assemblage.
Three different colors tastefully contrasted produce a most elegant effect; namely, apricot, pistachio green, and chocolate; or, blush-pink, white, and chocolate.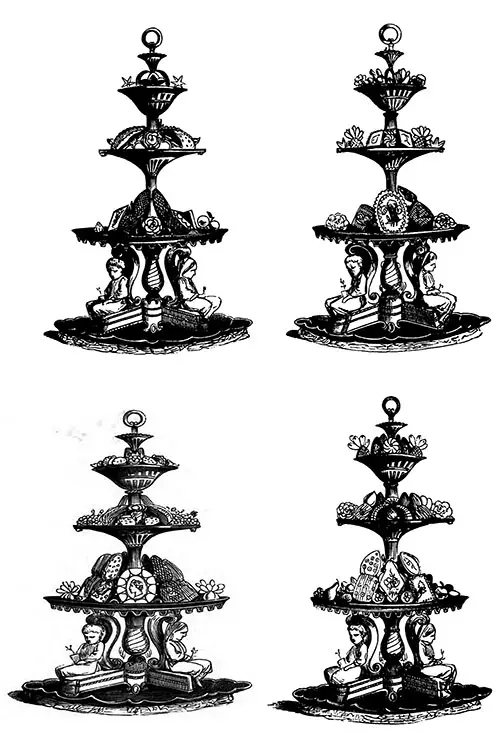 When a dessert-stand or dress-plate has three tiers or shelves, it is most in keeping with good taste to garnish each tier with one sort only; for  instance, the bottom tier with large candies, the second with papillote or ornamental paper envelope bonbons, and the third with rosolios, liqueur drops, and comfits, or burnt almonds, or similar kinds of bonbons.
By this arrangement, the dessert will have a more decided character, whereby the whole will be stamped with elegance, which is always certain to ensure satisfaction.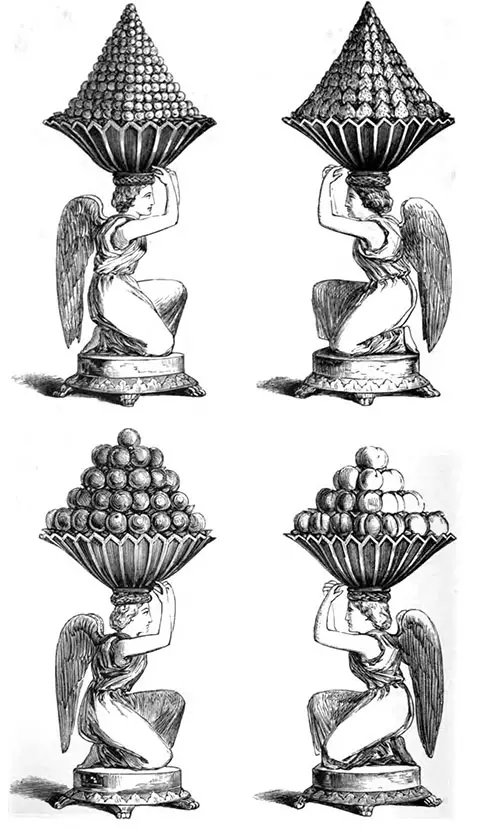 p. 265 (TREAFC) - Dishing up Cherries, Strawberries, Plums and Apricots
First-class fruits possess in themselves an all-powerful attraction to the admiring gaze of all who behold them. Their beauty cannot be denied and will be further enhanced when tastefully grouped in graceful pyramids upon rich services in china of neutral color.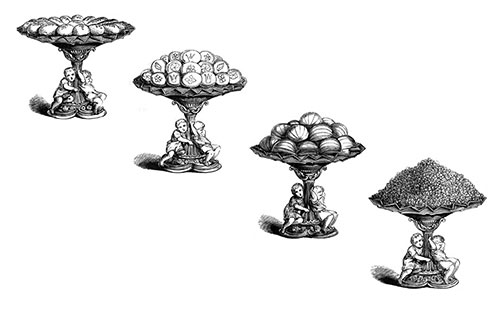 P.266 (TREAFC) - Compotes of Pears, Apples, Oranges, and Currants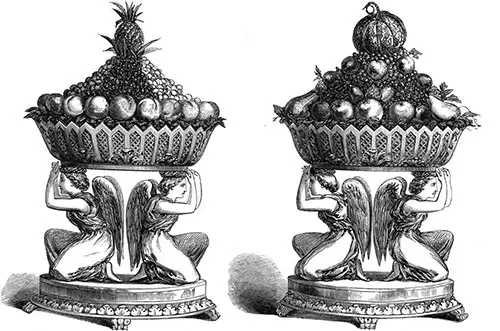 P. 274 (TREAFC) - Groups of Fruits
Ornamental Caramel Basket filled with Caramel Fruits
All kitchens, confectionaries, and still-rooms should be furnished with at the least one small portable gas stove, the gas to be conveyed using a flexible tube. 
Two sugar boilers are necessary to avoid interruption in work, and at least six pointed sticks made like a drawing pencil when cutting to a point.
Boil one pound of sugar to the crack degree and cool the sugar by dipping the bottom of the pan in a soup plate containing cold water. The necessity for cooling the sugar is to prevent it from running off the point of the wooden spinning tool too quickly, as you draw it over and about the mold to form the intended design.
With the sugar ready to your hand, and the outside of the mold slightly rubbed over with oil of almonds, dip one of the pointed wooden tools sugar, and draw it along the outside of one part of the mold in fine threads, either straight, curved, or in zigzags in angular rows.
These are to be fastened or held together in their position by crossing them diagonally, with other rows of the spun sugar, in a similar manner.
The edges of the basket, and the base, or stand, are to be formed in the same way; observing that these are to be worked out in bolder relief, to give strength and support to the whole structure.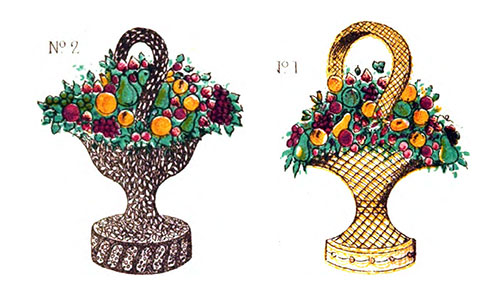 P. 277 (TREAFC) - Nougat Basket | Caramel Basket
A Basket made of Nougat, and filled with Imitation Fruits made with Almond Paste. Ornamental Caramel Basket filled with Caramel Fruits.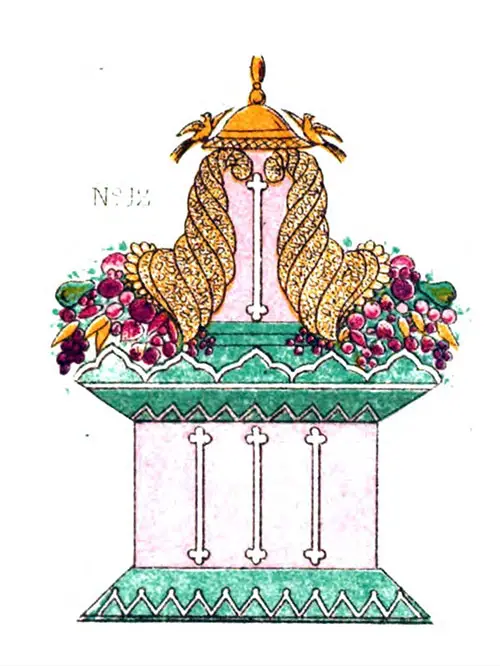 P. 279 (TREAFC) - Cornucopia in Nougat
Reversed Cornucopia in Nougat filled with Caramel Fruits.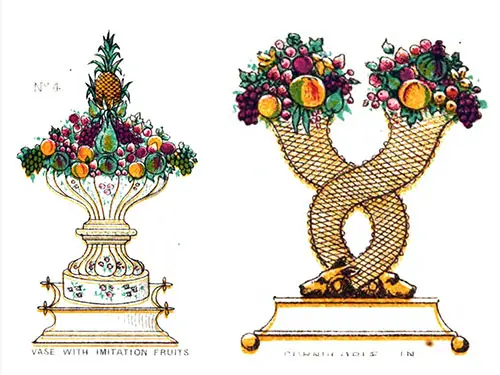 P. 279 (TREAFC) - Vase with Imitation Fruits; Caramel Sugar Vase
Ornamental Basket cast in grained sugar, and filled with Imitation Fruits. A Double Cornucopia made of Caramel Sugar, and filled with Imitation Fruits.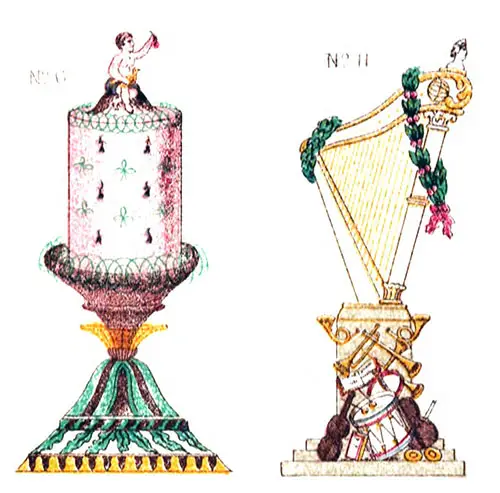 p. 280 (TREAFC) - Neapolitan Cake on a Stand. A Harp made of Gum Paste and Sugar.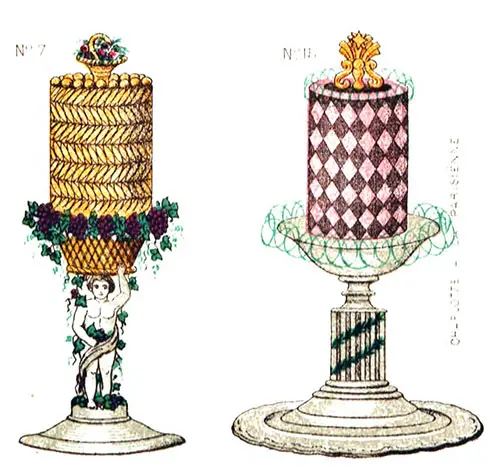 p. 280 (TREAFC) - Charlotte - La Parisienne
Croque-en-bouche of quarters of Oranges on a Stand. A Chateaubriand on a Pedestal.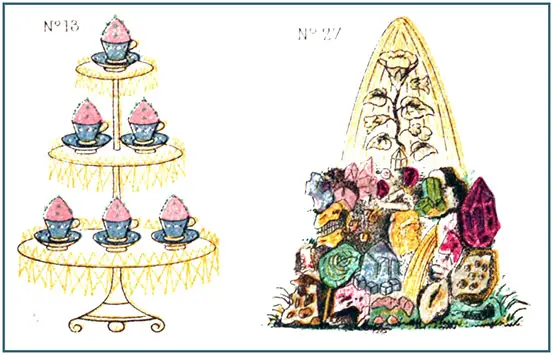 P. 283 (TREAFC) - Chantilly Cups | Imitation Minerals in Sugar
A Graduated Stand garnished with Chantilly Cups made of Grained Sugar. Artificial Rock-Stands made of Loaf Sugar, in Imitation of Minerals.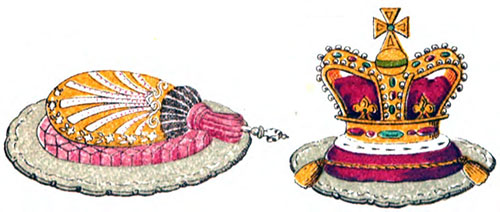 P.287 (TREAFC) - Imitation Ham made of Savoy Biscuits and filled with Cream Ice. Gateau de Punch à la Prince de Galles, to Represent His Royal Highness's Arms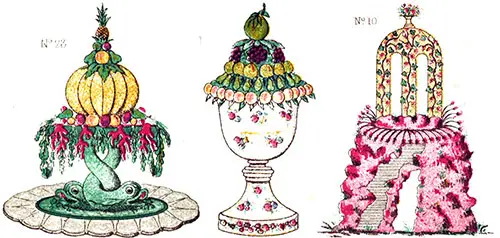 P.288 (TREAFC) - An Iced Pudding à la Victoria upon a Block of frozen coloured water. A Croque-en-bouche of Chestnuts. A Sultana made of Spun Sugar in the form of a Summer Bower.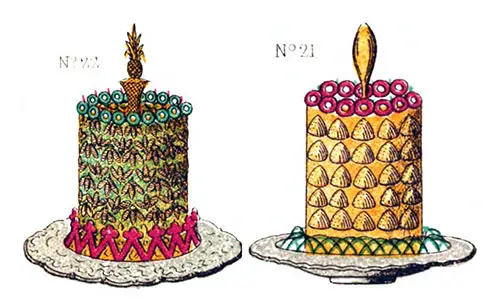 P.294 (TREAFC) - A Croque-en-bouche made of Imitation Filberts in Almond Paste. Croque-en-bouche of Chestnuts.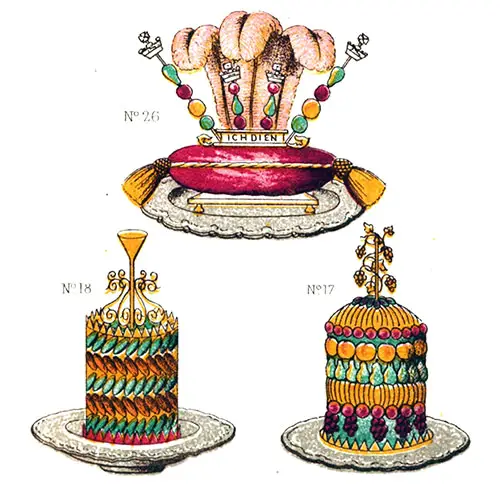 P. 294 (TREAFC) - (Top to Bottom) - Gateau de Punch a la Prince de Galles, representing His Royal Highness's Arms. A Croque-en-bouche of Dates and Preserved Green Almonds. A Croque-en-bouche of Different Kinds of Fruits in Caramel.
(TREAFC) Charles Elmé Francatelli, The Royal English and Foreign Confectioner: A Practical Treatise on the Art of Confectionary in All Its Branches, London: Chapman and Hall, 1862. Edited by E. B. Gjenvick 2019.
Additional Material: Jules Gouffé, Alphonse Gouffé (Translation from French) The Royal Book of Pastry and Confectionery (Le Livre de Patisserie), London: Sampson Low, Marston, Low, & Searle, 1874.