Psychological Side of Candy Making - 1921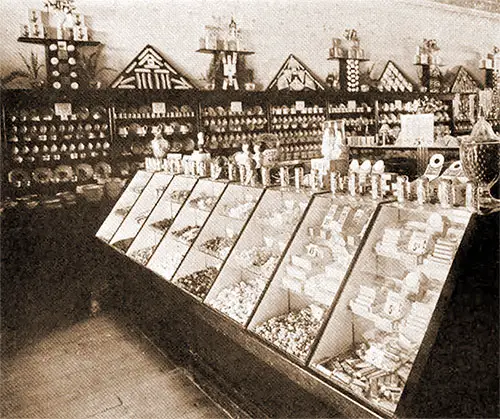 Confectionery Display Case at the Hested Stores Company. The International Confectioner, December 1921. GGA Image ID # 163e024801
Slogans that Pull Business— Right Kind of Sweets for Infancy, Youth and Old Age
EVERY advertiser likes to have some trite saying which he can emphasize, and by repeating the slogan make it almost a household word, so that even though the words were used in ordinary conversation, they would immediately suggest to the mind the particular product with which the saying is associated.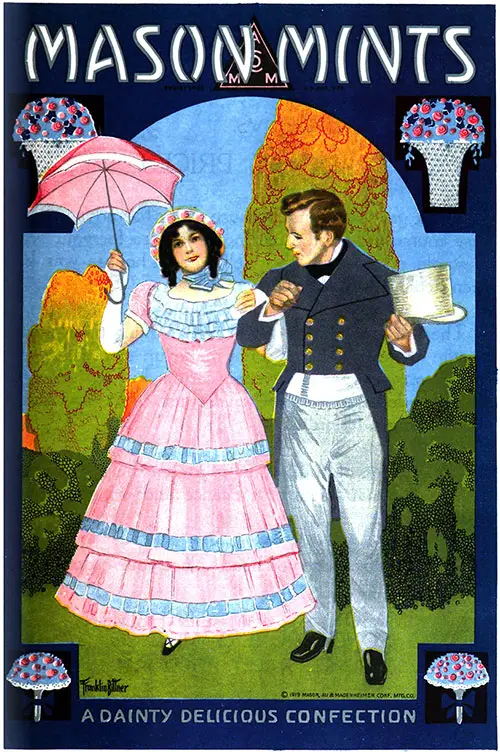 Advertisement for Mason Mints: A Dainty Delicious Confection, The International Confectioner, July 1921. GGA Image ID # 1639dda811
Children like to read Mother Goose stories and fairy tales, and when they touch on the latter, we are prone to think of the query, "Have you a little fairy in your home?" This suggests to us a certain kind of soap.
Then again, we hear the proverb, "A penny saved is two cents earned" and we think of the phrase used by a certain confectioner, "Penny a pound profit."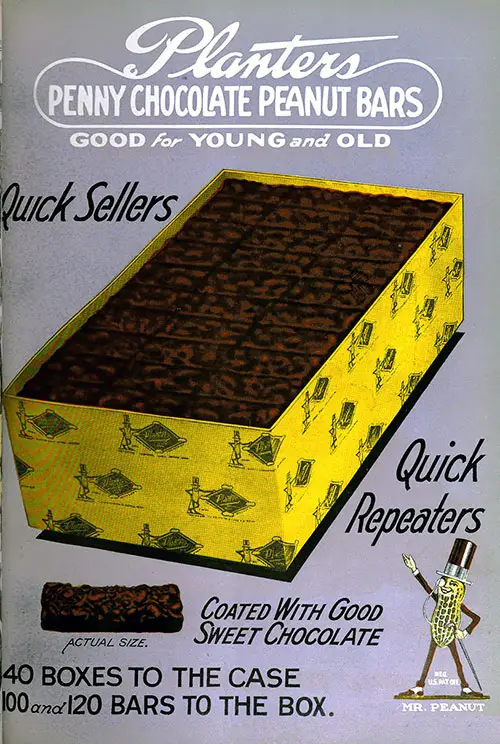 Advertisement for Planter's Penny Chocolate Peanut Bars, Good for Young and Old. The International Confectioner, March 1921. GGA Image ID # 163a350831
In our estimation, one of the best slogans that we know of has been adopted by a newly organized concern; "Happiness in every box" is the most unselfish slogan that we can think of. It is so descriptive that it immediately suggests Candy.
To the average youngster, either male or female, the high school lads and lassies, the debutante, the trusting fiancée and normal folks of all ages, a box of well-chosen candies means just that—HAPPINESS.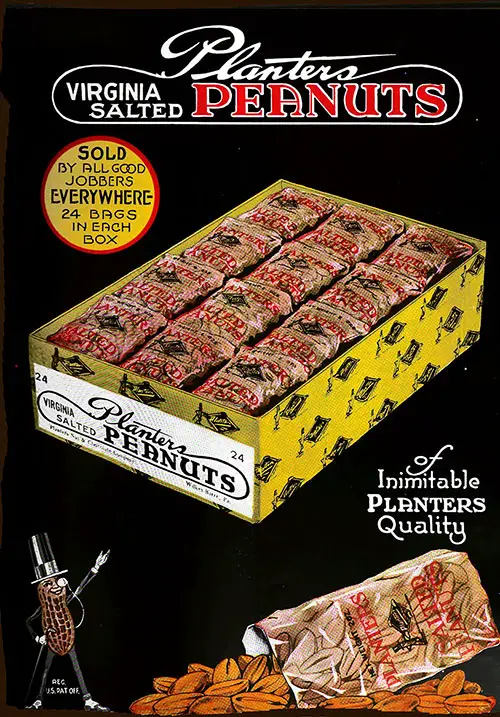 Advertisement for Planter's Virginia Salted Peanuts of Inimitable Planters Quality. The International Confectioner, February 1921. GGA Image ID # 163a81f6fa
Let us analyze the different candies suitable to present to persons of different ages. The youngsters are not particular what kind of candy they get, just so it is candy, and as they should be directed in other things pertaining to their education and welfare, so the kind of candy that growing the parents should well consider youngsters.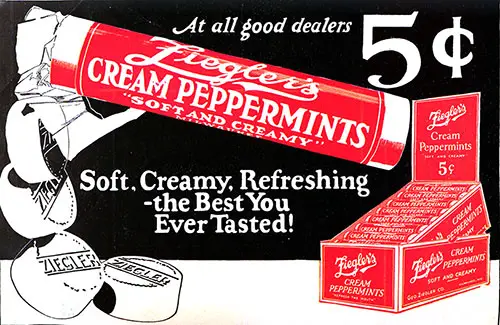 Advertisement for Ziegler's Cream Peppermints, Soft. Creeamy. Refreshing -- The Best You Ever Tasted! The International Confectioner, April 1921. GGA Image ID # 163ab71512
For the guidance of candy makers, we are entering this subject, so that they can classify their candies, and make goods which will best agree with the taste and digestive apparatus of the youngsters, and we hope that these suggestions will be followed so that some of the prejudice against candy will be obliterated.
Plain candies that are, hard goods or chewing are perhaps best for children. These should not be too highly colored, but rather delicately shaded. The world-famous lollypop is always a satisfactory diversion for the average child.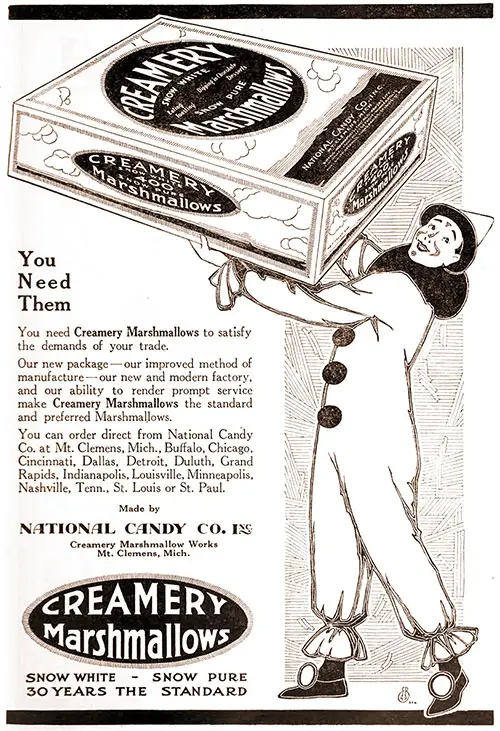 Advertisement for Creamery Marshmallows, Show White - Snow Pure, 50 Years the Standard. National Candy Company, Inc. The International Confectioner, April 1921. GGA Image ID # 163ad0d400
Unfortunately, there is not enough molasses candy placed before the children to tickle the palate. This should be well made of molasses rather than soft sugar, and there is no doubt that the children will like it.
There is so little real homemade molasses candy to be had nowadays, that there could be a demand for it. The writer made a small batch for a church fair recently and had been deluged with requests for the recipe ever since. It was made by simply boiling Barbados molasses to a crack, adding a little butter and vanilla flavor, and pulling well.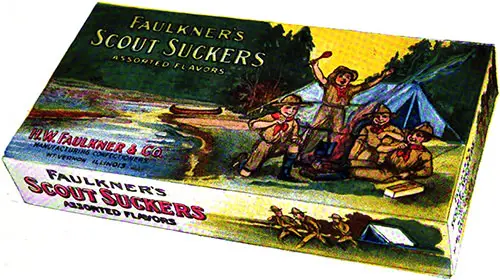 Faulkner's Scout Suckers, Assorted Flavors. The Kids of All Nations Love Scout Suckers. The International Confectioner, May 1921. GGA Image ID # 163ad4a8f5
Molasses candy should not be sweet to the exclusion of the molasses flavor. Soft sugars together with molasses will shorten the boiling time but will not give the safe flavor as the molasses with perhaps an equal proportion of corn syrup for commercial purposes.
The corn syrup is added only to prevent graining, and not to cheapen the candy. As it is not excessively sweet, it does not supersede the molasses taste. A little butter and vanilla flavor will be all that is required.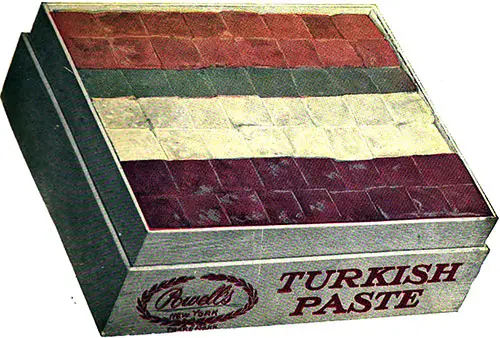 Powell's Turkish Paste Made in the Following Flavors: Lemon, Orange, Peppermint, Raspberry, Lime, and Clove. The International Confectioner, January 1921. GGA Image ID # 163b4aa592
Some of the old-timers used lemon flavor in molasses candy, and others today feel it incumbent upon themselves to use the same, "because that is how I learned to do it."
The best lemon molasses candy we ever tasted was made by a chap who forgot to put in the lemon flavor, and the worst was made by a fellow whose hand slipped, and he put almost a whole bottle of oil of lemon to the batch.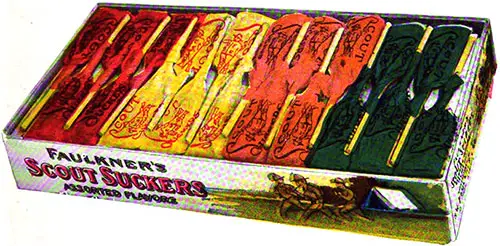 H.W. Faulkner & Co. – Manufacturing Confectioner – Mt. Vernon, IL. Scout Suckers. The International Confectioner, May 1921. GGA Image ID # 163b51b24d
Perhaps it can be compromised by adding a little vanilla along with the lemon, which custom was followed religiously some years ago. Our experience has been that vanilla flavor is preferable to any.
Try out some molasses recipes and find which appeals best to the taste of the youngsters, and then you will have "M" lasses Candies for Lads and Lassies."
Nuts in candy for growing youngsters is a nutritious addition. The humble peanut is recognized as aces high in nutritive value, and the cost permits of giving a generous portion for the price.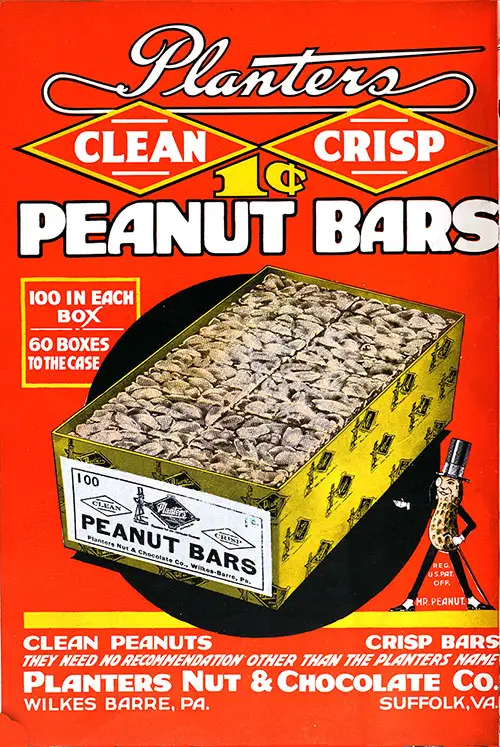 Planters Nut & Chocolate Company, Manufacturer of Planters Clean Crisp 1c Peanut Bars. Clean Peanuts, Crisp Bars. They Need No Recommendation Other Than the Planters Name. The International Confectioner, January 1921. GGA Image ID # 163b67eb69
The nut should be well roasted and very young children will do better if the nuts are either broken or chopped, so that should they not take the time to chew them well, the results would not be as serious as otherwise. Remove the skins by blowing or shaking them off when the nuts are broken.
Children should have the best of everything, and we do not agree with those who would put out a "big hunk" for the price so that it attracts attention by the size rather than by the true food value of the goods.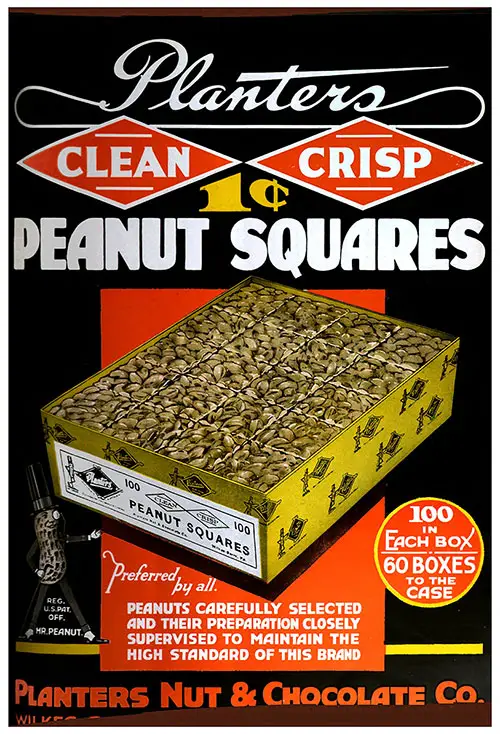 Planters Clean Crips 1c Peanut Squares. Planters Nut & Chocolate Company. The International Confectioner, January 1921. GGA Image ID # 163cbe11cf
A small satisfactory morsel is just as much appreciated by the average boys and girls of today as a much larger piece was formerly appreciated, when goods were so cheap, and the food laws were unheard of.
If a youngster gets something that leaves distressing results, he will not repeat the experience, because his mind was in the development stage when impressions gained are much more vivid than to an older person, and his prejudices are perhaps firmer for that reason.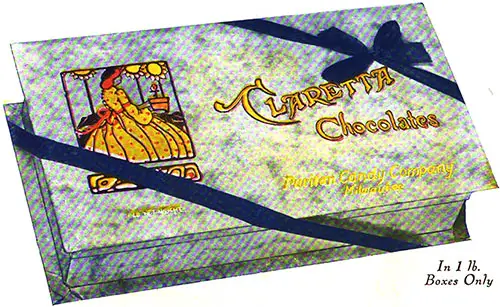 Claretta Chocolates by the Puritan Candy Company, Milwaukee. The International Confectioner, March 1921. GGA Image ID # 163cbec8eb
Next, we come to the average consumer, the person who is neither a kid nor an old person. This portion of our population forms the greatest part of the patronage, and it is to satisfy the tastes and desires of these that we must cater.
While an assortment of goods to meet with the varying tastes and inclinations of all is very important, it is also very essential to cultivate an individuality that will attract and hold these persons to your establishment.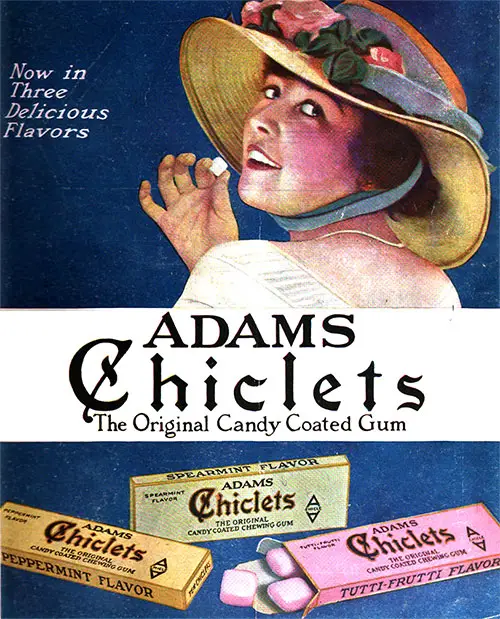 Adams Chiclets -- The Original Candy Coated Gum in Pepperment, Spearment, and Tutti-Frutti Flavors. The International Confectioner, May 1921. GGA Image ID # 163ce3eafa
This can be done in various ways, such as an appropriate slogan, a well-designed trademark, an unusual arrangement of the store, and above all, a courteous consideration of all patrons, whether they buy five cents' worth or five dollars' worth of goods.
In furtherance of the candy business, we have always advocated the open-door candy shop. We believe that patrons are entitled to see how the goods are made and under what conditions. It is to be admitted that not all stores are so situated that the public could be admitted to the shop.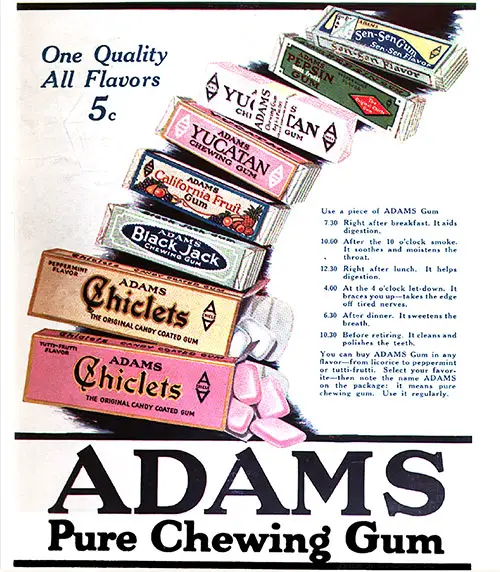 Adams Pure Chewing Gum, One Quality, All Flavors 5c. The International Confectioner, April 1921. GGA Image ID # 163d03f2f6
In many places, there is a lack of space to permit this, and the renting of more room would perhaps be greater than the returns would warrant. But no matter how large or how small the place might be, there is nothing to prevent it's being kept neat and clean.
Unfortunately, a great many confectioners establish stores that resemble a kind of display which we cannot better express than a well-known lawyer described a certain property in litigation; he said. "It has a Queen Anne front and a Mary Ann back." He wished to convey the idea that the expenditures had been made entirely for display and not for utility.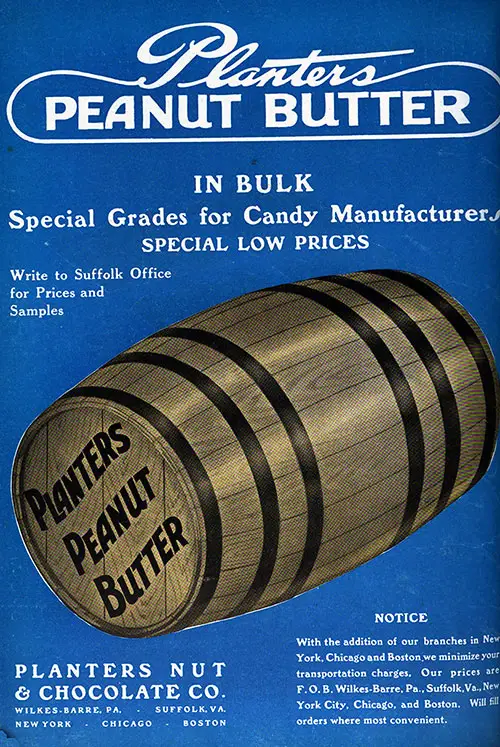 Planters Peanut Butter In Bulk -- Special Grades for Candy Manufactures. Planters Nut & Chocolate Company. The International Confectioner, April 1921. GGA Image ID # 163d057976
That the practical end of the business had given way to the desire to create an impression of richness which was only a shell and did not exist in the core of the business, we are reluctant to admit that in many cases the Queen Anne-Mary Ann idea seems to have taken hold with a vengeance.
An impression is important; if it is favorable, it is doubly important. But disillusionment from a favorable impression is a calamity. It can do more harm in less time than a first unfavorable impression because this can often be subsequently overcome.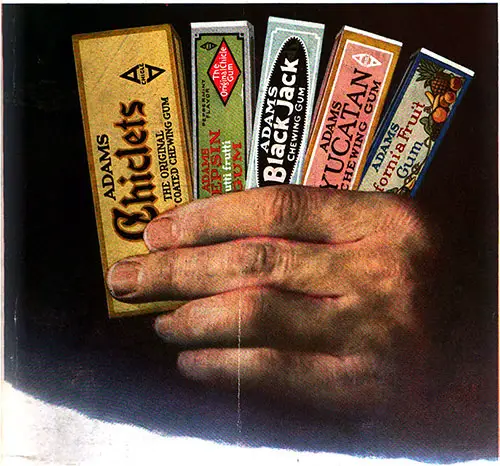 Advertisement for Adams Pure Chewing Gum, All Flavors, One Quality. Their Flavors Included Adams Black Jack, Adams Chiclets, Adams Pepsin, Adams, Spearmint, Adams California Fruit, Adams Yucatan, Adams Sen Sen, and Adams Clove. The International Confectioner, June 1921. GGA Image ID # 163d16c079
Now, if a patron has viewed your Queen Anne front and been highly delighted with it, and often comes to enjoy its beauties, and suddenly and perhaps inadvertently discovers the Mary Ann end of it, his admiration turns to disgust, and often this lingers as long as a person lives.
He associates this disgust with the things which previously had been so beautiful, but which now have crumbled to mingle with the feelings which have been engendered, and he picks flaws in the very things which he formerly had considered perfect, and there is a revulsion of feeling which will always be present.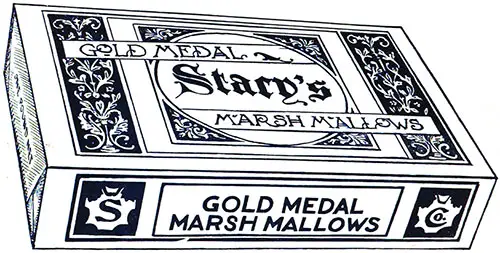 Stacy's Gold Medal Marshmallows. O. T. Sacy Company, Rochester, NY. The International Confectioner, March 1921. GGA Image ID # 163d1e3547
The time has come when we should get back to more normal conditions, and one of these is the complete rehabilitation of our methods of conducting business.
For some time, there was an excuse for not having everything in tip-top shape, owing to lack of help, cost of materials and some other things which would prevent undertaking anything that would add to the running expenses.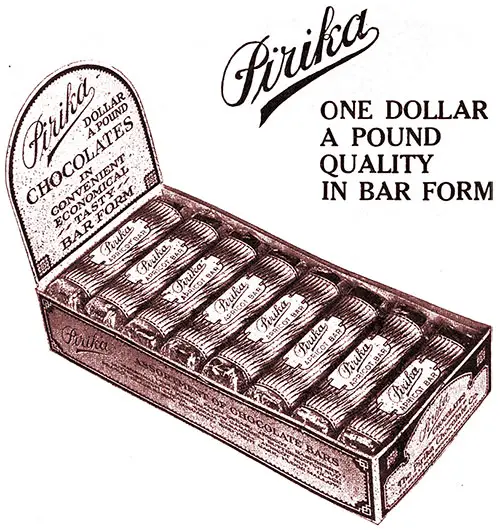 Pirika One Dollar a Pound Chocolates in Convenient, Economical, Tasty Bar Form. The moat complete and highest grade line of 10c bar goods on the market. Made in the following assortment: Raspberry, Cocoanut, Apricot, Peppermint, Plain Cream, Fudge Mallow, Glace Raisin, Apricot Nut, Glace Peanut, Cream Caramel, Marshmallow, Iced Fruit Cake, Butterscotch Nut, Butterscotch Cream, and Marshmallow Caramel. The International Confectioner, May 1921. GGA Image ID # 163d2520a0
We note now that men are clamoring for work, and lots of candy makers are seeking employment. If there is not enough work for them to do making goods, they should not lose time but should be put to work cleaning up the shop, applying gloss paint to the walls and fixtures, and polishing up the utensils.
Let them feel that they ought to get the place in such condition that they would not be ashamed to have their friends call on them while they are working and have things in such shape that neither inspectors nor customers should be feared if they should take a notion to see how and where the goods are made. Make Clean, Pure Goods in a Clean Shop.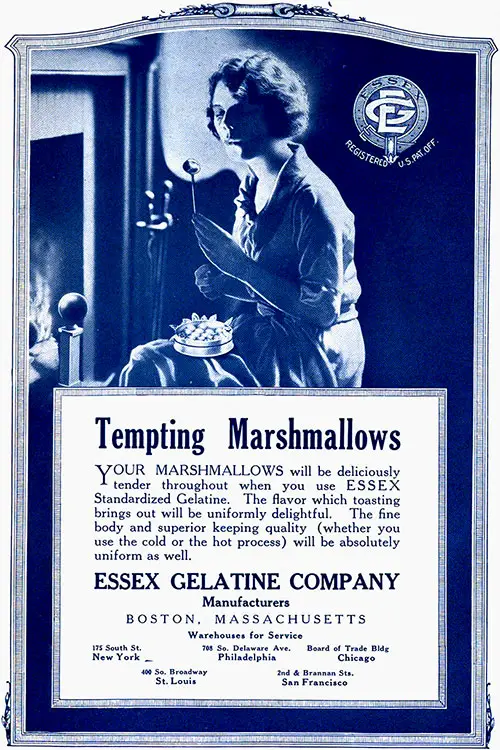 Advertisement: Essex Gelatine Company. Marshmallows made with Essex run uniform. The essential beating qualities of our branded, graded gelatin make each batch alike. You have but to use ESSEX in quantity to realize the fineness of its standard. Essex Gelatine Company, Manufacturers, Boston, Massachusetts. The International Confectoner, October 1921. GGA Image ID # 163d4e014b
Perhaps you have not noticed it, but some of the old folks have particular preferences in their selection of candy. Most of them like peppermint, horehound, and molasses.
We can remember in our childhood that our parents had a veritable amen corner in the store. It was located near the door and was devoted to candies preferred by old folks, and we might almost say that it was practically dedicated for the purpose.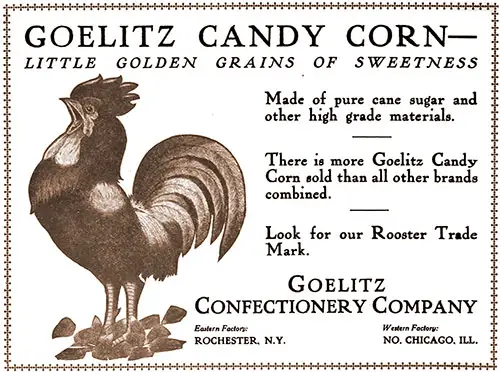 Advertisment for Goelitz Candy Corn -- Little Golden Grains of Sweetness, Made of Pure Cane Sugar and Other High Grade Ingredients. Goelitz Confectionery Company, Rochester, NY. The International Confectioner, March 1921. GGA Image ID # 163d7255ab
Never was a jar misplaced, and the brass covers used in those days shone almost like halos. In the assortment were horehound drops, sour lemon drops, flaxseed squares, Iceland moss drops, peppermint lozenges, peppermint sugar wafers, molasses peppermint, both hard and chewy, and the peppermint lumps which were white with a red stripe.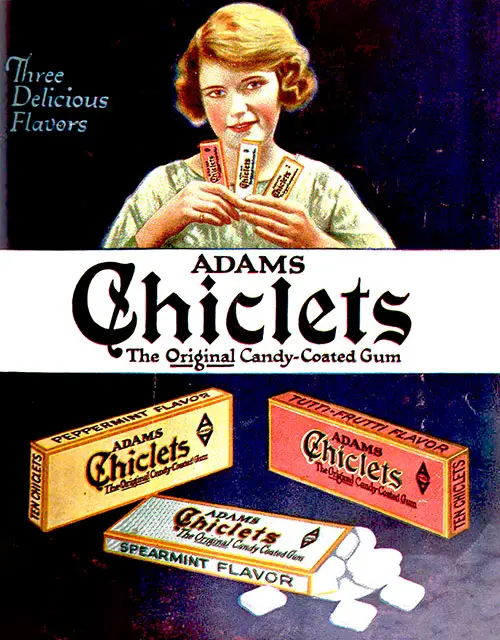 Adams Chiclets, The Original Cany-Coated Gum. Three Delicious Flavors: Peppermint, Spearmint, and Tutti-Frutti. The International Confectioner, January 1921. GGA Image ID # 163dc0b100
The various conditions of the teeth of the old folks were also considered, and for that reason the drops and lumps were made in different sizes, so that those who could not bite a piece in two could get small drops and allow them to dissolve in the mouth, while others who preferred to eat more rapidly, being better endowed with bicuspids, could get the larger lumps and crunch them with the air of satisfaction which goes with superior apparatus.

Fancy boxes for Special Occasions by Whitney Stock Boxes. The International Confectoner, December 1921. GGA Image ID # 163dd15fe3
That place was not only a candy store for the young folks, but to the older ones, it was an institution. Perhaps there are not enough old folks near your place of business to warrant anything of this kind being carried out, but it would be well to study the likes and dislikes of your particular trade, and perhaps you can get to know the preferences and place your goods in classified sections of your counters.
So that in selection the person would be at once confronted with the varieties he is seeking and could come to a definite conclusion without looking around in a way which distracts from his original intention in going into the store.
Thus, you can add to the quality of your goods. "Choice of Selection and Service."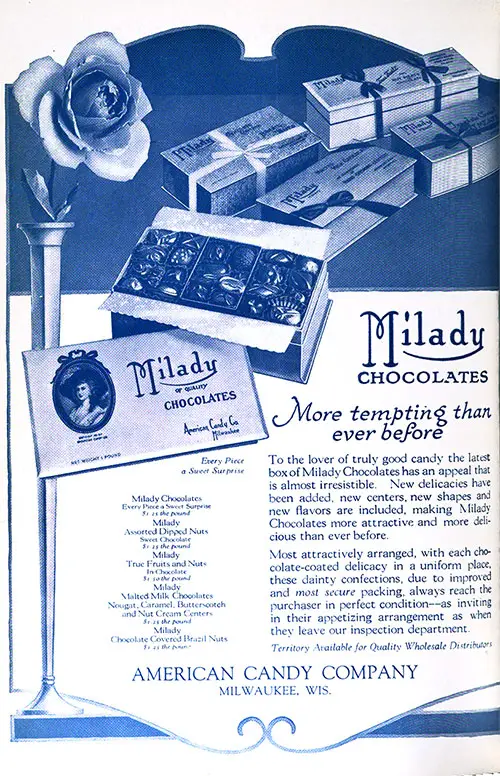 Advertisement for Milady Chocolates - More Tempting than Ever Before. American Candy Company, Milwaukee, WI. The International Confectioner, December 1921. GGA Image ID # 163df157ad
To the lover of truly good candy the latest box of Milady Chocolates has an appeal that is almost irresistible. New delicacies have been added, new centers, new shapes and new flavors are included, making Milady Chocolates more attractive and more delicious than ever before.
Most attractively arranged, with each chocolate-coated delicacy in a uniform place, these dainty confections, due to improved and most secure packing, always reach the purchaser in perfect condition—as inviting in their appetizing arrangement as when they leave our inspection department.
"The Candy Kitchen Conducted by Charles Intemann: Psychological Side of Candy Making," in The International Confectioner, February 1921, pp. 73-75