Tramps & Ladies: My Early Years in Steamers (1959/1988)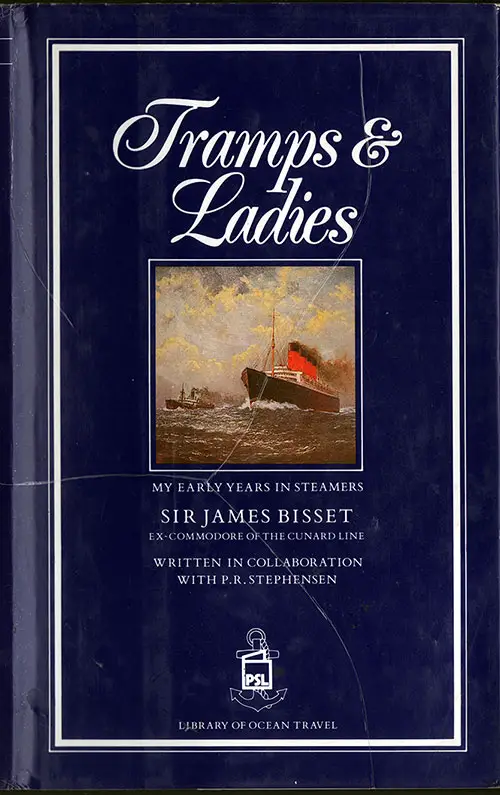 Author: Sir James Bisset
Title: Tramps & Ladies: My Early Years in Steamers
Edition: Reprint
Format: Hardcover
Pages: 315
ISBN: 1-85260-140-X
DCN: 387.0092'4
Publisher: Patrick Stephens Limited
Location: Wellingborough, Northamptonshire, United Kingdom
Pub. Date: 1988 (© 1959)
Language: English UK
Subjects: 1. Shipping
Description: Detailed Table of Contents and Listing of Illustrations. Not Indexed.
Size: 5 1/2" x 8 3/4"
Dust Jacket: Yes
List Price: US$ 24.95
Synopsis: Second Volume of Ocean Travel facsimile reprint of out-of-print classic maritime literature. Cunard Line Officer's memoirs from 1905 through 1912.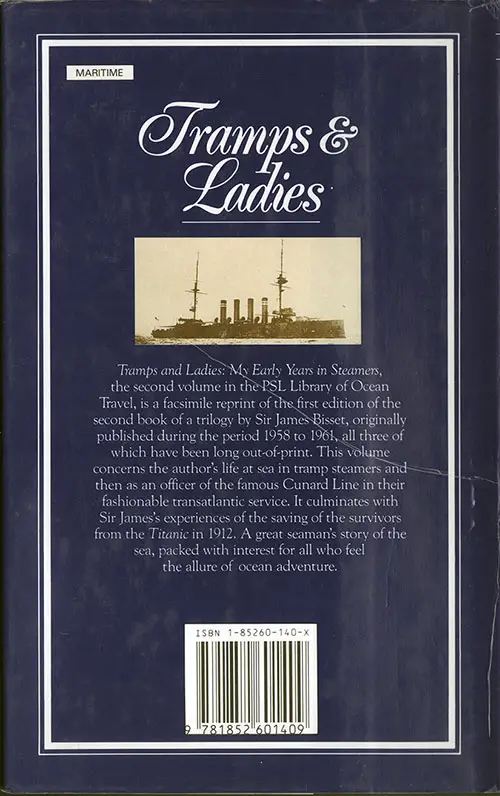 From the Back Cover
Tramps and Ladies: My Early Years in Steamers, the second volume in the PSL Library of Ocean Travel, is a facsimile reprint of the first edition of the second book of a trilogy by Sir James Bisset, originally published during the period 1958 to 1961, all three of which have been long out-of-print.
This volume concerns the author's life at sea in tramp steamers and then as an officer of the famous Cunard Line in their fashionable transatlantic service. It culminates with Sir James's experiences of the saving of the survivors from the Titanic in 1912. A great seaman's story of the sea, packed with interest for all who feel the allure of ocean adventure.
From the Inside Flap of Dust Jacket
This, the second volume in the PSL Library of Ocean Travel facsimile reprints of out-of-print classics of maritime literature, was originally published in 1960 as the second in a set of three volumes tracing 50 years of life at sea in the first half of the nineteenth century by Sir James Bisset, culminating in his appointment as Commodore of the Cunard Line.
In Tramps and Ladies Sir James begins by recounting his career as a steamship officer in 1905 at the age of 21. After `knocking about in tramps' for two years he then joined the Cunard Line as a junior officer in their transatlantic service. With unmatched authority, historical accuracy and a breezy humor, he describes life aboard these ocean greyhounds, and tells of the hazards of fog, icebergs and storms in the North Atlantic, when radio was in its infancy and modern aids to navigation, such as radar, were undreamed of.
Placed on record for the first time when Tramps and Ladies was first published are Sir James's personal experiences of the wrecking of the ill-fated Titanic, taken from notes he made at the scene of the disaster as an officer aboard the rescue ship SS Carpathia, when he had first-hand insight into an aspect of this terrible tragedy of the sea which few others could reliably describe.
Description of Contents
This book continues the memoirs of Sir James Bisset, which began in Sail Ho! Here lie tells of his seafaring life in the early days of steamships: on dirty little tramps carrying unromantic Swansea coal, or frozen Canadian lumber; on cargo-vessels loaded with farm animals for the Argentine, or potent Jamaica rum; on migrant ships taking Greeks, Hungarians, and Italians from Europe to the United States; and, finally, on the Ocean Greyhounds of the Cunard Line, competing with Norddeutscher Lloyd, White Star, Hamburg-Amerika, and other famous shipping companies, for the coveted Atlantic Blue Riband.
A powerful climax of the book is the author's personal recounting of the tragic circumstances surrounding the sinking of the Titanic in midAtlantic in 1912 after she had struck an iceberg. James Bisset, then an officer in SS Carpathia, first vessel to arrive on the scene, brings to vivid life his recollections of the rescue of the survivors from the icy waters, and of the amazing events that followed.
Library of Congress Catalog Listing
| | |
| --- | --- |
| Personal name | Bisset, James, Sir, 1883-1967. |
| Main title | Tramps and ladies : my early years in steamers / by Sir James Bisset; written in collaboration with P.R. Stephensen; [with a new foreword by Walter Lord]. |
| Edition | |
| Published/Created | Wellingborough, Northamptonshire, England : P. Stephens; New York, N.Y. : Distributed by Sterling Pub. Co., 1988. |
Description
ISBN
LC classification (full)
LC classification (partial)
Related titles
Related names
Stephensen, P. R. (Percy Reginald), 1901-1965.
Subjects
Bisset, James, Sir, 1883-1967.
Ship captains--Great Britain--Biography.
Steam-navigation--History--20th century.
Notes
Spine title: Tramps & ladies.
Distributor from label on added t.p.
Series
PSL Library of ocean travel; 2
LCCN
Dewey class no.
Geographic area code
Type of material