Transatlantic... and the Great Atlantic Steamships - 2003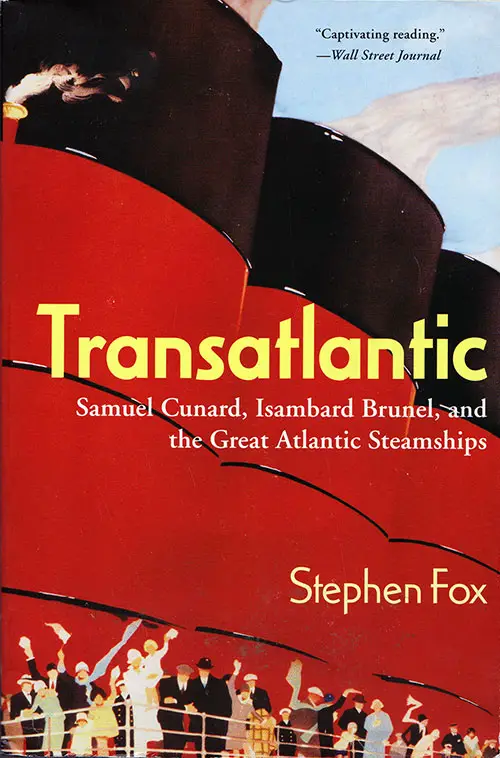 Cover design by Todd Robertson
Cover photograph by Marine Art Posters UK
During the nineteenth century, the roughest but most important ocean passage in the world lay between Britain and the United States. Bridging the Atlantic Ocean by steamship was a defining, remarkable feat of the era. Over time, Atlantic steamships became the largest, most complex machines yet devised. They created a new transatlantic world of commerce and travel, reconciling former Anglo-American enemies and bringing millions of emigrants who transformed the United States.
—Sunday Times (London)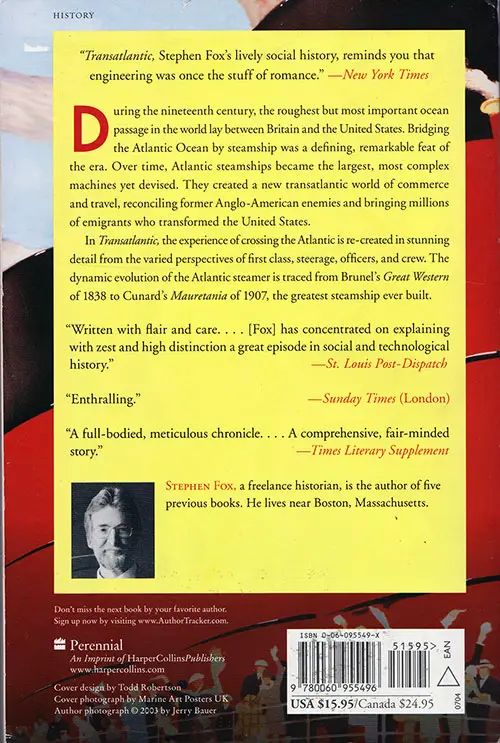 Contents
PROLOGUE: THE NORTH ATLANTIC OCEAN AND THE BRITANNIA
PART ONE: THE PACKET SHIP ERA, 1820-1840
1. The Sailing Packets 5
2. Steam on Water 17
PART TWO: THE ERA OF CUNARD DOMINATION, 1840-1870
3. Ships as Enterprise: Samuel Cunard of Halifax 39
4. Ships as Engineering: Isambard Kingdom Brunei 96
5. The Cunard Line 84
6. The Collins Line 112
7. Distinguished Failures 140
8. Emigration and the Inman Line 168
9. Life on a Steamer 196
PART THREE: THE ERA OF STEAMSHIP COMPETITION, 1870-1910
10. The White Star Line 229
11. Competition and Invention 294
12. Ships as Buildings: Two Cycles to Cunard 278
13. Ships as Towns: Officers, Crew, Steerage 310
14. Anglo-Americans 336 13. Germans 361
16. The Two Finest Cunarders 386 NOTES 419
ACKNOWLEDGMENTS 469
INDEX 471
"Transatlantic, Stephen Fox's lively social history, reminds you that engineering was once the stuff of romance." —New York Times

STEPHEN FOX, a freelance historian, is the author of five previous books. He lives near Boston, Massachusetts.
MM Perennial
An Imprint of HarperCoMinsPublishers www.harpercollins.com
Author photograph © 2003 by Jerry Bauer
0704

In Transatlantic, the experience of crossing the Atlantic is re-created in stunning detail from the varied perspectives of first class, steerage, officers, and crew. The dynamic evolution of the Atlantic steamer is traced from Brunei's Great Western of 1838 to Cunard's Mauretania of 1907, the greatest steamship ever built.
"A full-bodied, meticulous chronicle. ... A comprehensive, fair-minded story." —Times Literary Supplement
"Written with flair and care. . . . [Fox] has concentrated on explaining with zest and high distinction a great episode in social and technological history." —St. Louis Post-Dispatch