Spanning the Atlantic

(1931) by F. Lawrence Babcock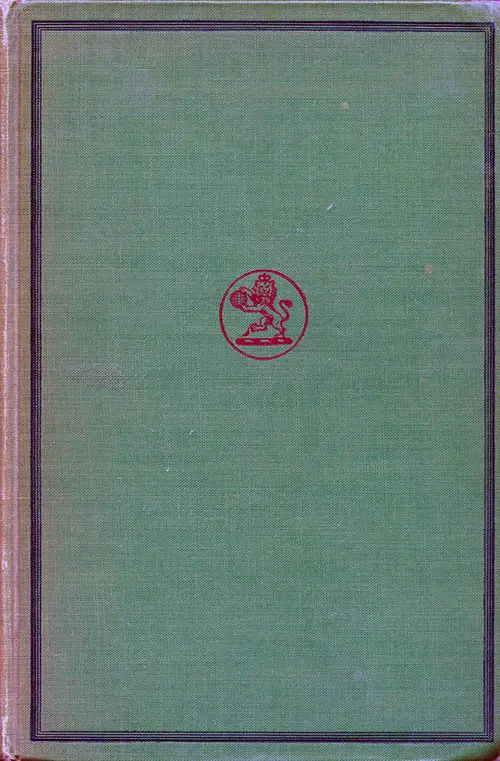 F. Lawrence Babcock, Spanning the Atlantic, © 1931 Alfred A. Knopf, New York, First Edition, Hardcover, 227 Pages, History of the Cunard Steam Ship Company Limited.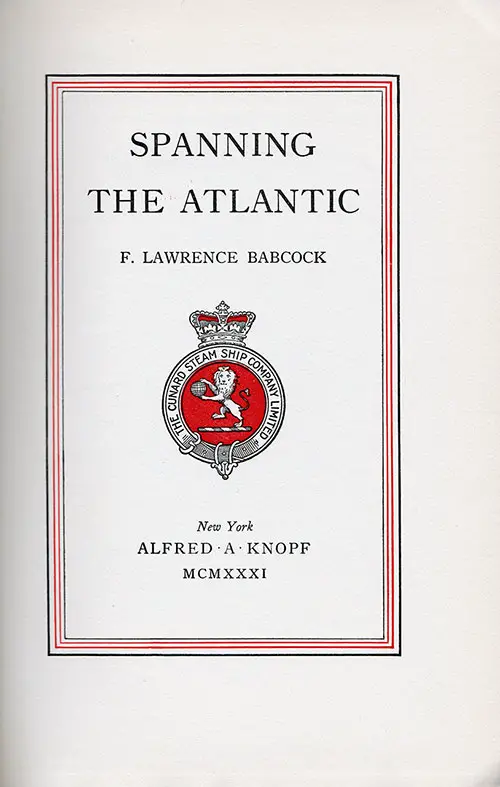 The uninterrupted progress of the Cunard Line, without retrogression and almost without mishap, stand, beyond the possibility of envy, as a matchless human achievement. When we consider that hardly a skyscraper is built without loss of life, and hardly a railroad, laid on solid earth, has not known disaster, we must acknowledge the feat of transporting across a dangerous ocean more people than inhabit some of our states with the loss, in time of peace, of but four lives, especially as these four lives were only the toll of an predictable caprice of the waves.
Contents
Preface V
I. Samuel Cunard, Merchant 3
II. The Development of the Steamship IS
III. The Foundation of the Line 36
IV. The Ocean Ferry 50
V. Early Cunarders and Boston 68
VI. Competition by Sail and Steam 78
VII. The Struggle with the Collins Line 91
VIII. The Great Migration 107
IX. The End of the Paddle Wheelers 124
X. Ocean Travel in the Seventies 136
XI. The Mauve Decade 155
XII. Twentieth Century Liners 174
XIII. Cunarders in the World War 188
XIV. Reconstruction and the Tourist Trade 199
XV. The Tenth Decade 210
Bibliography 219
Index Follows page 227
List of Illustrations
Samuel Cunard Frontispiece
Skips of Columbus Facing Page 4
Halifax Harbour in 1840 8
John Fitch's Paddle Steamboat 16
The CLERMONT 20
The Docks at Liverpool 40
The BRITANNIA 50
Charles Dickens's Cabin on the BRITANNIA 54
Old-time Travel 58
The First Day
The Second Day
The Britannia in the ice 72
Fashion in Captains' dress 78
The Clipper-ship WESTWARD HO 88
An Early Cunard Advertisement 92
The Broadway Site of the Present Cunard Building 96
The Jersey City Docks 100
C id-time Travel 108
Shuffle-board
A Gale
The GREAT EASTERN 112
The PERSIA 116
The RUSSIA 130
The BOTHNIA'S Menu 136
The S E R V I A 148
A Deck Scene in the Eighties 156
The MAURETANIA 186
The AQUITANIA at Southampton 190
The Mauretania in Camouflage 194
The BERENGARIA at Cherbourg 202
"Number 534" as she will look against the Lower New York Sky-line—Scale Drawing of the BRITANNIA in the Foreground 212
SPANNING THE ATLANTIC
F. LAWRENCE BABCOCK

New York ALFRED A-KNOPF MCMXXXI

Library of Congress Catalog Listing
LC Control Number:
31028320
Type of Material:
Book (Print, Microform, Electronic, etc.)
Personal Name:
Babcock, Franklin Lawrence, 1905-
Main Title:
Spanning the Atlantic [by] F. Lawrence Babcock.
Edition Information:
[1st ed.]
Published/Created:
New York, A.A. Knopf, 1931.
Description:
227, vii p. front. (port) plates, facsims. 23 cm.
Notes:
A history of the Cunard line and of transatlantic shipping.
Bibliography: p. 220-227.
Subjects:
Cunard Steamship Company, ltd.
Steam-navigation--History.
Steam-navigation--Atlantic Ocean.
Steamboats.
LC Classification:
HE945.C9 B3
Dewey Class No.:
387.5
Other System No.:
(OCoLC)513531