Nordover Med Hurtigruten - 1983
Historie og Hverdagbilder Gjennon Nitti År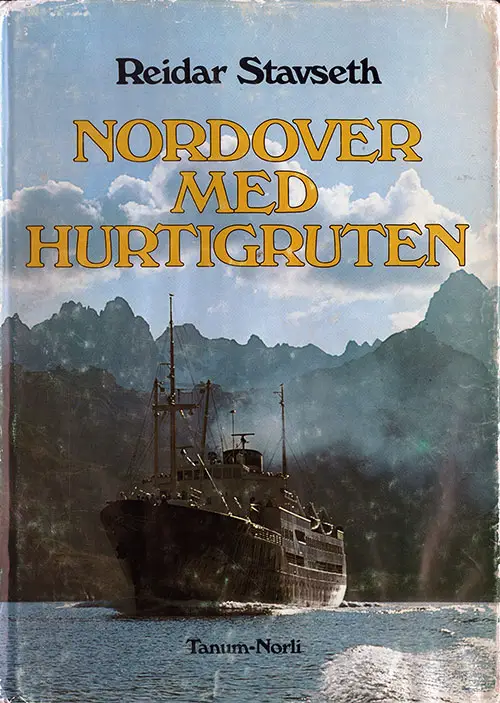 Nordover Med Hurtigruten: Historie og Hverdagbilder Gjennon Nitti År by Reidar Stavseth, A history of the Norwegian coastal Steamers from approximately 1890 through 1982., 1st Edition, Forlaget Tanum-Norli A/S, Oslo, Norge, 1983. Hardcover, 304 Pages. ISBN: 82-518-1736-6. In Norwegian with English Summary.
Edition: 1st
Innhold
Langs leia, Gamle dager på kysten, Full fart forover, Fra ukentlig til daglig hurtigrute, Skip og skippere, Hverdag og fest ombord, Storm på Folla, Turister og andre passasjerer, Nordenom Europa, Trygg trafikk, I okkupert farvann, Fra damp til diesel, Kystens pulsåre, Frem mot 90-årsjubileet, and English Summary.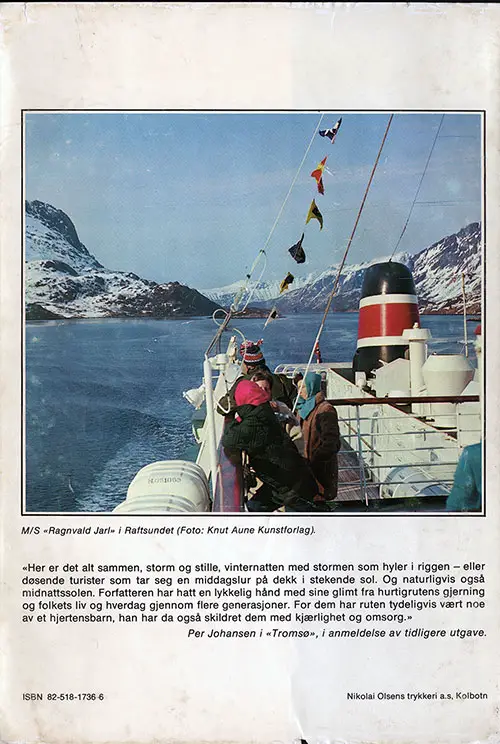 Contents (English Translation)
Along the lane, Old days on the coast, Full speed ahead, from weekly to daily coastal, ships, and captains, Interests and party on board, the Storm Folla, tourists and other passengers, Nordenom Europe Safely traffic in occupied waters, from steam to diesel , Coast artery, Up to 90-year anniversary, and English Summary.
Excerpt from English Summary
The Coastal Express to North Norway was established ninety years ago. The first steamer, the Vesteraalen, left Trondheim on the 2nd of July 1893, with Captain Richard With - a farseeing and experienced man - on the bridge. The arrival of the elegant white ship, with a blue band on the funnel, was celebrated as a national event along the coast.
The first steamers to the north sailed only in the summer and docked every night, but with the start of the Coastal Express, new activities and business were introduced in the northern regions. Originally serving the distance from Trondheim to Hammerfest, the line was gradually extended. The Express now covers the 2000 kilometres from Bergen to Kirkenes. During the past fifty years 35 ports along the coast have been served in each direction, most of them daily.
In addition to the pioneer Vesteraalen S. S. Company, several other shipping firms joined the service - the Nordenfjeldske, Bergenske, Stavangerske, Nordlandske, Ofotens and Troms Steamship Companies - and the Coastal Express developed steadily until the end of the inter-war period.
From Back Cover
«Her er det alt sammen, storm og stille, vinternatten med stormen som hyler i riggen - eller døsende turister som tar seg en middagslur på dekk i stekende sol. Og naturligvis også midnattssolen. Forfatteren har hatt en lykkelig hånd med sine glimt fra hurtigrutens gjerning og folkets liv og hverdag gjennom flere generasjoner. For dem hanruten tydeligvis vært noe av et hjertensbarn, han har da også skildret dem med kjærlighet og omsorg.»
Per Johansen i «Tromsø», i anmeldelse av tidligere utgave.
English Translation of Text From Back Cover
"Here it is all together, storm and quiet winter night with the storm that howls in the rigging - or døsende tourists taking a nap on deck in the blazing sun. And of course the midnight sun. The author has had a lucky hand with its glimpses of Hurtigruten's work and people's everyday lives and through several generations. For those hanruten apparently been something of a hjertensbarn, he has also described them with love and care. "
Per Johansen "Tromso", in review of previous edition