Morton Allan Directory of European Passenger Steamship Arrivals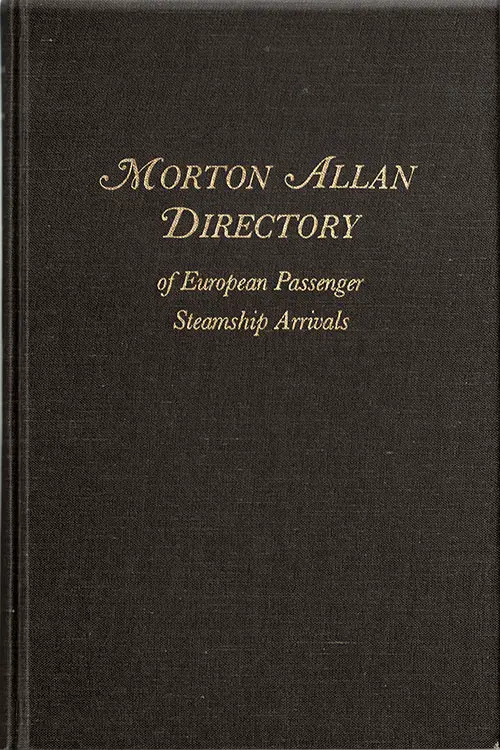 Author: Morton Allan
Title: Morton Allan Directory of European Passenger Steamship Arrivals
Edition:  Reprint
Format: Hardcover
Pages: 268
ISBN: 0-8063-0830-3
DCN:  
Publisher: Genealogical Publishing Company, Incorporated
Location: Baltimore, Maryland
Pub. Date: 1998 (© 1931,1979,1980,1987,1993,1998)
Language: English US
Subjects:  Passenger Steamship Arrivals in US
Description:
For the years 1890 to 1930 at the Port of New York
For the years 1904 to 1926 at the Ports of New York, Philadelphia, Boston, and Baltimore.
Notes:
Size: 6 1/8" x 9 1/8"
Dust Jacket: No
List Price: US$20.00
Repository: MKE

Synopsis: This work is a very helpful aid in the use of the indexes of immigrant passenger lists in the National Archives, for they are arranged in the chronological order of the ships' arrival dates, and there under by the names of the vessels or the passenger lines, and only then by passengers' surnames. This directory provides a ready means of ascertaining information that will be helpful, for it is arranged by year and steamship company, and there under by port of entry, the vessel name, its arrival date and port of embarkation.
Note from Gjenvick-Gjønvik Archives: From our own collection of Passenger Lists, we found an unexpectedly high incidence of westbound transatlantic steamship voyages to US Ports not being recorded in this directory. If you find that your relative arrived at a given port and date, but it is not listed in the directory, check the ports' microfilm records for verification of the date of arrival.
Library of Congress Catalog Listing
LC Control Number: 78065163
Type of Material: Book (Print, Microform, Electronic, etc.)
Main Title: Morton Allan directory of European passenger steamship arrivals for the years 1890 to 1930 at the Port of New York and for the years 1904 to 1926 at the ports of New York, Philadelphia, Boston, and Baltimore.
Published/Created: Baltimore : Genealogical Pub. Co., 1979.
Related Names: Immigration Information Bureau, inc.
Related Titles: Directory of European passenger steamship arrivals.
Description: 268 p.; 24 cm.
ISBN: 0806380303
Notes: Published in 1928 under title: Directory relating to record of arrival of passenger steamships at the ports of New York, Philadelphia, Boston, and Baltimore, 1904 to 1926. Reprint of the 1931 ed. published by Immigration Information Bureau, inc., New York.
Subjects: Steamboat lines.
LC Classification: HE945.A2 D5 1979
Dewey Class No.: 387.5/42
Geog. Area Code: ew----- n-us---
Electronic File Info.: Index Immigrant arrivals: a guide to published sources