2500 Miles on the Norwegian Costal Steamer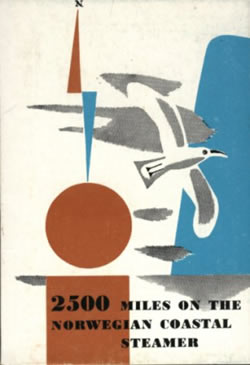 Author: Erling Welle-Strand
Title: 2500 Miles on the Norwegian Costal Steamer
Edition:
Format: paperback
Pages: 63+
ISBN: 82-90103-07-7
DCN:  
Publisher: Bergens Tidende
Location: Bergen, Norge
Pub. Date: 1978
Language: English UK
Subjects: Norwegian Coastal Steamers
Description:
Notes: English Translation by Christopher Norman, Includes 31 Page black & white photographs of a journey to the various locations.
Size: 7" x 9 3/4"
Dust Jacket: N/A
List Price:
Availability:
Synopsis :
The journey by coastal steamer from Bergen to Kirkenes in an unforgettable trip covering a distance of over 1200 miles, i.e. equivalent to round the entire west coast of Alaska as far as the Bering Straits, and penetrating just as far north. It runs along a coastline which has no equal in Europe, past eight of Norway's counties, with a coastal population of over half a million souls, living in towns and villages from Bergen in the South to Kirkenes in the North.
A unique feature of this journey is that half of it lies north of the Arctic Circle. In other regions of the earth the land that lies north of the Arctic Circle is barren and forbidding, but thanks to the soothing influence of the Gulf Stream the inhabitants of Norway have been able to extend the outposts of Western civilization over 500 miles into what would otherwise have been a land of eternal ice and snow. No visitor to the Land of the Midnight Sun fails to be impressed with the luxuriance of the vegetation.
Contents:
The Coastal Steamer
Leaving Bergen
Måløy to Kristiansund N
Trondheim to Leka
Hestmannøy to Raftsund
Harstad to Lyngen
Rounding North Cape
Kirkenes to Båtsfjord
Hammerfest to Skjervøy
Harstad to Rafsund
Hestmannøy to Torghatten
Trondheim to Kristiansund N
Måløy to Bergen.
The Following Companies Operate the Norwegian Coastal Steamers:
BERGEN LINE

M.S. Nordstjernen
M.S. Nordlys
M.S. Polarlys
M.S. Midnatso

NORDENFJELDSKE STEAMSHIP COMPANY

M,s. Harald Jar
M.S. Håkon Jar
M.S. Ragnvald Jar
M.S. Erling Jar

VESTERAALEN STEAMSHIP COMPANY

M.S. Finnmarken
M.S. Vesterålen
SS Lofoten
M.S. Kong Olav

OFOTEN STEAMSHIP COMPANY
From the Back Cover
The cruise on board the express steamer along the coast of Norway is one of the loveliest sea voyages in the world. The scenery you will pass en route is unbelievably beautiful, and there is always something of interest to see or do. You will also get to know an ancient, hospitable people in a way which no other means of communication permits. But you need the services of a competent and unobtrusive guide, a service which this little book has already performed for some 200,000 passengers on the ships of the Coastal Express Service. It is our sincere hope that you will find it useful. Bon voyage!
Library of Congress Catalog Listing (Previous Edition)
LC Control No.: 67070454 LCCN
Permalink: http://lccn.loc.gov/67070454
Type of Material: Book (Print, Microform, Electronic, etc.)
Personal Name: Welle-Strand, Erling. [from old catalog]
Uniform Title: 2500 mil med hurtigruten. English. [from old catalog]
Main Title: 2500 miles on the Norwegian coastal steamer.
Published/Created: Bergen, Published by Bergen Line, Nordenfjeldske Steamship Company [etc.], 1965.
Description: 62 p. 16 plates, map (in pocket) 19 cm.
Subjects: Norway --Description and travel. [from old catalog]
LC Classification: DL419 .W383
Geographic Area Code: e-no---