A "Grand Tour" of Europe - 1910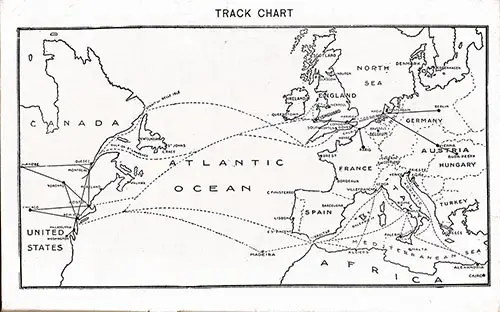 Track Chart of the Atlantic Ocean for the Cunard Line RMS Carmania, 1913. GGA Image ID # 17b87dd2db
The following is a delightful tour, and the merits of the sights can be vouched for by the writer as he has made it. Start from London, making stops at Rochester and Canterbury; at Dover, take a steamer to Ostend.
This is rather a long Channel trip and is apt to be rather hard on the bad sailor. Of course, the trip can be made by way of Calais and rail at greater expense.
On arriving at Ostend, take the train for Bruges, which is a comfortable place to pass the night. A few hours will exhaust the sights, and the journey to Ghent can then began; half or three-quarters of a day is sufficient for sight-seeing in this city. Then take the train for Brussels; two days can profitably be spent in this delightful city, a Paris in miniature.
The battlefield of Waterloo should be visited, which will require about half a day; the train should then be taken to Antwerp, where a day may be spent. From Antwerp, the train may be taken for Rotterdam, where one day will be sufficient to see the pictures in the galleries.
It should be remembered that the distances in Holland are very short and a great deal of sight-seeing can be crowded into a single day; it is possible to see all the principal sights in Holland in three or four days.
From Rotterdam, the train should be taken to Delft, and from there to The Hague, and an excursion made to Scheveningen, a famous Dutch watering-place celebrated all over Europe.
From The Hague, the journey should be made to Leyden, which is visited by all Americans who have any respect for their country's history. All readers of Motley's "Rise of the Dutch Republic" will also be particularly interested in this important town. From Leyden, take the train to Haarlem and finally arrive in Amsterdam, where he should spend at least two days.
There are many side trips made from Amsterdam at comparatively small expense, such as Alkmaar and Hoorn, also the Island of Maarken and Monnikemlam and Broek. The islands of the Zuyder Zee are particularly interesting.
The train should be taken from Amsterdam, preferably at night, for Cologne; the train will pass through Utrecht and a few other comparatively unimportant places.
After visiting the various sights in Cologne, an early train should be taken from Bonn to save time, and the steamer taken as far as Königswinter, from which point a railroad runs up the mountain and the view from the Drachenfels is splendid.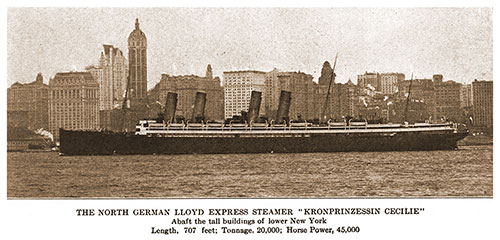 The North German Lloyd Express Steamer "Kronprinzessin Cecilie" abaft the Tall Buildings of Lower New York. Length: 707 Feet; Tonnage: 20,000; Horsepower: 45,000. GGA Image ID # 17b47d2a8c
Of course, it is interesting to all Wagnerian enthusiasts as on the mountain is the site of the cave where Siegfried killed "Fafner." the dragon. Another steamer should then be taken up the Rhine as far as Coblentz. If the trip has been accurately timed, it is possible to catch an express steamer for Mayence.
From Mayence, take the train to Worms and Heidelberg; from Heidelberg, take the train to Frankfort, and then to Eisenach, Erfurt, and Weimar, which is one of the most interesting cities in Germany.
Then travel to Leipzig and Berlin. A trip should be taken to Potsdam, and an excursion should be made to the Spreewald.
A stay of at least three or four days should be made in Berlin; the train should then be taken to Dresden, where a stay of at least two days should be made.
The night train should be taken from Dresden to Nuremberg, where at least two days should be spent. From Nuremberg, the trip should be made to Munich, which is a long ride, but the journey can be broken at Ratisbon, which is highly interesting, an old town in almost its pristine state.
An excursion can be made from Ratisbon to Walhalla, which is not visited by very many travelers. At least three or four days should be spent in Munich, and by all means, the Passion Play should be seen.
It is necessary to make arrangements before leaving home, or before leaving London at any rate, if the Passion Play is to be visited, as the accommodations are largely in the hands of tourist agencies, steamship companies, etc.
Tickets for the entire trip should be bought en bloc as far as this point. From Munich, take the railroad to Lindau on Lake Constance, and take the boat to Constance.
Then take the train to Schaffhausen and go from Schaffhausen to Zurich. The special tickets for Switzerland, which are referred to elsewhere, offer great possibilities for the tourist.
The following places should, however, be visited, even by those who are pressed for time: Luzerne, Berne, Interlaken, Lake of Geneva, Geneva, and Chamonix.
One of the great passes may be traversed by diligence, or the new Simplon Railway may be used. The Italian lakes, Maggiore and Como, should be visited. Milan is the first large Italian city which will be reached.
The circular tour tickets in Italy allow for a large number of itineraries, but the following is especially recommended: Milan, Verona, Vicenza, Padua, Venice, Ferrara, Bologna, taking a side trip to Ravenna, then Florence (side trip to Siena), Arezzo, Perugia and Rome (take side trips to Tivoli, the Alban Mountains, and the mouth of the Tiber).
At least ten to twenty days should be spent in Rome, and good arrangements can be made en pension for a stay of this length. From Rome, a trip may be made to Naples, and side trips should be made to Pozzuoli, Mount Vesuvius, Capri, Sorrento, Amalfi, and Salerno. From Naples, the visitor retraces his steps to Rome and takes a night train for Pisa.
Genoa is the next point of interest; from Genoa, the return trip may be made by way of Turin, and the Mont Cenis tunnel or the trip may be made along the Riviera to Mentone, Monaco (Monte Carlo) and Nice; from Nice, there is a splendid train service to Paris. From Paris, the return may be made to London by way of Calais and Dover.
The expense of a railroad ticket second class, first-class on the steamers, and first-class in Italy will be about $150.00-$160.00, depending on the length of the side trips, etc.
Any tourist agency will be glad to quote prices for similar tours, and one of the largest have quoted us the figure named, which is, however, subject to change as are all rates.
This will make a fine trip for the summer and fall, assuming that passage is taken about the first of June. To make this trip comfortable, including a stay of two weeks in England, at least four months would be required from New York back to New York.
Assuming that the passage money for the round trip is $200.00, the total cost of this trip would be somewhere between $750.00 and $900.00, depending on hotels, the number of carriage rides taken, etc.
With $750.00, economy would have to be practiced, but for $900.00, the trip could be taken on a very liberal scale. Twenty years ago, it was possible to make a trip of this kind as low as $660.00. but the cost of ocean transportation has somewhat increased.
It is, of course, possible to make large additions to a trip of this kind; with time and money, such side trips as Vienna or Sicily and tours among the French chateaux can be made.