What To Pack For Your Ocean Voyage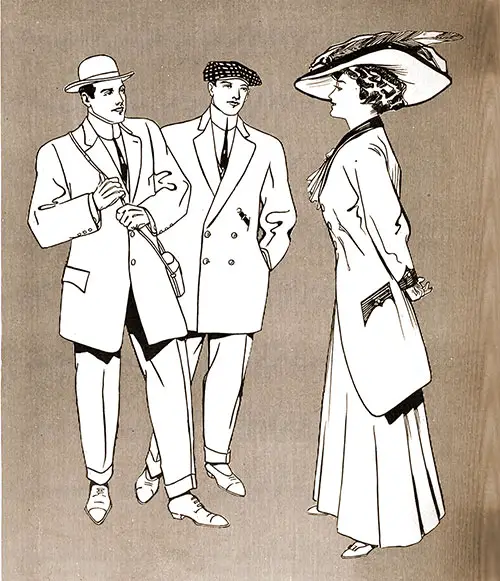 Fashionable Men Always Make a Great Entrance, Men's Wear Magazine, 22 June 1910. GGA Image ID # 178feec59a
CLOTHING
Warm clothing and rugs should be taken for the ocean trip, as well as for the railway journeys in most European countries; even in winter the trains are seldom well heated, the primitive hot water can being very much in vogue. Occasionally trains will be found where some of the cars are heated by steam from the engine. At least one rug should be provided for each person.
Gentlemen should have at least two suits, as a change of clothing is sometimes necessary owing to the fact that decks are damp. It is also desirable to carry a dress suit for use on the steamer, as gentlemen dress for dinner on most of liners. Evening dress is not, however, obligatory.
Thick rubber-soled shoes will prove a great comfort on the voyage. Golf or soft felt hats should be worn by gentlemen at sea, and ladies wear tam-o'-shanters or similar head-gear with thick veils. Yachting caps are not worn at sea. Heavy underclothing should be provided for the voyage, and may be left in trunks in the storage warehouse.
Any article of clothing which may have been forgotten can be easily purchased abroad. English tailors are noted for the excellence of their material and workmanship, but the cut is not always adapted to our American ideas.
There will be little trouble, however, if a good tailor is selected. The dressmakers and milliners of Paris are, of course, famous throughout the world, and are referred to later on in this book.
Ladies will find it very desirable to take along an extremely portable workbox equipped with needles, thread, pins, hooks and eyes, buttons, etc., as these articles are not readily obtainable at sea, although one vessel has inaugurated a "department store" where all little necessaries can be purchased. Stewardesses usually carry needles, thread, pins, etc.
Bath slippers should be provided, as occasionally the distance to the bathrooms is quite considerable. A bathrobe should also be provided.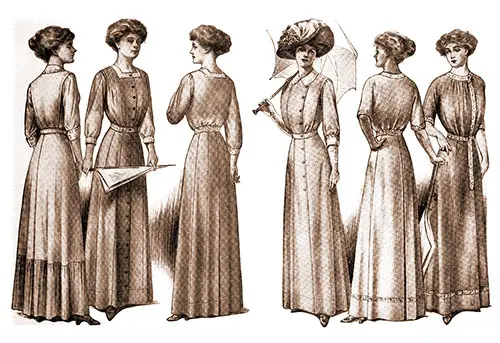 Serviceable Tub Dresses, Woman's Home Companion, July 1910. GGA Image ID # 178f816541
Men will find that a heavy overcoat is needed even in summer, as the winds are apt to be very piercing. A lighter coat intended for use on arrival is also useful at sea. Ladies should have two cloth suits, flannel waists, one or more silk waists, and several shirt waists with necessary, changes of underclothing, etc., and if space permits, a gown for dinner and evening wear. An extra pair of shoes and a pair of rubbers should also be provided.
Those who are desirous of taking fur wraps should obtain a Custom House certificate before sailing, as otherwise duty will be levied on the return.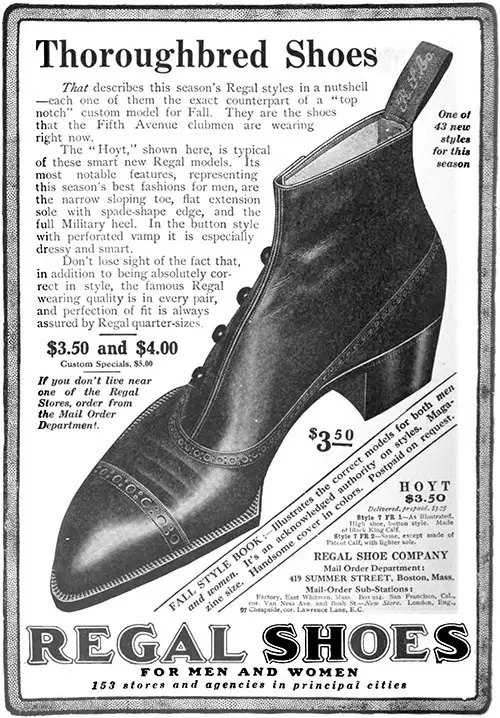 Advertisement for Regal Shoes for Men and Women, Effective Magazine Advertising, 1907. GGA Image ID # 17bb743930
LADIES' LIST OF THINGS NOT TO BE FORGOTTEN:
Gowns
Underclothing
Bathrobe
Bath Slippers
Shirt Waists
Ulsters
Cap ( not a yachting cap )
Extra Shoes, and Rubbers
Umbrella
Rug
Steamer Chair Pillow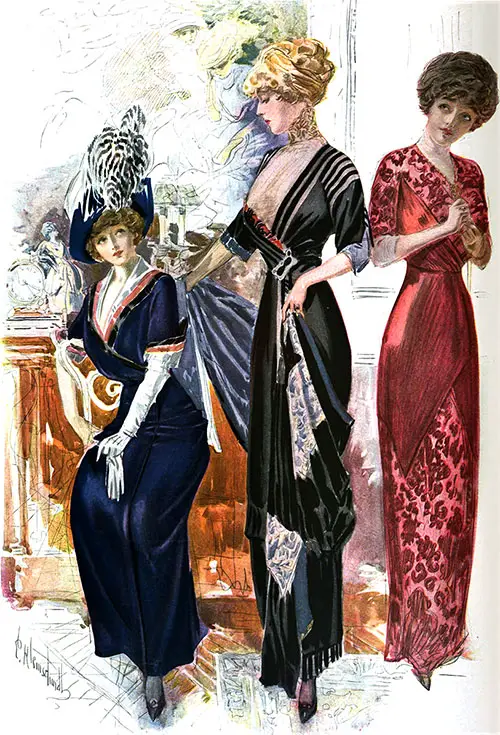 Modified Narrow Skirt Becoming Popular, The Delineator, February 1911. GGA Image ID # 17d386f7bb
TOILET ARTICLES.
Brush
Hairpins
Tooth Brush
Tooth Powder
Cold Cream
Cologne
Powder
Pins
Safety Pins
Collar Buttons and Cuff Studs
Needles and Thread
Tape
Buttons
Hooks and Eyes
Manicure Articles
Fancy Work
Fountain Pen
Writing Material
Address Book
Hot Water Bag
GENTLEMEN'S LIST OF THINGS NOT TO BE FORGOTTEN: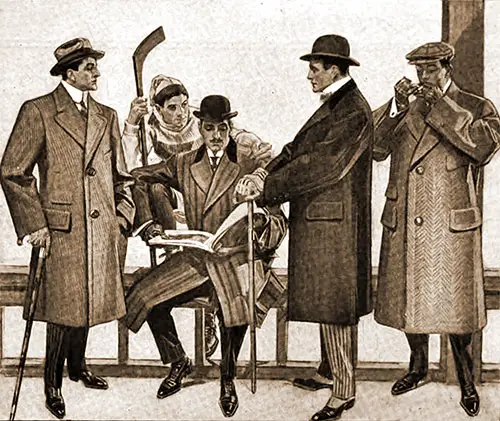 Bramdegee Kincaid & Co Overcoat Models, Men's Wear Magazine, 6 July 1910. GGA Image ID # 178fb0f43e
Dress Suit
Dinner Coat
White Waistcoats
Dress Shirt
Dress Ties
Dress Collars
Cuffs
Cuff Studs
Shirt Studs
Patent Leather Shoes
Opera Hat
Silk Hat
Cane
Umbrella
White Gloves
Suspenders
FOR STEAMER
All papers, letters of credit, travelers' checks, visiting cards, keys, passport, medicines, etc.
Collars
Cuffs
Handkerchiefs
Studs
Cuff Buttons
Duplicate Prescriptions
Duplicate Eyeglasses
Duplicate Oculist's Prescriptions
Ties
Bow Ties
Shirts
Outing Shirts
Flannel Shirts
Suit
Suit Underwear
Pajamas
Duck Pants (Southern Trips)
Hose
Shoes
Rubber-soled Shoes
Bath Slippers
Bath Robe
Steamer Rug
Suspenders
Belt
Gloves
Cap
Shoestrings
Umbrella
Cane (?)
Brush Broom
Fountain Pen
Paper Cutter
Films
TOILET REQUISITES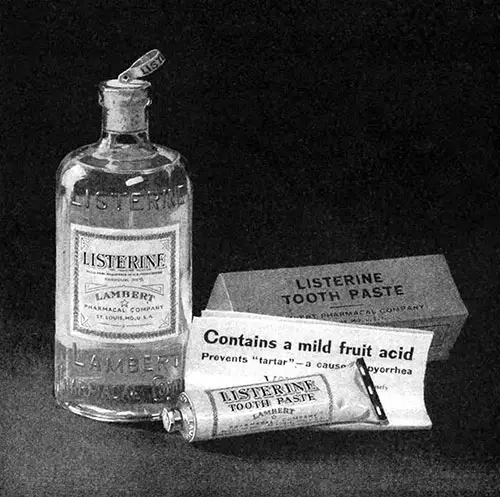 Advertisement for Listerine Antiseptic Mouthwash and Tooth Paste, Good Housekeeping Magazine, June 1921. GGA Image ID # 17bbcdbb08
Hair Brush
Comb
Corkscrew
Tooth Brush
Tooth Powder
Mouth Wash
Nail Brush
Listerine or Borine
Pocket Knife
Shaving Soap
Shaving Brush
Safety Razor
Razor
Razor Strop
Sponge
Bay Rum
Violet Water
Lilac Water
Talcum Powder
Nail Clipper
Nail File
Medicines
Hot Water Bag
Medicine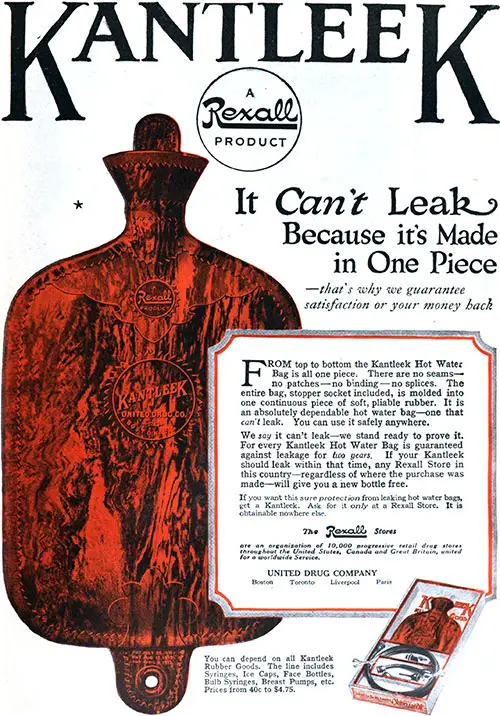 Advertisement for a Kantleek Hot Water Bag, Good Housekeeping Magazine, October 1920. GGA Image ID # 17bc11021b
The following medicines, etc., should be carried:
One small hot water bag
One ounce arnica
Three Ounces extract of witch hazel
Two ounces aromatic spirits of ammonia
One menthol cone
One styptic pencil
One package court plaster
One narrow bandage
One small package of absorbent cotton
One can containing "new skin"
One bottle "Sun" cholera mixture
One bottle soda-mint tablets
One bottle bismuth and pepsin tablets
One bottle "Listerine;—boritte" or equivalent preparation
A bottle of Jamaica ginger (Brown's is good) will also obviate many of the little ills incidents to travel. Bicarbonate of soda tablets should also be carried to take care of slight attacks of indigestion.
If inclined to catarrh, take Dobell solution tablets and a Bermingham douche.  They will pack nicely in a small cracker tin. A little old linen, a few yards of stout thread wound around a stiff piece of paper should also be carried. 
Slight injuries to the hands often occur when getting in or out of railway carriages. Some travelers recommend a small bottle of spirits of camphor; Vaseline and cream may be carried with advantage.