Provisions and Meals on an 1890s Ocean Liner - Ocean Passenger Travel
A great many passengers are more anxious about the table-fare upon an ocean steamship than about the staterooms, saloons, smoking-rooms, and other matters of transient comfort. There is really no need for worry about the table. There is always enough, and on the best boats there is always a great variety.
On one of the recent departures of a great liner from this port her larder was stocked as follows :
20,000 pounds of fresh beef (a portion of this, although all was available, was intended for the return trip, beef being cheaper here than in Liverpool);
fresh pork, 500 pounds;
mutton, 3,500 pounds;
lamb, 450 pounds;
veal, 500 pounds;
sausage, 200 pounds;
liver, 230 pounds;
corned beef, 2,900 pounds;
salt pork, 2,200 pounds;
bacon, 479 pounds;
hams, 500 pounds;
tongues, 8 dozen;
Sweetbreads, 200;
fish, assorted, 2,100 pounds;
oysters, 5,000;
clams, 5,000;
soft-shell crabs, 500;
green turtle, 200 pounds;
turkeys, 50;
geese, 50;
fowls, 248;
chickens, 150;
squabs, 300;
snipe, 500;
quail, 500;
ducklings, 216;
wild game, 108 pair.
Butter, 1,500 pounds;
eggs, 1,200;
condensed milk, 400 quarts;
fresh milk, 1,000 quarts;
ice cream, 400 quarts.
Apples, 12 barrels;
pears, 10 boxes;
musk-melons, 100;
water-melons, 60;
oranges, 16 boxes;
peaches, 10 crates;
bananas, 10 bunches;
huckleberries, 100 quarts;
gooseberries, 100 quarts;
cherries, 250 quarts;
currants, 100 pounds;
grapes, 75 pounds;
lemons, 14 cases;
pineapples, 100;
plums, 150 quarts;
strawberries, 250 quarts;
raspberries, 250 quarts.
Flour, 125 barrels;
potatoes, 140 barrels;
lettuce, 72 dozen;
asparagus, 30 dozen;
green peas, beans, tomatoes, 15 crates each;
Brussels sprouts, 10 baskets.
Crackers, cakes in large variety, and a quantity of pickles, sauces, spices, extracts, pates de foie gras, truffles, caviare, canned and dried and fresh vegetables, and general groceries in the most generous quantity.
About 500 other items appeared on her list of stores besides wines, spirits, beer, mineral waters, cigars, etc.
One of the bills of fare presented to first-cabin passengers from such a commissariat is here given.
SOUPS: Turtle and Spring.
FISH: Scotch Salmon and Sauce Hollandaise.
ENTREES: Blanquettes de Poulet aux Champignons. Filets de Boeuf à la Bordelaise. Cailles sur Canapes.
JOINTS: Saddle of Mutton and Jelly. Beef and Yorkshire Pudding. York Ham and Champagne Sauce.
POULTRY: Roast Turkey and Truffles. Spring Ducklings.
VEGETABLES: Pommes de Terre Duchesse. Asparagus. Potatoes. Parsnips.
SWEETS: International Pudding. Rhubarb with Custard. Strawberry Jam. Tartlets. Sandwich.
PASTRY: Genoese Pastry. Marlborough Pudding. Gooseberry Soufflés. Lemon Cream.
DESSERT: Seville Oranges. Black Hamburg Grapes. English Walnuts. Madeira Nuts. Cantaloupes. Café Noir.
Following is a literal copy of a bill of fare for a second-cabin dinner on a favorite steamship :
Soup.—Julienne.
Fish.—Boiled Rock Fish, butter sauce.
MEATS.—Haricot of mutton; roast beef, baked potatoes; boiled mutton, caper sauce; mashed turnips; potatoes.
Rice pudding; apple tart; small pastry. Biscuits and cheese.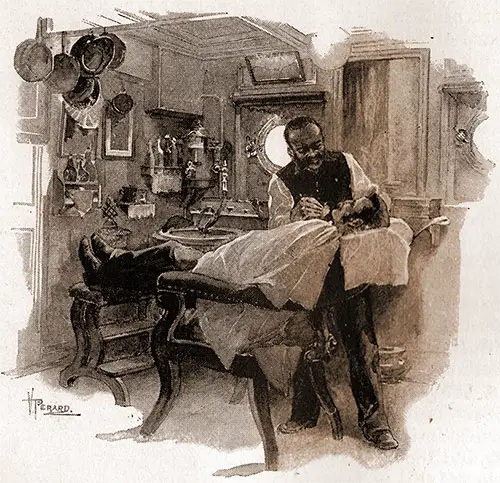 The Steamship Barber Shop Circa 1890
So the accommodations on board ship have kept pace with the growing traffic and the increasing demand for luxurious appointments. Vessels now are lighted by electricity in every quarter, including even the; there is ample room for exercises and games on deck; there are well-stocked libraries and music-rooms, no well-ordered ship being without a piano or organ, and some have both; smoking-rooms are usually on the upper deck; electric annunciators are handy; bath-rooms are numerous; the thrashing of the screw is heard faintly at the worst; there is plenty and a variety of food; and in short, the majority of cabin passengers fare for a week better, and are surrounded by more appointments of wealth and luxury than they are accustomed to in their own homes.
Some specially interesting features have been introduced into the North German Lloyd service, and also on the express steamers of the Hamburg America Line to make a voyage attractive.
Among these is the band that accompanies every vessel. The performers are the stewards of the second cabin, who must not only be good waiters but good musicians as well.
They play through the long first-cabin dinner, which lasts from one to two hours, and again on deck in the evening. There are no Sunday services on these boats, but in the morning the band plays hymn tunes, and in the evening there is a " sacred " concert.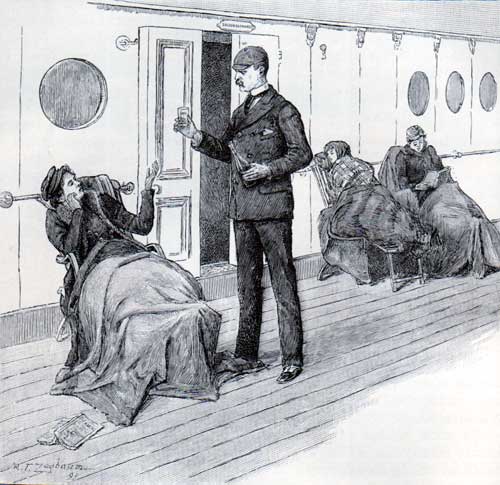 More Comfort on Deck - Relaxing with a beverage circa 1890
All German and American holidays are observed on board, special attention being paid to the Fourth of July and Washington's Birthday, and particularly so on an eastward trip if the holiday occurs when the vessel is only a day or so out from New York; when Christmas conies to the travelers at sea, they find themselves in the midst of a German festival, in which there is no lack of a brightly adorned and illuminated tree. The passengers are not forgotten on these occasions; amusements and a special feast are provided for them.
Ocean Passenger Travel - 1891