Trained Nurses on Ocean Liners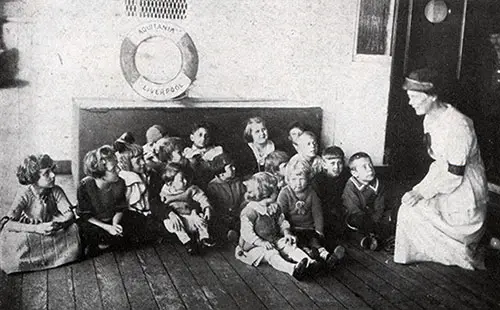 A Nurse on the RMS Aquitania - Story Telling for the Children. GGA Image ID # 146f26f67f
It is now several years since the advisability of having one or more trained nurses on each of the ocean steamships was first suggested.
We all know that skilled nursing is very often necessary on ocean journeys, not only in alleviating suffering but also to save life, and a surgeon on any of the Atlantic liners will tell you how, when he has a passenger very ill, he has to do the real nursing himself. Certainly a stewardess who may have fifty or even a hundred passengers to look after cannot give much attention to nursing, even if she knows how.
Many trained nurses on this side of the Atlantic have applied for a position on these liners, but at each of the steamship companies' offices are told that skilled nursing is not required and that the ordinary stewardess is competent to cope with seasickness without complications, and should the latter arise the ship's doctor could look after "such "; but it is believed that the real objection was a nurse's salary, and also the fact that a nurse would require a cabin to herself—as it would be impossible for her to share one with the stewardesses.
On any of the big Atlantic liners several trained nurses are always to be found, but they are employed by individual passengers, who take them over and many times send them back by the same steamer. Then when the return journey is made the patient brings back an English nurse.
The result of the several years' agitation is that one English line, the Royal Mail Packet Company, has for the last eighteen months employed what they call a nurse-stewardess, and who is supposed to be a trained nurse.
When asked how the system worked an agent at the London office said: "It depends on circumstances. Some hospital trained nurses do not care about discharging duties which devolve upon the ordinary stewardess.
The system works more satisfactorily, I believe, on vessels which carry more than one stewardess. On our new ship, Arragon, we have three stewardesses, a fully trained nurse as chief, a second nurse, who is a probationer, and an ordinary stewardess.
It is dear, however, that the woman who undertakes the position of nurse-stewardess must sink the nurse in the stewardess, except in emergencies, when her training becomes highly valuable."
This interview, copied from our English contemporary, The Hospital, London, does not seem very encouraging, and we cannot help thinking that if men, especially the members of the various steamship companies, were as bad sailors, and suffered as so many women and children do, trained nurses would long ago have been considered quite as essential to the comfort and wellbeing of the passengers on all ocean steamships as is the ship's surgeon.
This magazine was the first in this country to suggest the advisability of having trained nurses on all passenger vessels, and we confidently hope it is now only a question of time before they become a regular institution.
We believe we are also the first to suggest the employment of the trained nurse on railroad trains. On nearly all the fast trains in this country is found a polite and obliging colored maid, who makes herself very useful to the women passengers taking long journeys.
On these journeys will be found always some who suffer quite as much from carsickness as others do from seasickness, and besides ordinary illnesses are just as liable to attack us on a train as anywhere else.
We have in mind a woman who was going West, and the last day became alarmingly ill. She tried to get a drawing-room for a few hours, but although there was one vacant the conductor would not let her use it for less than $50.
There was no doctor on the train, and the colored maid was as kind and attentive as possible, but she became so frightened that she was worse than useless. There are few who have traveled much in this country for long distances who have not had (either for themselves or friends) just such an experience.
A passenger taken ill on a train is much worse off than she would be on a steamship. On the latter is a doctor, a well-stocked dispensary, and the patient has the privacy of her cabin; while on a train it is only the very rich who can afford a drawing-room or section.
A single berth on a sleeping car (it may be an upper one) is, to say the least, a most uncomfortable place for a sick person.
We hope the colored maid is the opening wedge, and that before long all trains going long distances will have on them a trained nurse, with a supply of medicines, splints, bandages, etc., and a compartment where an person can be taken for a reasonable charge.
"The Travelling Public and the Trained Nurse" in The Trained Nurse and Hospital Review, VOL XXXV, NO. 5, New York, November, 1903, Pages 296-297.