Stewardess On An Ocean Liner - 1894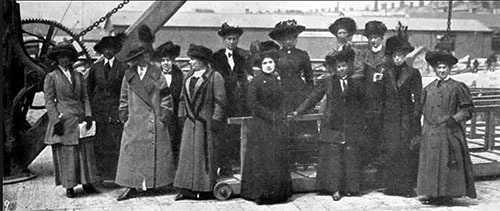 Surviving Stewardesses from the RMS Titanic - April 1912. Public Domain Image. GGA Image ID # 10eed18095
STEWARDESS
ONE would imagine that there were not many women who would care to occupy the post of stewardess on board an ocean liner, yet when a vacancy occurs there is never a lack of applicants. In fact, every steampacket company has a long list of names from whom a choice is made when necessary.
They are for the most part the relatives of officers in the service—this is the invariable rule on the Cunard Line, to mention one in particular—and outsiders without influence stand but little chance of employment.
The salaries average about £3:6:0 a year, with board and lodging, but the presents from grateful passengers augment this sum very considerably. As times go this pay is not bad. But the work is hard and disagreeable; it demands untiring energy, and a temper which nothing can ruffle; it shuts one off from home and from home comforts.
Besides possessing some knowledge of nursing, a stewardess must be proof against sea-sickness, even in the worst weather, and she must at the same time be able to sympathise with those who in this respect are weaker than herself. This is a combination not often met with.
No; a stewardess is certainly not overpaid.
These appointments are practically beyond the reach of outsiders. It can be only very rarely that one falls in their way. But should any of our readers wish to persevere, she had better write to the secretaries of several of the leading lines of steamers.
Mrs. H. Coleman Davidson, What Our Daughters Can Do for Themselves: A Handbook of Women's Employments, London, Smith, Elder, & Co., 1894, Pages 269-270,