Immigrant Ships "R" - History, Accommodations, & Ephemera Collection
All Digitized Ephemera for Immigrant Ships Beginning with the letter "R" available at the GG Archives. Common items of ephemera in our maritime collection include passenger lists, brochures, event and entertainment programs, and other memorabilia produced for a voyage or ship.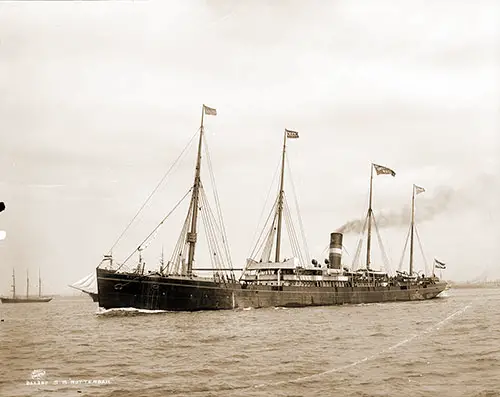 SS Rotterdam of the Holland-America Line (NASM). Photograph © 1897 Detroit Publishing Company - Photograph No. 022380. Library of Congress # 2016795271. GGA Image ID # 15c4db9fde
Ephemera contained in the GG Archives collection represent the souvenirs provided to the passengers of each voyage. Many of these souvenir ephemeral items have disappeared over the years.
Our selection varies considerably by ship, and likely contains only a sampling of what was originally produced and printed by the steamship lines.
Bookmark pages you're researching and check back periodically for additions as we continue to digitize our extensive ephemera materials.