Camp Devens - World War 1 Cantonment – A.E.F. Training Center 1918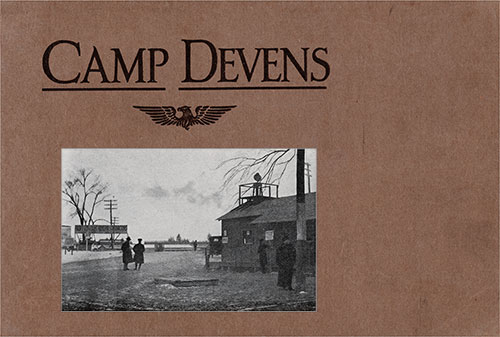 Front Cover, Camp Devens: Described and Photographed with Inset Photo Showing the Main Gate to the Camp. GGA Image ID #
Camp Devens, Massachusetts, was named in honor of Brigadier General Charles Devens, served as a training camp for 76th Division (National Army), which occupied the cantonment, August 1917 to July 1918. Numerous photographs and descriptions of camp activities, buildings, and soldiers.
Camp Devens: Described and Photographed
Regiments at Camp Devens
Camp Devens, Described and Photographed By Roger Batchelder, Author of "Watching and Waiting On the Border" with a Foreword by Major Roger Merrill
Adjutant, 151st Infantry Brigade, Seventy-Sixth Division, National Army, Camp Devens With photographs taken by the author under the official authorization of the Committee on Public Information and the War Department, and with the endorsement of the authorities at Camp Devens
© 1918 Small, Maynard & Company, Publishers
1918: Book - The Pick: Third Officers Training Camp, 117 Pages. Covers First, Second and Thrid Company Officers Training at Camp Devens. Includes many photographs, Illustrations, Rosters and information on the 15 week training course for A.E.F. National Army Officers.