Norwegian Immigrant Inspection Card - Cunard RMS Laconia - 1913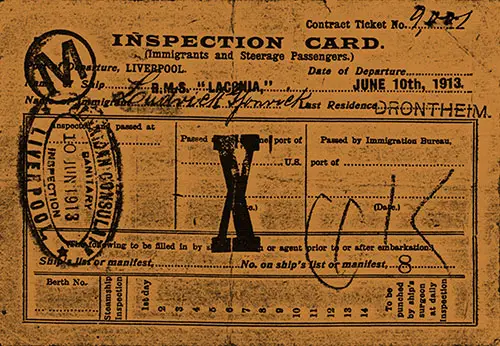 Immigrant Inspection Card issued in 1913 by the Cunard Line on board the RMS Laconia to a Norwegian Immigrant traveling in Steerage. GGA Image ID # 1e9d9dcfc0
The card provided important information including port and date of departure, name of ship, immigrant name, last residence, medical inspection stamps and evidence of immunization.
Sanitary Inspection 10 June 1913
for Ludvig Gjønvik
Section A, Room 57 aboard the RMS Laconia
Front Side of Immigrant and Steerage Passengers' Inspection Card - 1913
Port of Departure: Liverpool
Date of Departure: June 10th, 1913
Name of Ship: RMS Laconia
Name of Immigrant: Ludvick Gjønvik
Last Residence: Drontheim (Trondheim, Norway)
Contract Ticket Number: 9227?
Inspected and Passed at ???den Consulate, Liverpool Sanitary Inspection 10 June 1913
No. on Ships List or manifest: 8
Stamped: M and X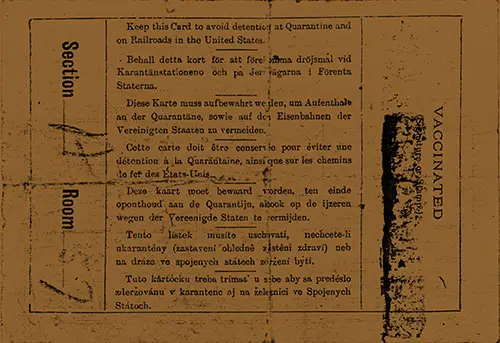 Reverse Side of Immigrants and Steerage Passengers Inspection Card - 1913. GGA Image ID # 1e9dcce8ea
Section A, Room 57
Keep this Card to avoid detention at Quarantine and on Railroads in the United States. (Message repeated in Swedish, German, French, Dutch, Polish, and a Slavic language?)
Vaccinated indicated by Stamp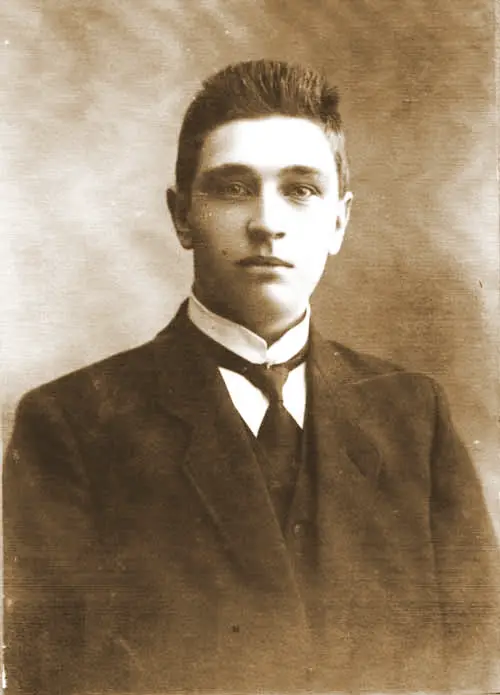 Norwegian Immigrant, Ludvig Gjønvik circa 1913. GGA Image ID # 1e9de4e52d
Learn more about Ludvig Gjønvik, a Norwegian immigrant to America in 1913:
View photographs of the interior of the RMS Laconia of the Cunard Line -- the steamship he traveled to America in third class / steerage.