Emigration for Ladies - 1883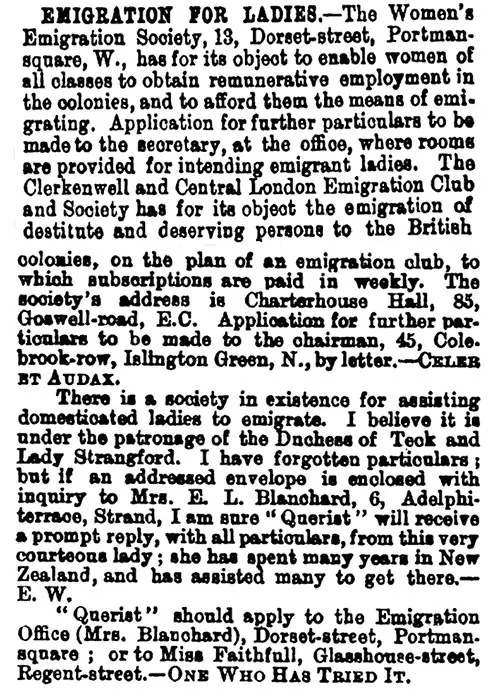 Emigration for Ladies. Clipping from The Bazaar, The Exchange and Mart, 26 October 1883. GGA Image ID # 14ff8e4060
EMIGRATION FOR LADIES.—The Women's Emigration Society, 13, Dorset-street, Portman Square, W., has for its object to enable women of all classes to obtain remunerative employment in the colonies, and to afford them the means of emigrating.
Application for farther particulars to be made to the secretary, at the office, where rooms are provided for intending emigrant ladies.
The Clerkenwell and Central London Emigration Club and Society has for its object the emigration of destitute and deserving persons to the British colonies, on the plan of an emigration dub, to which subscriptions are paid in weekly.
The society's address is Charterhouse Hall, 85, Goswell-road, E.C. Application for further particulars to be made to the chairman, 45, Colebrook row, Islington Green, N., by letter. —Celer et Audax.
There is a society in existence for assisting domesticated ladies to emigrate. I believe it is under the patronage of the Duchess of Teck and Lady Strangford. I have forgotten particulars; but if an addressed envelope is enclosed with inquiry to Mrs. E. L. Blanchard, 6, Adelphi terrace, Strand, I am sure " Querist" will receive a prompt reply, with all particulars, from this very courteous lady ; she has spent many years in New Zealand, and has assisted many to get there.— E. W.
"Querist" should apply to the Emigration Office (Mrs. Blanchard), Dorset-street, Portman-square; or to Misa Faithfull, Glasshouse-street, Regent-street. —One Who Has Tried It.
"Emigration for Ladies," in The Bazaar, The Exchange and Mart, 26 October 1883, pp. 452-453