Buffet Style of Serving for Brides - 1922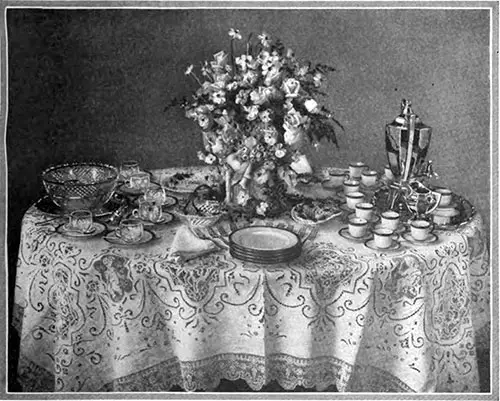 Wedding Buffet Table © 1916 Good Housekeeping
In the buffet style of serving a luncheon, or informal refreshments of any kind, the guests are served from a long table or buffet, where they receive portions of the dishes on plates, with the appropriate forks or spoons, and they return to their seats to eat. Sometimes, the refreshments are passed to the seated guests, and there is usually an attendant to collect and remove the used plates, etc.
We have seen luncheons of several courses served in this way: first a jellied bouillon; then a creamed meat or fish dish, or croquettes; followed by a salad; then a sweet dish and coffee. In choosing dishes for buffet refreshments they have to be of the kind which can easily be eaten from the plate held in one hand with the fork or spoon in the other. Knives are not used, for the guests do not sit at tables, and are not expected to make tables of their laps.
The Bridal Buffet Supper
By Ida C. Bailey-Allen
Of course, the underlying principle of the buffet meal should be the elimination of work. To this end the guests come informally to the dining room and help themselves, and eat standing, either in the dining room or elsewhere; or the gentleman may go after refreshments for themselves and the ladies; or the various urns, chafing dishes, etc., may be in charge of uniformed waitresses or waiters who will do the serving, the guests waiting on themselves.
In any case assistants must be provided to collect soiled dishes and napkins, to replenish empty plates with cakes, sandwiches, etc., and to see that the supply of hot dishes does not give out.
The dining room should be decorated simply, tall slender vases of flowers being set on sideboard and tables. The buffet should be covered with a linen scarf, while teacloths or heavy damask tablecloths may be used on the tables.
The napkins may be placed upon the plates and piled up together or may be kept separate. The silver is usually spread out upon the linen covers: bouillon spoons near the urn and bouillon cups, forks near the chafing dish and plates, etc. This obviates all rattling and handling of silver in selecting necessary utensils.
If the affair is small and the menu simple, it is possible to arrange everything on a dining table: the bouillon or coffee might occupy one side, hot dishes another, a cold entrée a third, and salad the remaining space; ices are usually served from the pantry.
Small dishes of candies, olives, nuts, etc., as well as plates of tiny rolls, bread sticks and sandwiches, may be placed upon the table as convenient. At large collations, however, it is much more satisfactory to group the foods upon buffet and tables in order to prevent a crush at any one place.
The coffee urn or large percolator, together with cups and saucers, spoons, cream and sugar, may be arranged on an extra small table.
Conventionally, the first course consists of bouillon accompanied by tiny bread sticks or unbuttered rolls. If the weather is warm an iced or jellied bouillon may be substituted for the hot dish.
The second course may consist of creamed meat or fish in timbales or puff paste cases; or of tiny croquettes (one-third the usual size), or a mixture of sweetbreads and mushrooms served with small rice croquettes. Sometimes deviled crabs or a Newburg constitutes the hot dish, but the choice depends on the season and whether or not the dish can stand without being ruined.
At very elaborate affairs a cold entrée, as ham loaf, jellied chicken, chicken mousse or a meat galantine, is served with the hot course. In that case a salad is optional. If a mold of meat appears it should be sliced thin before setting on the table, being kept in the original shape if possible. It is therefore customary to garnish such dishes elaborately with sliced egg, parsley, pimiento stars, etc.
If the hot dish is heavy a light salad is in order; if not, a heavy type should be chosen. If served from a platter on the table the salad should be arranged individually, a small portion on a crisp white lettuce leaf, to admit easy service.
Dessert invariably consists of two or more ices molded together, as lemon sherbet and raspberry mousse, maple walnut and pistachio ice cream, etc. In case of a great crowd, so that there will be no danger of melting before being utilized, ices are sometimes unmolded upon a platter, and served at the table by a maid.
Coffee is always provided, and if the weather is at all warm a cold drink, served in a punch bowl, the cups beside it, should be at the disposal of the guests.
The following menus are arranged for bridal buffet suppers:

I
(No hot dishes)
Jellied Chicken Broth
Tuna-Salad Sandwiches 
Nut Sandwiches
Olives
Salted Nuts
Chocolate Frappe. Whipped Cream
Little Cakes
Orangeade
Coffee
II
(For the warm days of late spring)
Strawberries au Naturel
Jollied Tongue
Buttered Baking-Powder Biscuits
Olives   
Bonbons
Salted Nuts
Asparagus Salad
Macaroon Ice Cream
Angel Cake
Iced Coffee
III
Celery Bouillon  Bread Sticks
lobster Newburg in Chafing Dishes
Little Rolls
Olives
Salted Nuts
Raspberry Mousse and Lemon Sherbet
Chocolate Cakes
Lady Fingers
Coffee
IV
Jellied Chicken Broth
Whipped Cream
Bread Sticks
Crab Flake or lobster Salad
Buttered Rolls
Chocolate Parfait and Pistachio Ice Cream
Decorated Pound Cakes
Little Wafers
Coffee
V
Creamed Oysters in Paper Cases
Pimiento Sandwiches Grated Cheese Sandwiches
Olives    Salted Nuts
Peach Melba (Vanilla Ice Cream. Raspberry Jam and Canned Peaches)
Homemade Sponge Cake
Oatmeal Macaroons
Coffee
Whereas these menus may seem somewhat elaborate, it must be borne in mind that there are no cast-iron rules governing buffet meals. To this end a hostess is correct if she serves only bouillon, sandwiches and dessert; or a hot dish, and olives and nuts, lettuce sandwiches and dessert; or a salad, sandwiches and dessert. It is far better to do this than to serve such a variety that one is tired out with the preparation.
American Cooker, Volume XXVI, No. 10, May 1922, P. 775
The Ladies' Home Journal, Vol. XXXII, No. 4, April 1915, p. 52