Design from Scandinavia, No. 9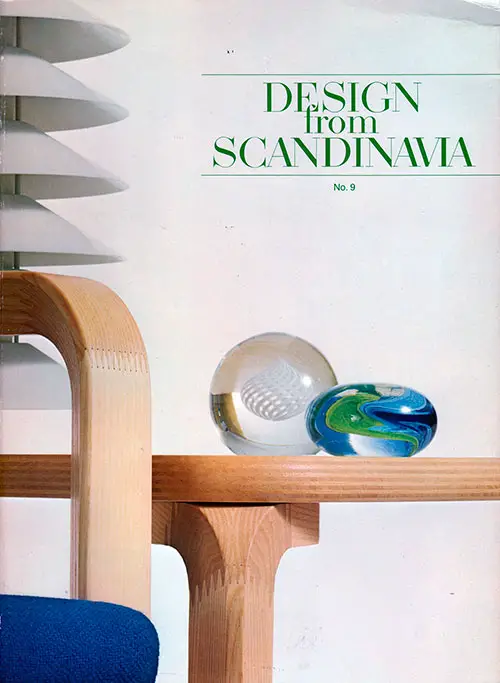 Bjerregaard, Kirsten, Ed., Design from Scandinavia, No. 9, © 1980 World Pictures, Frederiksberg, Denmark, Soft cover, 144 Pages, 87-87541-10-6. The annual presentation of Scandinavian furniture, textiles, handicrafts and applied art.
Each Year, Design from Scandinavia unfolds an exhibition in pictures of the best and latest products, and shows the interplay of these objects in a setting, and a life-style.  Includes all Nordic countries - Iceland, Norway, Finland, Sweden, and Denmark.
Contents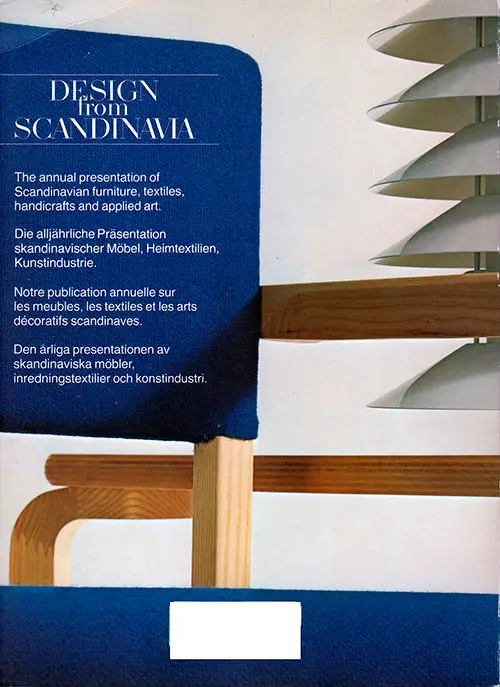 Visit Scandinavia
In this edition, we put selected Nordic concerns, which make good furniture, textiles, lamps, and handicrafts, on the map of Scandinavia. We have added some travel ideas as well.
Public Settings
Denmark has a new building for its National Bank, Sweden for its Riksbank. Finland has extended its parliamentary building, and Norway set up a university in Bergen. These and many other new Nordic developments are presented in this issue.
Furniture
From abroad, modem Nordic furniture production often appears to be a whole. True, the relationship is dose, but a closer study reveals differences and distinctions. See the varied image of Scandinavian furniture in this issue.
Textiles
Scandinavian textile producers cover a wide range. The colorful collection of furnishing fabrics and the clothes that reflect the Scandinavian setting are in this issue.
Lighting
In Scandinavia, great emphasis is placed on functional lighting, lamps that give correct light qualities for fluorescent tubes, and other sources, including the new color-correct Finnish filament lamps. Suitable lamps are shown in this issue.
Industrial design
The objects everyday life: plates, glasses, and cutlery for the table, salt and pepper mills, the new press-button telephone, a sublime stereo set. Good industrial design belongs in the Scandinavian environment.
Scandinavia abroad
The Swedes have built and furnished a 1,200 room hotel in Leningrad. One can find larger and smaller Scandinavian settings worldwide, and interested readers have helped by finding pictures.
Index
A comprehensive index contains all relevant information about the firms presented in this book. It also includes addresses of the showrooms that can be visited and lists the representatives of the firms in other countries. Overleaf, they are shown on a map of Scandinavia.